Pyyramids: Brightest Darkest Day
[Paracadute]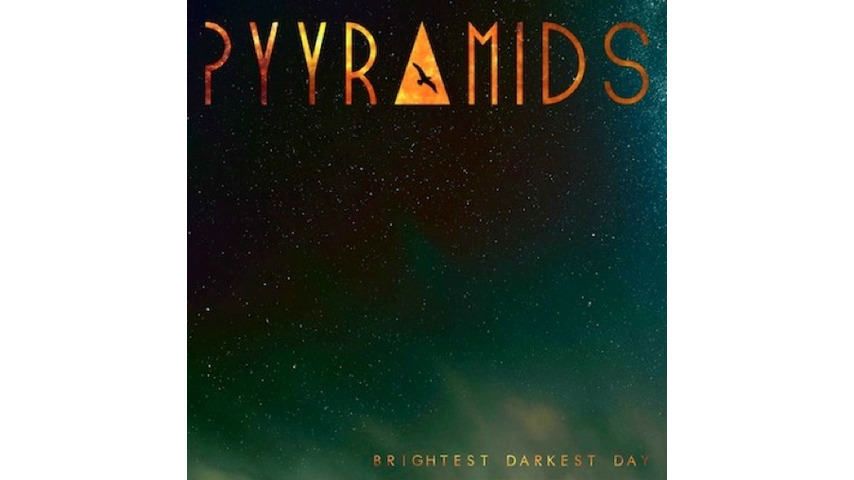 As the story goes: OK Go bassist Tim Nordwind and He Say, She Say vocalist Drea Smith initially bonded via email over British post-punk bands from the '80s. And although both members of their don't-call-it-a-side-project, Pyyramids, have experience playing in more indie (and poppier) bands, the duo has managed to blend all of those influences on its first full-length album.
Brightest Darkest Day, released on OK Go's own label, includes nine new tracks of moody, broody goodness. Two additional stellar songs— "Don't Go" and "That Ain't Right"—first appeared on the 2011 EP Human Beings. A timpani-like intro starts "Don't Go," filling out with a quarter-note bass riff and Smith's particularly dreamy singing. But when the wooshing synths turn into choppy guitar chunks and sliding solos straight out of the '80s, Smith jumps an octave, taking the melody to an ethereal plane. And in "That Ain't Right," bells and acoustic guitars meddle with each other, as Smith languishes, "I don't wanna break your heart but I think that I might and that ain't right."
Throughout Brightest Darkest Day, Pyyramids succeeds in its ability to be simultaneously retro and modern, both bright and dark, as the title suggests. "Do You Think You're Enough" starts heavy, between the fuzzed-out rhythm section and Smith's layered vocals, before mellowing out in the acoustic outro. The paradoxes continue in "Time," a complex ballad that sneaks in strange guitar squeals and ricocheting synths over Radiohead-like piano plinking and haunting echoes. Even single "Paper Doll" manages to retain an industrial drudge even when Smith sounds oddly similar to No Doubt-era Gwen Stefani. Mid-album burners aside, Brightest Darkest Day is a strong debut, especially coming from artists with established musical pasts.
Others Tagged With