John Fogerty: Wrote A Song for Everyone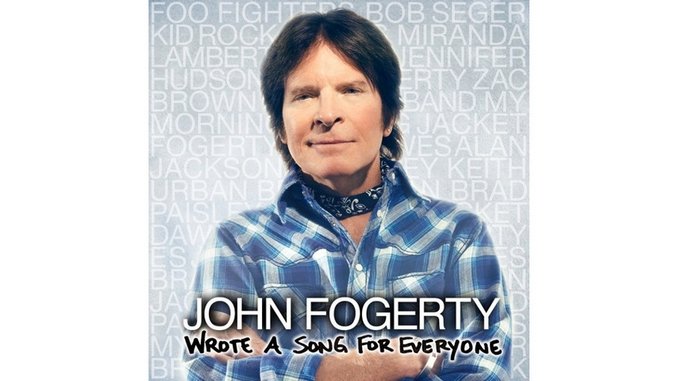 John Fogerty's guests on Wrote A Song for Everyone may provide a pupu platter of genres, but the country/rock/progressive duet partners more often serve as a reminder of Fogerty's singular potency. The far-flung vocalists also demonstrate how vast his songwriting and cultural influence is, comfortably enfolding each without losing the essence of his intent.
Whether it's the almost feral Miranda Lambert—joined for a squalling guitar solo by Tom Morello on the title track—brazenly evoking Janis Joplin on a performance country radio would never allow, or a hypnotically smooth Dawes on the fraught "Someday Never Comes," it is Fogerty whose vocal presence stands out. Indeed on "Almost Saturday Night," recast in Keith Urban's signature country-pop, the award-winning country cred-monger almost seems flimsy next to Fogerty's randy howl.
The real thing is hard to come by. In today's world living it—as Fogerty did before launching Creedence Clearwater Revival—has been replaced by marketing, focus groups, production teams and pitch correction. Even the road-honed Zac Brown Band comes off as pleasant instead of cautionary on the foreboding "Bad Moon Rising."
When the guests stay true to their roots, Fogerty transcends. Alan Jackson's straight country "Have You Ever Seen The Rain" distills America, while Allen Toussaint and the Rebirth Brass Band infuse Jennifer Hudson's "Proud Mary" with fetid authenticity. The Foo Fighters' exuberant urgency permeates "Fortunate Son," and My Morning Jacket recasts "Long As I Can See The Light" as an atmospheric postcard of hope in the unknown.
Bob Malone's rising and falling piano on "Who'll Stop The Rain" evokes journeyman rocker Bob Seger's "Against the Wind." When the Detroit legend's smoky voice meets Fogerty, it's an enjoinder to societal forces that won't accept the havoc they've caused.
Kid Rock, another Motor City vet, goes toe-to-toe with Fogerty on the swampy "Born On The Bayou." With a stinging authority, the rap/rock hybrid-er demonstrates his working-class bona fides with a zeal that blisters.
Before Bruce Springsteen, Fogerty was the seething, celebratory voice of the disenfranchised young American at a time when working class kids got shipped to Vietnam and stuck in dead jobs to stake their claim at the bottom. A tornado force that captured the zeitgeist as the Summer of Love imploded, Fogerty remains best on his own. Both "Train of Fools" and "Mystic Highway" bristle with derision, expectation and hope. What lies ahead fuels Fogerty's guitar-playing, writing and muscular rasp—boring straight into the listener—making Song much more than just another all-star redux of what was.
Others Tagged With