Kelly Rowland: Talk A Good Game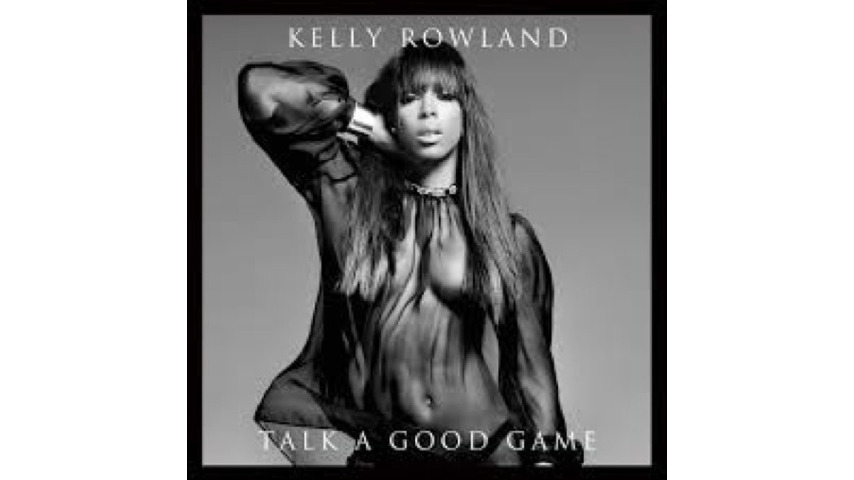 On Talk A Good Game, the latest album from Kelly Rowland, the singer finally emerges from the long shadow of her friend, fellow Destiny's Child alumna and pop's reigning queen Beyoncé. This is an album about working things through, coming to grips with bad relationships, sexual or platonic—"Love is pain and pain is love, got me fucked up," sings Rowland. She brings in some high profile collaborators, like Pusha T, Wiz Khalifa and the Dream, but this is all about Rowland looking for closure, turning away from a cycle of lies, omissions and half-truths.
Rowland's previous album, Here I Am from 2011, fluctuated between seduction on the dance floor and in the bedroom, exhortations to potential dancers and lovers. An abundance of thumping electronics worked to fit the album into the pop-scape, and Rowland tried to establish herself as self-aware—"I'm not cocky, I just love myself"—sexual, and in control—"I'mma be your motivation," "I'm Dat Chick," "Down For Whatever."
But on Talk a Good Game, Rowland largely ignores the dance floor, and after the initial burst of libido in the opening songs—"Freak" and "Kisses Down Low"—she doesn't go in for heavy breathing either. There are plenty of buzzing synths and chattering drums, but Rowland's up-to-date R&B sound rarely slips into the speedier world of clubs. (Her song with Beyonce and Michelle, from Destiny's Child, evokes '90s hip-hop soul.) Instead of focusing on escape through pleasure, Talk A Good Game concentrates on conversation, and when necessary, confrontation.
The emotional core of Talk A Good Game is "Dirty Laundry," a plea for honesty. Based on a minimal hook, just a few clunking piano notes, it's both clever and heavy with tragedy as Rowland sings, "Let's do this dirty laundry." The song plays as part explanation of Rowland's last decade, part self-therapy, part public catharsis.
Before airing her "Dirty Laundry," Rowland has to encourage herself—"Get it together, get it together." It all starts with her conflicting feelings about Beyoncé's success, her own career struggles and the darkness of the recording industry. "Forget the records, off the record, I was goin' through some bullshit/ Post survivor, she on fire, who wanna hear my bullshit?/ Meanwhile this nigga putting his hands on me/ I swear y'all don't know the half of this industry." The Survivor album and its title track were huge hits for Destiny's Child, and Beyoncé's solo career headed for the stratosphere not long afterward. Rowland didn't get to breathe that rarified air.
There's personal-life laundry that needs cleaning as well. Rowland sings about a failed relationship with a violent man, who hits a window "until it shattered," maybe hits her as well ("I was battered"), and distances Rowland from her "sister," Beyoncé. "When you soak in tears for years it never airs out/ when you make pain look this good it never wears out," Rowland sings. She refuses to polish or cover up what was ugly and unpleasant. (Rowland has cried multiple times when performing this on her current tour with the Dream.)
Much of the rest of the album works around similar themes. On "You Changed," she shows she can band together with Beyoncé both to make music and to overcome a bad boy: "since you left/ I ain't cried since." In "Gone," which channels Stevie Wonder's "As" and samples Joni Mitchell's "Big Yellow Taxi," Rowland asserts her own power, breaking loose from a lover who treats her poorly. The title track warns men that words alone are no longer enough, and that she will "cut you off like that" if you're all talk, no walk.
Beyoncé has long been one of the strongest figures in R&B, but Rowland now owns her strong voice too. She sings about what she knows, pushing for truth and trust in relationships. More importantly, she realizes that she's got the power to walk away and protect herself when these things no longer exist.
Others Tagged With