Mavis Staples: One True Vine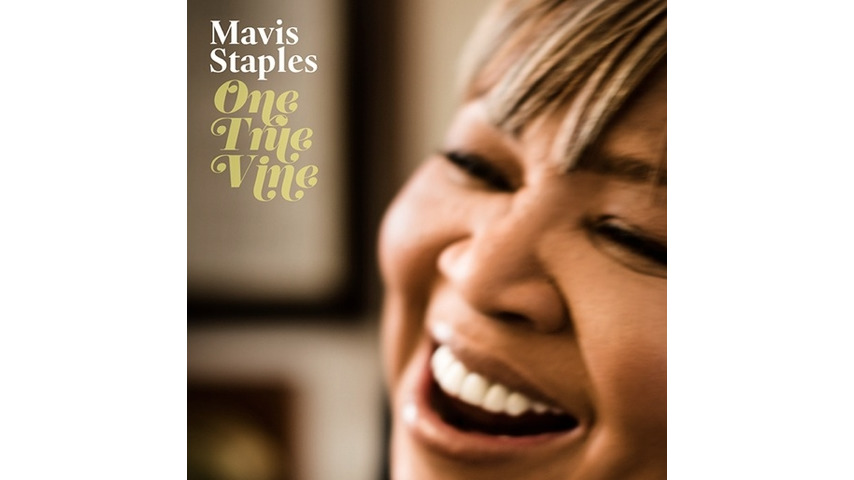 "Some holy ghost keeps me hanging on," Mavis Staples intones over and over a loosely strummed acoustic guitar, world-weary yet resolved on the opening track of One True Vine. The halting elegance of Low's "Holy Ghost" offers faith as an invisible force that sustains in the moments of literal and metaphoric surrender.
For Staples, that faith fuels everyday living; it's the bedrock of her second album produced by Wilco's Jeff Tweedy. Downhome gospel infuses the lean arrangements, providing a gritty undertow that juxtaposes the '70s gospel/soul-pop icon's forged plain dirt 'n' fire alto.
Staples' conviction transforms Parliament Funkadelic's freaky "Can You Get To That" into minimalist Southern gospel. A chorus of female voices echoes the hook as a supple baritone rises up to intone "I wanna know…"—also delivering the final cautionary "If you live your life on credit and your loving days are done, checks you sign with love and kisses, later come back insufficient funds"—to provide a song of reckoning that extends beyond failed romance.
Whether she's foreboding on "Every Step," exultant on Fred McDowell's "Woke Up This Morning With Jesus on My Mind," elegantly strolling through Washington Phillips' "What Are They Doing In Heaven Today" or providing a neo-country take on the standard "Sow Good Seeds," Staples makes redemption a matter of small things, tiny actions and incremental leaps of believing. Accessible to the fallen and faltering, on One True Vine grace is a funky thing.
The ghetto slink of a buzzing wah-wah guitar sculpts Roebuck "Pops" Staples' self-acceptance witness "I Like The Things About Me." Imbuing a street resonance into a song of transformation, the Staple Singers classic digs down to celebrate perfection in accepting one's inherently flawed humanity.
Tweedy's "Jesus Wept" is the active, if faltering, acceptance of deliverance. It's a cracked-window look at one's relationship with their Higher Power, and Staples has no trouble with the doubt, but is regal in the simple declaration "I should have told you I could live without you/ But I don't want to…"
As was her way during the Staple Singers heyday, the 2011 Grammy-winner recognizes sowing salvation amongst the unwashed is the greater good. For those who've never considered heaven as tangible, she offers Nick Lowe's "Celestial Shores" as a glimpse of the jubilation that waits.
Culminating in Wilco's "One True Vine," Staples embraces the venality and exhaustion of self-will to still be lifted up. Delivered in the moan of the broken, she offers an example for the most bereft. Her voice rising from the lyric's wreckage, all coppery shine vanquishing the tarnish, she is restored—and so are we.
Others Tagged With