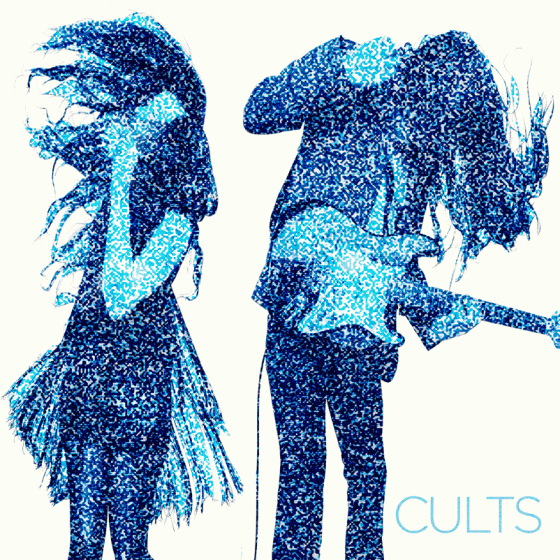 Fortunately or unfortunately for Cults, the release of the duo's much-anticipated second album is going to be clouded with the news that the couple behind the music—singer/lyricist Madeline Follin and guitarist Brian Oblivion—split up last year. This means that you're going to read a thousand articles forcing the two to rehash the circumstances of their decision to end their relationship yet keep the band together.
The positive thing for Cults is that it will encourage people to take a deep listen to Static trying to piece out any hints of the titular noise that might have occurred between Follin and Oblivian. There's plenty of fodder available for those trainspotters in Follin's lyrics. Against the often-euphoric drive of the music, she expresses the desperation ("It seems like the good days are never gonna come"), jealousy ("No one really knows whose house you're haunting…every time you leave here") and eventual self-reliance ("We're not here waiting all for you/there's no more time for that") that come after a breakup. The emotion sticks solely in the words though. As ever, Follin's chirpy vocals aren't capable of expressing much nuance, just offering up some pleasant octave shifts and a touch of soulfulness when available.
What will hopefully rise to the surface for those folks picking through these songs is how strong the music is here. Oblivian takes the perfect next step from the late '50s/early '60s pop leanings of the group's 2011 debut. He moves further along that timeline, enjoying the influence of early Motown successes and Phil Spector's instrument-heavy aesthetics. All of that is, of course, sent through the ringer of modern expression, including a touch of downtempo swing, some warm funk and lots of neo-psychedelic haze. The layers at times get a little too thick, enough to hide some of Follin's words. But as packed as the songs get with incident and sound, the gooey goodness of Cults' candy pop wins out every time.
Others Tagged With