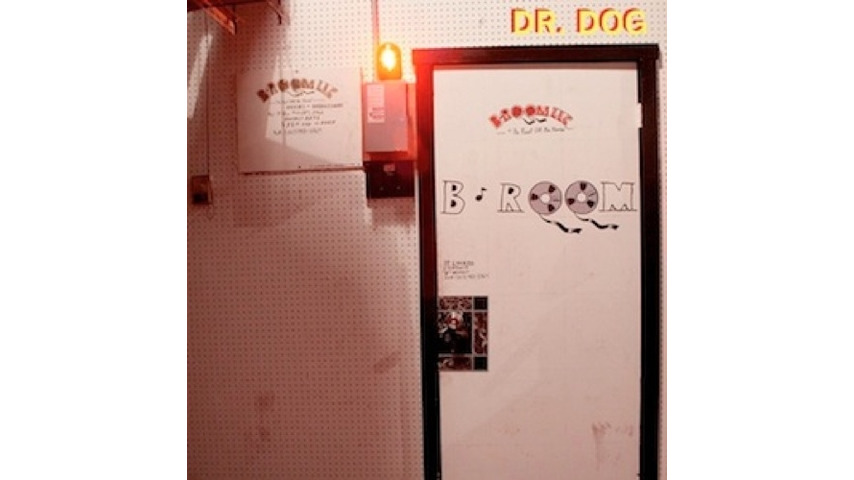 Dr. Dog has been reliable for quite some time when it comes to churning out hook-filled albums, and B-Room is another win for the Philadelphia-based band. The psychedelic-folk feel that the group has come to be known for is present and accounted for with an apparent rejuvenated energy behind it.
After leaving Meth Beach, the recording space they've used for the last eight years, the band built a new studio from the ground up within an old silversmith mill. But that wasn't the only change—much of the album was recorded live, exhibiting their natural talent as performers. The songs are freer than past offerings as the band feels out its new space and produces a sound much more acquainted to their dynamic live shows. Bassist Toby Leaman and guitarist Scott McMicken continue to trade off vocal duties throughout the album, but the songs play together a little more cohesively than before now that the band works together to create a more unified foundation. And what we get in B-Room is a more soulful album.
Leaman's bass-playing is as strong as ever when paired with Eric Slick's undeniably danceable drum beats. "Broken Heart" grooves so hard that everyone should find themselves moving and singing along in seconds, while "Love" is easily the catchiest song with McMicken at the helm, owning one of the best melodies and arrangements of the album. "Too Weak To Ramble" features nothing more than a couple of acoustic guitars and Leaman howling in despair. The brutal honesty in his lyrics is so disarming that it's nearly impossible not to stop and listen.
Songs like "Distant Light," "Phenomenon" and "Long Way Down" are among the best from the album and all fit nicely with the band's hits of old. "Twilight," probably the most unique track, is a dreamy song that feels like something out of a Zelda video game—complete with Epona's steady trot as the percussive rhythm (But I'm sure that's just me).
On the surface, Dr. Dog has merely succeeded at making another record with catchy songs and smart lyrics that makes the shyest of feet move. B-Room may not break any molds, but it certainly bends them—the performances are honed and honest, and we find Dr. Dog continuing to evolve, albeit subtly at times. It has always been "damned if you do, and damned if you don't" when it comes to a band's evolution, but like so many others, Dr. Dog has its sound and it does it well. The changes seem to be more internal to the band's processes and each member's role as they branch out and record together, but that confidence in each other bleeds through in these songs.
Others Tagged With