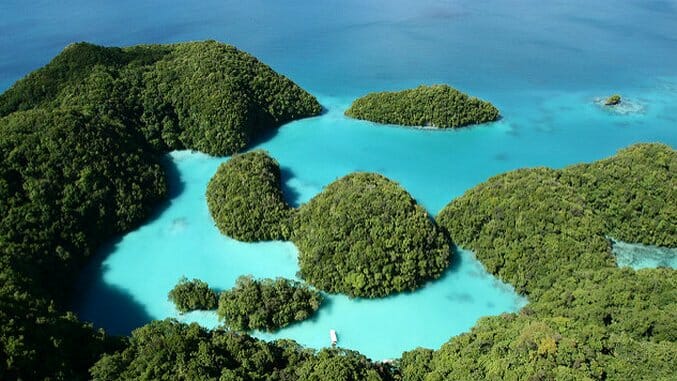 Never thought of visiting Palau? Well, you might be soon. In our Breakout Role series, we take a look at places that have seen huge increases in tourism in the last few years, and try to figure out what's causing all the hype.
In Palau, tourists are counted by the thousands. To the small Pacific nation, which has barely more than 20,000 residents itself, a fluctuation in visitors that might appear unsubstantial to a larger country can seem enormous.
It's for this exact reason that 2015 was such an important year for Palauan tourism. After the availability of new charter flights made the Micronesian country a newly-popular destination for Chinese tourists, Palau's number of international visitors peaked at 162,000, a significant and almost instantaneous jump from 140,000 in 2014.
"That was the biggest change in Palau's tourism in the 20 years that I've been here," says Dermot Keane, the managing director of Sam's Tours, a Palauan tour company. "It was a very informative—painful in some cases—exercise."
But that year wasn't a completely isolated event, as even 2016's figures—around 136,000 tourists in total—are double what they were in 2009. As Palau looks to move forward from the 2015 spike, tourists still make up more than 90 percent of the country's yearly visitors, showing signs that Palau's hospitality industry is likely here to stay.

Lights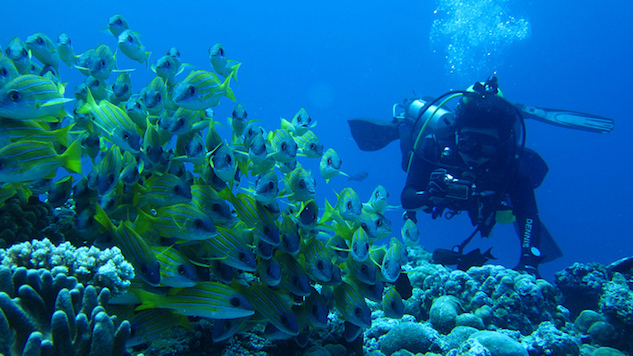 Photo: Jeff~,CC-BY
Much of Palau's notoriety as a vacation hub can be summed up by one, singular activity—diving. For the Pacific nation comprised of more than 500 islands, scuba is king, and the country appears constantly on lists of the world's best snorkeling and diving locations, receiving recognition by CNN, Bloomberg and USA Today in the past year alone.
To Keane, this sort of popularity is cyclical, with Palau consistently managing to find its way back on top of the diving community's wish list.
"Palau is a hot place for a couple of years," he says. "It's on the front page of all of the magazines, then it becomes something else. There's a cadence that goes with it."
But underwater sightseeing isn't the only force at play, and there has been an increased level of focus by the government to promote the country not only overall, but specifically toward new markets such as Europe, Australia and the United States. Keane estimates that 80 percent of Palau's tourists come from Asia, a figure that leaves a lot of room for growth from other parts of the world.
Additionally, the nation's tiny size and small population makes it an ideal getaway location, as Keane says these factors stand as enticements to those looking for a truly uncrowded experience during their vacation.

Camera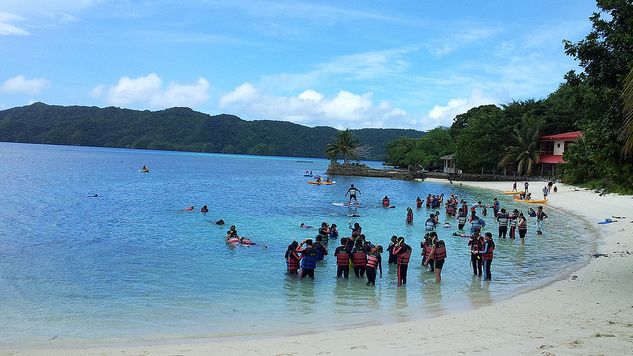 Photo: *chi, CC-BY
All of that changed when the 2015 tourist surge hit, bringing congestion and overwhelming demand with it. By the end of the year, Chinese vacationers had made up more than half of the country's annual foreign visitors—for many locals, this was problematic.
There were complaints that these new tourists were disrupting coral reefs and protected wildlife, as well as fears that the economy wasn't growing at a rate comparable to the year's tourism boom—a phenomenon that initially baffled government officials and tour operators.
"We all worked together to really understand it, to gather the economic data and the financial data to really make an informed decision," Keane says. "What we learned out of it was mass tourism like that wasn't particularly healthy for us."
There are two sides to this problem, though, and some of Palau's efforts to control tourism post-2015 have received criticism from the international community. Earlier this year, the country's president made headlines by recommending a motion that would allow only five-star hotels to open on the island.
Despite this, the nation is progressing in its endeavors, and Keane says educating Palauan residents about the benefits of tourism is one of the most important parts of this new effort.
"If you're in the big island or up north away from town, it's hard to feel how you play as a Palauan in this tourism world," Keane says. "It's about trying to make sure the community appreciates tourists, and doesn't feel like they're being pushed out."

Action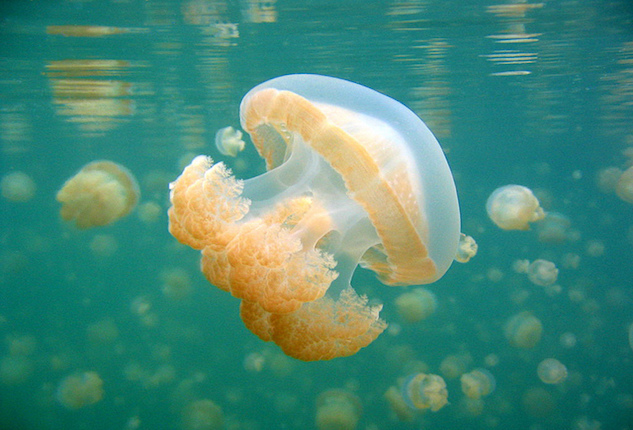 Photo: esormikim, CC-BY
This commitment to hospitality is certainly worth it, too, as the island country has a lot to offer its guests. Of course, diving remains a major draw, with no location stands out more than the famous Rock Islands. A UNESCO World Heritage Site and scuba paradise, the islands are comprised of more than 400 uninhabited rock formations that together create incredible scenery, natural formations, beautiful blue lagoons and idyllic reefs that are also perfect for kayaking and dolphin sightseeing.
In Koror, the nation's largest city and tourist hub, serene Pacific shorelines, such as those found at Long Beach, offer places to relax after a full day of activity, while restaurants such as famous Indian eatery "The Taj"http://tajpalau.com/cmsweb/index.php provide a dining experience comparable to other luxury destinations.
Aside from diving, Palau's largest draw is almost certainly Jellyfish Lake, an almost magical saltwater lake that was once part of the ocean but has since become an isolated enclave for jellyfish species and curious snorkelers alike. For even more inquisitive visitors, the Badrulchau Monoliths are 37 large, mysterious stone structures that have been called the "Easter Island of Micronesia."
When You Go
Flight Rates: Current round-trip flights from Los Angeles to Koror run between $2,200 and $3,000, while rates leaving from New York range from $2,350 to $3,300.
Travel Concerns: The U.S. Department of State lists no major safety concerns for Palau, and a tourist visa is not required for stays of less than one year.
Currency Exchange: Palau uses the U.S. dollar as its primary currency.
More Info: The Palau Visitors Authority offers information on accommodations the country's history and its most visited attractions.
Top photo: LuxTonnerre, CC-BY
---
Dillon Thompson is a freelance writer from Athens, Georgia who, as you're reading this, is probably drinking coffee and listening to hip-hop music a little too loudly.