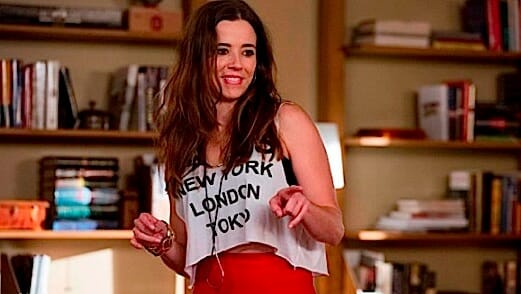 Considering the incredible list of guest stars who have appeared on New Girl, it's a shame that they're also one of the show's weakest points. Now, as the last few weeks have proven, throwing in someone for an episode here and there, like Prince or Adam Brody, can work to the show's strengths, yet giving them a larger arc can be problematic. Justin Long's episodes are probably amongst the show's worst, and I'm still disappointed with the unceremonious exit of Lizzy Caplan.
Most of these guest stars have been love interests, which automatically made them feel like ticking clocks, but with the introduction of Jess' sister, Abby, played by the great Linda Cardellini, there is more of a permanence to her character. Rob Reiner and Jamie Lee Curtis keep popping up, so it makes sense that Cardellini will once her arc is done, too. As with the introduction of any new character and arc, "Sister" feels like the set up for great things, while not being as strong as you'd hope.
This may be unfair to judge "Sister" like that, considering the great streak of episodes the last few months have given us. Still, though the episode does have some funny moments, it's hardly filled with the laughs like these recent weeks have been. Cardellini has some great potential for the future, but "Sister" just wants to set up that she's Jess' sister "with chaos in her eyes." The best parts of Abby don't revolve around her recent arrest or her ability to ruin everything, but when she bonds with her sister. For about two minutes in the middle of the episode, Jess and Abby just sit on the couch and joke about their mother, and it's simple and absolutely wonderful.
By the end of the episode, Abby has moved into the loft for who knows how long to get her life together, which presents some interesting prospects. After going to a soup-filled dinner party at Winston's girlfriend(?), Bertie, Coach tries to revitalize Cece's fleeting interest in him, but the two agree to just be friends. This is perfect timing for Abby, since earlier in the episode she hinted that she's totally up for sleeping with Coach. (Let's also not forget that Schmidt is also single and has plenty of room for a potential roommate.)
Speaking of Schmidt, he needs Nick to be his wingman at a bar mitzvah and distract his target's father, played by Jon Lovitz. There's nothing wrong with watching Nick try to create a diversion and having him joke around with the also great Lovitz, but there are two aspects to this storyline that it feels like we should be past by now. First, Schmidt is complaining about how he misses having Nick as his wingman and hanging out with him in general. At this point, it doesn't feel like either of these two should be jealous of missing out on each other, especially when they actually still hang out all the time. Second, Jess is trying to keep Abby from Nick, since she always ruins everything, yet Nick takes this as Jess being embarrassed by him. I don't understand how Nick could still be this insecure about how Jess thinks about him in regards to others, especially when he's already made such a great impression with everyone in her family and her friends.
I think New Girl has learned a lot about how to handle its guest stars over the years, and Cardellini does feel like a perfect fit, but like the beginnings of most of these arcs, "Sister" feels like a bunch of setup for the future and not much else. That said, New Girl could use someone with chaos in her eyes to shake things up a bit, so Cardellini should be exciting to watch in these next few episodes.