Nicole Kidman on Roles for Women: Television Is Where It's At
Photo by Mark Metcalfe/Getty
TV
News
nicole kidman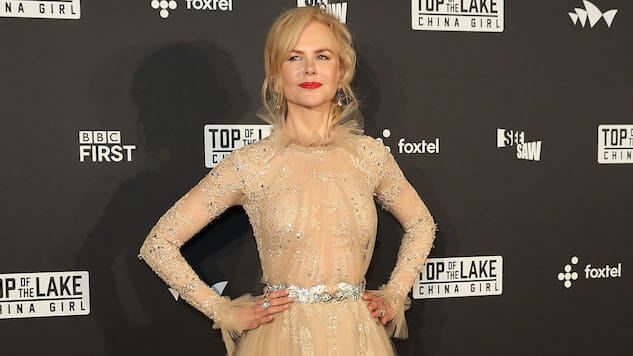 Nicole Kidman has had a great year in television, portraying a lawyer with an abusive husband in HBO's Big Little Lies and now a grey-haired adoptive mother in BBC drama Top of the Lake: China Girl. Before we get into it, if you haven't watched Big Little Lies, do so as soon as possible, because Kidman is a great bet to take home the Emmy for Best Limited Series Actress. That being said, Kidman had a message for Hollywood at the Australian premiere of Top of the Lake: China Girl: If you want her in your films, you're going to have to write a role meaty enough for her to sink her teeth into.
"Great roles are being developed for women right now—they are not in film. They are in television," she explained. "They're on both, but they're rare in film though." Her Top of the Lake co-star Elizabeth Moss, who also stars in this year's breakout hit A Handmaid's Tale, shares a similar sentiment about television for women by women, revealing last month that starring in the Margaret Atwood adaptation has turned her into an activist.
Kidman and her Lies co-star Reese Witherspoon executive produced the HBO show, which is based on the novel of the same name by Lane Moriarty and features five very different women whose lives become intertwined. The women are portrayed by Kidman, Witherspoon, Laura Dern, Shailene Woodley and Zoë Kravitz, whose respective performances actually resemble real-life women. Kidman revealed at the Top of the Lake premiere that she and Witherspoon made the series "out of frustration." She elaborated: "Reese and I were frustrated because we weren't being offered the sort of roles we wanted in terms of complexity and that was born out of a desire to create an opportunity for ourselves and our friends." She actually credits the first season of Top of the Lake as inspiration for creating Lies.
Top of the Lake: China Girl premieres on BBC on Aug. 20. Also, just a reminder, you should totally watch Big Little Lies. If you've already watched it, watch it again. It's that good.