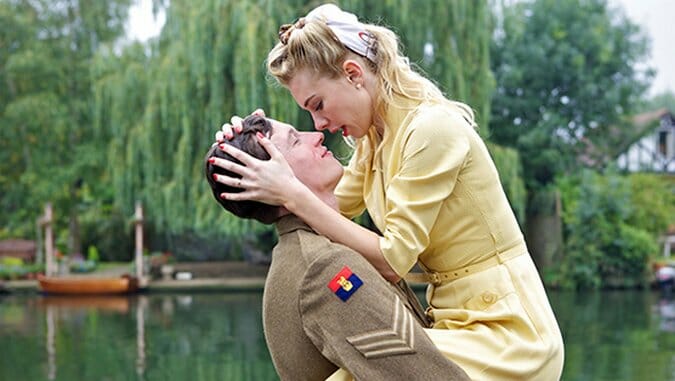 You don't need to watch John Boorman's 1987 comedy drama Hope and Glory to vibe with its sequel, the decades-in-the-making Queen and Country. That's probably the greatest feat Boorman pulls off with this follow-up to his unassuming Oscar nominee: walk into the film blind, and short of feeling like you're up the Thames without a punt during its introductory scene, you'll walk away grasping Boorman's bigger picture. But really: Who does that? Who waits nearly three decades to shoot the second chapter in a semi-autobiographical tale of wartime England and somehow can still make it—without egregious handholding—accessible to uninitiated audiences? A year between entries in monstrous Hollywood franchises feels more punishing than the interstitial 28 between the halves of Boorman's Truffaut-ian two-parter.
In truth, it does help to watch Hope and Glory first—the film remains a vital and singular achievement in the cinema of war, a ground-level, child's perspective of open conflict that diffuses grim reality with humor. But in Queen and Country, those left out of the loop will be drawn in by Boorman's storytelling skill, a perfectly balanced amalgam of sharp writing and clever direction. Here, the tale of Bill Rohan (Callum Turner) picks up nine years after the events of Hope and Glory. He's since grown into a good-looking, gangly fellow who's able to effortlessly goof off with his friends but can't muster more than a coherent phrase or two around the opposite sex. Bill is also a fresh conscript in the British army right at the onset of the Korean War, tasked, alongside his buddy Percy (Caleb Landry Jones), with instructing recruits in typewriting rather than in combat training.
Queen and Country shifts tone from its predecessor according to its age gap. Where Pride and Glory de-sentimentalizes World War II by showing viewers what the Blitz looked like through Bill's young eyes, Queen and Country rages against the machine, or at least as much as the British are prone to raging. This is a movie of adolescent rebellion: Any number of influences can be sniffed out of Boorman's blueprint, Stripes and M*A*S*H chief among them, but he takes his inspiration from raunchy teen comedies as much as from anywhere else. Boorman identifies with the young, bristling against the regimentation of the soldier's life as much as they do. That schism is most apparent in the exhaustive sameness of daily routine, and in Bill's and Percy's stuffy, strict, petty commanding officer, Sgt. Major Bradley (David Thewlis).
Bradley plays the villain of the film, such as there can or should be one. He's so married to the book that even his superior, played with leaderly wariness by the wonderful Richard E. Grant, finds the man's habit of bringing his subordinates up on obscure charges tiresome. Yet, in all of Bradley's fussiness, Boorman subtly reminds us of war's impact on a man's psyche. The director neither likes Bradley nor expects us to like Bradley, but the character's idiosyncrasies point to a person racked by his time in the armed forces. Consequently, Queen and Country invites us to indulge in our sympathies alongside our contempt. Being in the military is hard, in other words, and as such both demands and fosters hardness; it's a function of discipline.
But Queen and County isn't quite so flinty as all that. For a movie shaped by the harsher mercies of martial pursuits, it's incredibly light and frequently hilarious. Sticklers for tonal consistency might find the film's tendency to leap from comedy to various flavors of drama jarring. One minute we're laughing at Bill and Percy as they attempt to surreptitiously peep in on a girls' dorm through a window; the next, they're brought before Thewlis, Grant and eventually Brían F. O'Byrne's foul-mouthed, bullying warrant officer in contempt of their duties—but even these moments are suffused with quipping playfulness. Boorman's inclination toward jokery is one of the film's unifying elements.
The other, of course, is youth itself. Growing pains are central to the narrative here, perhaps more so than in Hope and Glory, which settled on a somewhat more fixed experience. Queen and Country is more about Bill's journey toward adulthood, often reflected in the journeys of his peers, including Percy, the class clown chastened for his antics, and Bill's sister, Dawn (Vanessa Kirby), who the years have turned into a free-wheeler following her teenage pregnancy in Hope and Glory. Percy and Dawn act as foils to Bill's development, which is spurred largely by his infatuation with Ophelia (Tamsin Egerton)—an upper class girl who's decidedly out of his league—as well as his efforts to dodge responsibility (facilitated by Pat Shortt's self-styled "skiver") and his confrontations with authority.
Bill represents the catalyst for change in prevailing social attitudes, a person bound to his friends and family over the twin axes of the title. Coupled with the distance between the characters and harm, the stakes here are comparatively lower than in Hope and Glory. But if Queen and Country feels modest, it remains no less marvelous. After so long, Boorman has succeeded in crafting a companion piece to his best film that nearly matches it in breadth and insight.
Director: John Boorman
Writer: John Boorman
Starring: Callum Turner, Caleb Landry Jones, David Thewlis, Pat Shortt, Tamsin Egerton, Vanessa Kirby
Release Date: Feb. 18, 2015 (NY); Feb. 27, 2015 (LA)
---
Boston-based critic Andy Crump has been writing about film for the web since 2009, and has been scribbling for Paste Magazine since 2013. He also contributes to Screen Rant, Movie Mezzanine and Badass Digest. You can follow him on Twitter. Currently he has given up on shaving.