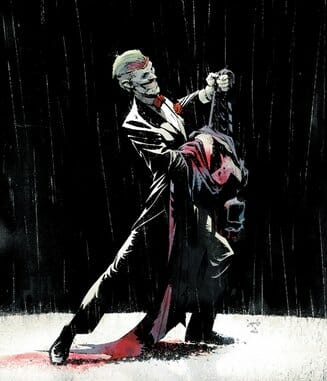 Writer: Scott Snyder
Artists: Greg Capullo
Publisher: DC
Release Date: February 13, 2013
Mild Spoilers
After Scott Snyder showed that there was still room to expand Batman's universe with freaky new villains in his stories "The Black Mirror" and "Court of Owls", it was only a matter of time before DC's most talented writer addressed the Caped Crusader's iconic foils. Snyder returns with the 4-chapter "Death of the Family" event, a harrowing look at The Joker that concludes today in Batman #17. DC marketed this story as a spiritual successor to "A Death in the Family," the 1989 event that featured the Joker beating Robin to death with a crow bar, a fatality voted on by readers. But this arc delivers something far more intelligent than another bloody publicity stunt; Snyder deconstructs one of the greatest villains in the history of modern fiction, creating a chilling classic.
The plot asks what would happen if the Joker learned the secret identities of Batman and his crime fighter family, including Bruce Wayne's biological son Robin, Red Robin, Red Hood, Nightwing, and Batgirl. The clown prince wiping a Bat pawn off the board is a sensational hook, but the far more compelling element is the villain's motivation. And that focus is what makes this story so deliciously insidious. As Snyder explained to Paste, his Joker occupies a special role in the world of Batman: the court jester. He presents the worst news of Gotham to his Bat King in the most humorous way possible. In this case, Joker informs Batman that his grown family has made him weak, preventing him from cleansing his city of its innate evil. Taking his analogy literally, the Joker warps Arkham Asylum into a horrific medieval castle where the Batman attends his last family reunion before his archenemy threatens to burn his lieutenants alive.
This story arc poses a unique question: who, outside of Alan Moore or Grant Morrison, has actually explained why the Joker does what he does? Most work on the character lazily posits that the villain is simply an agent of chaos, devoted to tearing apart institutions of order…just…because (sorry, Dark Knight). Snyder works past this Sociology 101 presentation to create a character with a demented sense of duty, peeling back his soul while leaving plenty of mystery intact. If there's one complaint, Snyder could have dug deeper to reveal the Joker's background after Batman confesses that he knows who he was before the "becoming."
Compared to the splash page pornography of years past, mainstream titles like this employ a literary core that makes the writing just as appealing as the art. (And yes, Greg Capullo continues to knock it out of the park). The award-winning chops Snyder fostered on his short story collection Voodoo Heart are in full use here; every character comes with a tangible sense of motivation and vulnerability. There's a profound chemistry at play. Snyder defines the trajectory of each character and then lets them collide in brilliant displays of violence and hope that never betray their base definition. The first page of Batman #15 is an especially strong example of Snyder's descriptive skills, defining the Joker's hatred through pupil physiology. ("Happiness, laughter, affection. The pupils open. Fear, anger, hatred, the pupils close. But not his. His pupils stay fixed, tiny points of blackness, the eyes of someone who hates everything, everyone.")
Without spoiling the climax, this story ultimately succeeds by focusing on the psychology of its characters instead of the unnerving violence that marked some of its earlier chapters. The price Batman pays is far higher than another corpse bound to rise again if sales slow down. If anybody thinks that mainstream comic books can't be smart and provocative while work like this exists, then the jokes on them.