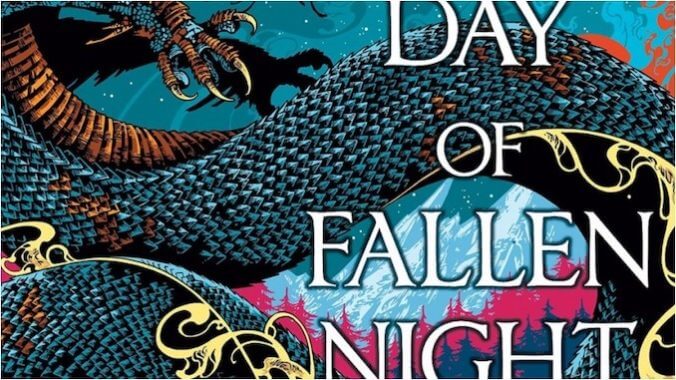 Though fantasy author Samantha Shannon may be best known for her sprawling dystopian Bone Season series—which, by the way, is excellent!—with its spunky heroine, deadly otherworldly beings from another dimension, and agonizingly slow-burn central romance, but it was the release of her The Priory of the Orange Tree that fully established her as a writer that could literally do anything in the world of fantasy. A massive, old-school thousand-page epic about dragons and magic and secret sisterhoods of powerful sorceresses, Priory is female-focused fantasy at its absolute best. In fact, the only possible complaint about the book is that it was a standalone story, which meant that readers had to say goodbye to the intensely detailed, fascinating world that Shannon's book built on its final page.
Until now. Technically, her latest novel, titled A Day of Fallen Night isn't a sequel or a continuation of the story we read in Priory. It is a standalone prequel, set centuries before the events that take place in the previous book. (The stories that play out in this book have long passed into legend by the time those living in the other are born.) You can even read this second installment in Shannon's newly named Roots of Chaos series without ever having read its sister novel, but despite the almost two thousand pages spread between them, I don't recommend it. These texts dance around and echo through one another in ways both large and small, using the strength of Shannon's immense and immersive worldbuilding to tell a story that spans both kingdoms and generations. And there are moments where the scope and heft of that story feel like nothing so much as a work of art, grounding sweeping, apocalyptic events in emotional, deeply human stories of connection, love, and agency.
Literally spread across the four corners of the world — the four cardinal directions alert you to what area of the map you're entering at the top of each chapter—-the story is encompass nearly a half dozen main characters whose journeys all inevitably connect (though many of them will never physically meet). In the West, teenage princess Glorian Berethnet is heir to the queendom of Inys, and has been raised to believe the existence of her family line is the literal chain that holds a monstrous wrym known as the Nameless One in check beneath the earth. Despite her desire to make her own choices, her body is not her own—and she is facing mounting pressure to wed and continue the line of succession. (Each Berethnet queen famously only births a single daughter.)
In the East, a young woman named Dumai lives on a vast mountain peak and trains as a godsinger, a human with a unique connection to the dragons her people worship but who have slept for centuries. In the South, Tunuva Melim is a sister of the Priory of the Orange Tree, an order of female warrior mages tasked with preparing for the Nameless One's inevitable return. And in the North, a housecarl named Wulfert Glenn in service to Glorian's father, the king of Hroth, struggles to ignore the rumors of witchcraft that cling to him thanks to his mysterious foundling past.
While the initial presence of so many POV characters could field unwieldy or even unconnected in the hands of a lesser writer, Shannon never lets us forget that these seemingly disparate characters are all pieces in service of a larger story that draws the strands of their fates inexorably towards one another. And as dark forces rise in the world and new wrym-like creatures begin appearing in the world again, bringing with them a deadly plague that leaves its victims writhing in agony, all will race to survive, as every country struggles to decide how it will behave during what later ages will one day know as the Great Sorrow because of the horror and destruction that will be rained upon the world.
Like Priory before it, the world in A Day of Fallen Night is effortlessly diverse and inclusive. All but one of the book's major POV characters are women, each at disparate points in their own lives and facing an array of different personal challenges. Queer and nonbinary characters are commonplace and love blossoms between and among all genders. The worldbuilding is, as always incredible, with a level of detail that makes each setting and supporting character feel rich and fully realized.
Those who have read Priory will also undoubtedly appreciate the ways that Fallen Night pulls back the curtain on some of the legends and tightly held beliefs of the story's various kingdoms, showing us the ways that the legend of Glorian Shieldheart inevitably grew out of the story of a frightened young queen doing her best to fight for her people and the truths behind the stories of the Eastern dragons who once rose up against the wyrms of fire.
But while Shannon's writing excels at showing us action-heavy scenes of destruction, it's even better at reminding us what all these people—from their disparate, very different corners of the world—are fighting for and the ways the very real problems they face often stem from all too human sources, rather than supernatural beasts. Because while the battle scenes are certainly thrilling, what makes Fallen Night sing is the way it uses its fantastical framework to explore complex issues of love and loss, sacrifice and duty, bodily autonomy, and motherhood. The rare fantasy epic where every page not only builds on what came before—but what comes after as well.
---
Lacy Baugher Milas is the Books Editor at Paste Magazine, but loves nerding out about all sorts of pop culture. You can find her on Twitter @LacyMB.