It's always a bittersweet experience when a favorite series concludes. On the one hand, everything the characters have been working toward resolves in one fashion or another. Readers may root for success (or for just the right tragedy), but as things come to that conclusion, there's the expectation of a satisfying ending. (And then a book hangover as readers mourn the fact that the series is done and they'll never get to read it again for the first time.)
This year had a wealth of series endings on the calendar; we here at <i>Paste</i> are rounding up a few of our most anticipated (and recently published) finale titles in the fantasy genre arriving in 2023.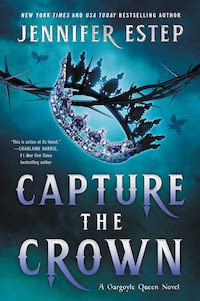 The Gargoyle Queen Trilogy by Jennifer Estep
Final installment: Conquer the Kingdom
Release Date: March 7 from Harper Voyager
For fans of Jennifer Estep's epic fantasy world, which she first introduced with the 2018 launch of her "Crown of Shards" series, one of the most anticipated series enders this year was the finale of the Gargoyle Queen trilogy. The new series follows Gemma Ripley, princess and spy, as she navigates the perilous grounds between her nation of Andvari and the enemy nation of Morta. Queen Maeven and, worse, her eldest son Milo, are out to bring Advari to its knees, despite Gemma's growing relationship with Maeven's younger son, Leonidas. 
Gemma and Leo are deeply connected, and their similar magic binds them together even more thoroughly. But as they grow to realize how important they are to each other, their nations continue to head perilously toward all out war. Estep raises the stakes in Conquer the Kingdom,  which hit the shelves in March, but don't worry—she's left the door open for another trilogy to follow, starring one of the secondary characters, that certainly won't disappoint!

The Unstoppable Trilogy by Charlie Jane Anders
Final Installment: Promises Stronger Than Darkness
Release Date: April 11 from Tor Teen
Space opera lovers have been eagerly awaiting the recent April release of the third volume in Charlie Jane Anders's "Unstoppable" trilogy, and it has just arrived. The first book in the series, Victories Greater than Death, introduced Tina, the teenage Earthling who is actually the clone of a great general destined to save the universe. Only…it doesn't quite work out that way. Now, Tina's gone, and her friends are still picking up the pieces. 
Promises Stronger than Darkness follows Elza (now a space princess) and Rachael (an artist who is desperately trying to hold her friends together) as they take up the mission Tina left behind, something that requires them to enlist the help of the woman who is the reason Tina's gone. Hold on to your spacesuits, because this is a bumpy (and joyful) ride.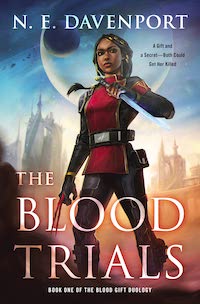 The Blood Gift Duology by N. E. Davenport
Final Installment: The Blood Gift 
Release Date: April 18 from Harper Voyager
E. Davenport's "Blood Gift" duology also features space battles and impossible odds as soldier Ikenna wrestles with the choices she made in The Blood Trials. The grandchild of Mareen's greatest Legatus, Ikenna spent much of The Blood Trials trying to discover who was behind her grandfather's murder. When it's revealed that Mareen's betrayal of her family goes even deeper, she crosses several lines herself, giving into her blood gift, something taboo in Mareen because of its connection with the nation's greatest enemy. 
Now, in April's The Blood Gift, the Blood Emperor is on the rise, and Ikenna is on the run, with only one option she can see: she and her friends have to assassinate the Blood Emperor to end a devastating war. Surrounded by lies and intrigue, Ikenna has always had trouble knowing who to trust (and has made some terrible decisions because of that); with the fate of Mareen, the nation that murdered her grandfather, in her hands, seeing the conclusion she brings about is sure to be an exiting rush, where victory may mean different things to everyone involved.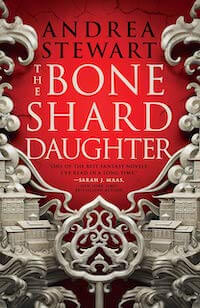 The Drowning Empire Trilogy by Andrea Stewart
Final Installment: The Bone Shard War
Release Date: April 25 from Orbit
Andrea Stewart's gorgeous epic fantasy series "The Drowning Empire" came to a head in the previous book, Bone Shard Emperor, as the newly made emperor Lin realized that the constructs waging war on the empire were led by a woman she knows—because the two of them were made, by the former emperor, in an attempt to bring his beloved wife back to life. 
Now in The Bone Shard War, released in April, war faces Lin on multiple fronts: the powerful Alanga have returned, and Nisong, the leader of the constructs, has joined up with one of them. To make matters worse, Lin's governors are revolting, trying to wrench their own islands out from under her rule. Stewart's multiple POV narrations, some in first- and some in third-person, give incredible depth to the world and the motivations of those who live there. The threat of the sinking islands amps up the stakes, and the mysterious talking creatures—something like a cross between cats and sea dragons—are always entertaining and endearing. This is a series readers will be sad to bid farewell.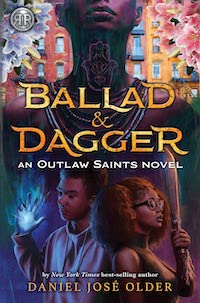 The Outlaw Saints Duology by Daniel José Older
Final Installment: Last Canto for the Dead
Release Date: May 16 from Rick Riordan Presents
Daniel José Older's "Outlaw Saints" duology follows teens Mateo and Chela as they discover their own powers—and divine aspects. When the island of San Madrigal sank, New York City took in her refugees, and the diaspora community there is filled with dreams of finding a way back home. 
In the opening novel, Ballad & Dagger, Mateo's not concerned with that—he's more interested in music—but when he witnesses a murder and realizes that he has powers, he discovers that the evil that sank his homeland has returned. He and Chela manage to fend it off, but in May's Last Canto for the Dead, the pair are separated by the conflicts that now plague their community, and even their love for each other may not be enough to conquer all. This is a powerful YA that incorporates Santeria, Jewish mythology, pirates, and gods, and the conclusion is not to be missed.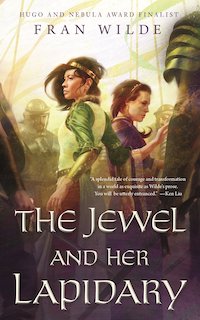 The Gem Universe Series by Fran Wilde
Final Installment: The Book of Gems
Release Date: June 20 from Tordotcom
In Fran Wilde's first "Gem Universe" novella, The Jewel and Her Lapidary, the Jeweled Court is guarded by Jewels and their bonded Lapidaries, people who are bound to singing gemstones, which grant them vast magical gifts. But as the series progresses, these stories of magical powers pass into legend, with each title moving further in time away from the original story. 
With The Book of Gems, which releases in June, Wilde launches readers into an academic thriller, as Dr. Devina Brunai, a researcher into gemlore, hopes for the opportunity to study the ruins of the Palace of Gems in person. But when her mentor steals the chance from her, Dev grows progressively more concerned about his messages back to her. Something strange is happening, and if Dev wants a chance to save him, and her research, she has to go to the palace herself to discover the truth. With unique POV characters in each novel, each "Gem Universe" book stands alone, but is enhanced by the stories, set across time, in the same world.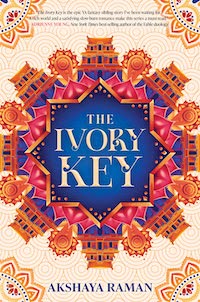 The Ivory Key Duology by Akshaya Raman
Final Installment: The Crimson Fortress 
Release Date: August 1 from Clarion Books
"The Ivory Key" duology's concluding volume The Crimson Fortress brings back all the royal sibling drama in the original volume, as Vira, Ronak, Kaleb, and Riya fight to return magic to their kingdom. Now on separate missions, the four of them must uncover truths in order to find a path toward working together to save their nation. 
Akshaya Raman's worldbuilding is gorgeous, and the sibling fantasy energy gives the series some real meat—and real heart—especially for readers who have complicated relationships with their own siblings. This one hits shelves in August.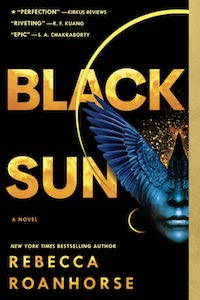 The Between Earth and Sky Trilogy by Rebecca Roanhorse
Final Installment: The Mirrored Heavens
Release Date: August 1 from Saga Press
Rebecca Roanhorse's highly acclaimed Black Sun brought readers to the holy city of Tova for the first time, where two dueling religions faced off in a battle that left no one the winner. In Fevered Star,  Serapio and Naranpa became living avatars of their gods, and the fate of Tova hung on their choices. 
Now, everything is rushing toward a conclusion that will reveal who survives, and whether Tova itself will last beyond the end of The Mirrored Heavens when the concluding volume of the "Between Earth and Sky" series arrives in August.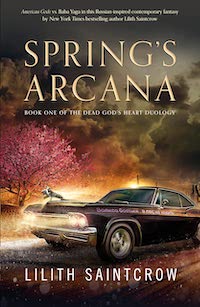 The Dead God's Heart Duology by Lilith Saintcrow
Final Installment: The Salt-Black Tree
Release Date: August 8 from Tor Books
Lilith Saintcrow's "Dead God's Heart" duology wraps in The Salt-Black Tree, which riffs on stories of Baba Yaga in a contemporary setting. Nat Drozdova is on a quest to retrieve the Dead God's Heart, an artifact she intends to use to save her dying mother's life.
But in the first book, Spring's Arcana, Nat learned she's been lied to her whole life, which changes the stakes of her mission…and the choices she'll make before it's over. This conclusion comes in August, making it a great choice for a last-days-of-summer read.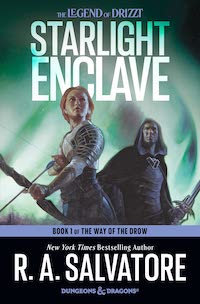 The Way of the Drow Trilogy by R. A. Salvatore
Final installment: Lolth's Warrior
Release Date: August 15 from Harper Voyager
While R. A. Salvatore has been writing books about Drizzt Do'urden for over three decades, but stories of the drow ranger set in the Forgotten Realms (most recently the setting of the brand new Dungeons & Dragons: Honor Among Thieves film) have continued to hit the New York Times bestseller list as they come out. 
August's newest installment, Lolth's Warrior, may not be the conclusion to the Drizzt books, but it is the ending to the "Way of the Drow" trilogy, in which Drizzt has to manage his roles as friend, father, and citizen of the nation he once fled as its people rebel against their villainous goddess, the Spider Queen.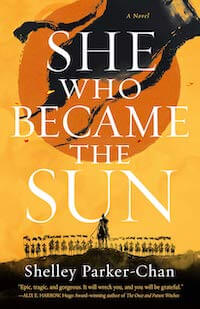 The Radiant Emperor Duology by Shelly Parker-Chan
Final Installment: He Who Drowned the World
Release Date: August 22 from Tor Books
Shelly Parker-Chan's He Who Drowned the World is a delicious follow-up to She Who Became the Sun, filled with intrigue, battle, and imperial ambitions. 
The sequel, which will conclude the "Radiant Emperor" duology when it releases in August, continues to follow commoner Zhu Yuanzhang, now ascended to a kingship, as she navigates the deadly alliances required to have a shot at the imperial throne. (Pair this with other sapphic trifecta titles from the ongoing "Magic of the Lost" series by C. L. Clark or "The Burning Kingdoms" series from Tasha Suri if you still need more sapphic fantasy in your life.)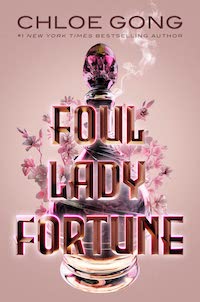 The Foul Lady Fortune Duology by Chloe Gong
Final Installment: Foul Heart Huntsman 
Release Date: September 26 from Margaret K. McElderry Books
Chloe Gong has become a queen of Shakespearean retellings, and in September, her "Foul Lady Fortune" duology reveals the fate of spy Rosalind Lang, who was introduced in Gong's earlier novel These Violent Delights.  After her false marriage to a fellow spy Orion came unraveled in Foul Lady Fortune, Rosalind has to navigate the media storm after her own identity is exposed. 
In Foul Heart Huntsman which hits shelves in September, she hatches a plan to not only continue her mission, but to win Orion back as well—and take down his mother's dangerous chemical weapon in the process. Gong uses the framework of Shakespeare's comedy As You Like It to build a spy thriller in her alternate (and supernaturally weird) version of 1930s Shanghai.

The Thousand Worlds Trilogy by Yoon Ha Lee
Final Installment: Fox Snare
Release Date: October 22 from ​​Rick Riordan Presents
While Yoon Ha Lee is best known for his adult science fiction, he's also the author of a fantastic middle grade series that blends space opera with Korean mythology. Dragon Pearl, introduced fox spirit Min, who reappeared as a secondary character in Tiger Honor and now returns to the protagonist role in the concluding novel of the "Thousand Worlds" trilogy, Fox Snare, which releases in October. 
In the first volume, Min came into possession of an artifact known as the Dragon Pearl, something others had sought for their own power and advancement. Now, she teams up with other characters from the series to survive an inhospitable planet—and broker a peace treaty between the Sun Clans and the Thousand Worlds. This middle-grade series has plenty of adult appeal; Lee's writing is always compelling, and while the main characters are all younger, the fates of worlds lie on their shoulders.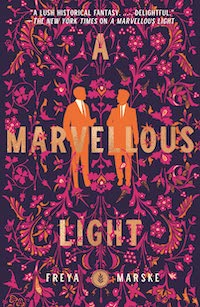 The Last Binding Trilogy by Freya Marske
Final Installment: A Power Unbound
Release Date: November 7 from Tordotcom
Love historical fantasy in the style of C. L. Polk's Witchmark? Freya Marske's queer fantasy "Last Binding" trilogy, which began in A Marvellous Light might be just your cuppa. Set in an alternate Edwardian England where magic is real, the series blends elements of romance and mystery with a fantastical setting.
The concluding volume stars Jack Alston, Lord Hawthorne, who, in November's A Power Unbound,  thought he'd be able to retire in peace from the magical life. But when there's a threat to all Britain's magicians, he finds himself drawn back into that world, alongside a nobility-hating writer and thief who may hold the key to ending the threat. Each book in the trilogy features a different couple, but the plots tie together to shape Marske's larger world.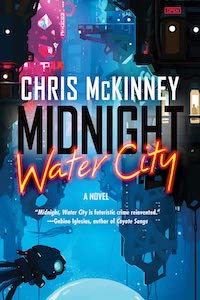 The Water City Trilogy by Chris McKinney
Final Installment(s): Eventide, Water City and Sunset, Water City, both arriving in 2023
Release Date: July 11 and December 5 from SoHo Crime
Midnight, Water City launched a trilogy of averted apocalypse proportions, where the truth is hidden, and as an unnamed detective tries to unravel a murder mystery, he only finds more questions. Despite catching the murderer in the first novel (and author Chris McKinney ending on a satisfying conclusion), there's more to the story.
The nameless narrator is back in Eventide, Water City, due out in July, and Sunset, Water City, which brings the trilogy to a conclusion in December. After retiring as a detective to be a stay-at-home dad for his daughter, the narrator faces another world-changing crisis. Ascalon's Scar, a mark in the sky that represents how humanity avoided the apocalypse, disappears, and a villain the narrator thought was dead returns to get revenge. The noir tone of the trilogy is sure to appeal as much to detective novel readers as it is to science fiction fans—and its commentary on class, climate, and the morality of truth is absolutely on point. Pick up all three for a binge-worthy mystery weekend!
---
Alana Joli Abbott is a reviewer and game writer, whose multiple-choice novels, including Choice of the Pirate and Blackstone Academy for Magical Beginners, are published by Choice of Games. She is the author of three novels, several short stories, and many role-playing game supplements. She also edits fantasy anthologies for Outland Entertainment, including Bridge to Elsewhere and Never Too Old to Save the World. You can find her online at VirgilandBeatrice.com.