The 7 Fantasy Book Series that the Max Muggles Should Turn into a TV Show Instead of Harry Potter
Books
Lists
fantasy
Last week Warner Bros. Discovery announced that HBO Max would, on May 23, officially become Max. The name alone definitely should have been given a bit more thought (all I can think of is that old T.J. Maxx jingle about getting the max for the minimum price). During the brouhaha, Warner Bros. Discovery also announced a slew of new programming. There will be Gremlins! A Game of Thrones prequel! More True Detective! More Big Bang Theory! 
We could quibble with and question all of the above. But the most distressing announcement was that Max (where, given its price structure, it is still to be determined if you are getting the max for the minimum price) will be doing, to quote the press release, "a faithful adaptation of the beloved original Harry Potter books written by J.K. Rowling." It will be, wait for it, a decade-long series. Rowling will be an executive producer.  Let's set aside the fact that the eight movies already exist so why revisit the source material? The bigger question is why go back to anything Rowling has written. For years, we've had to reckon with separating a beloved work from an author who now spews hateful transphobic rhetoric on a daily basis.  
Casey Bloys, chairman and CEO of HBO and Max content, seemed unprepared for any questions about Rowling being involved citing that "our priority is what's on-screen" and that her transphobic remarks are a "very online conversation, very nuanced and complicated and not something we're going to get into." Okay so that makes zero sense and it seems unfathomable that Bloys didn't have a better answer for questions he had to know he was going to get. 
But here's the thing: You could talk to any middle school student or any librarian or any caregiver of a tween and find dozens and dozens of terrific fantasy book series ripe for adaptation. There was literally no need to go back to the Author Who Shall Not Be Named. There are seven original Harry Potter books and here are seven book series Max could have looked to instead of giving Rowling even more money.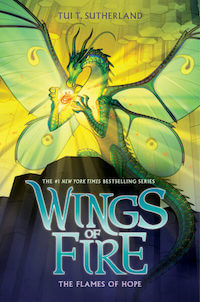 Wings of Fire
There are 15 books (so far!) and six (so far!) graphic novels in this series by Tui T. Sutherland. This hugely popular (each new book spends weeks on the New York Times bestseller list) follows dragons and prophecies and fights for the kingdom.
In April of 2021, Netflix announced it was making a Wings of Fire series with both Sutherland and Ava DuVernay (!!!) attached as executive producers. I made the mistake of telling my kids this exciting news which led to the weekly query of "Is the Wings of Fire series out yet?" Finally after months of saying "animated series take time," I googled it and learned to my dismay that Netflix scrapped their plans for the series in May of 2022. But I'm sure more than a year's worth of development is still there and we know HBO (I'm sorry Max) knows a thing or two about making dragon shows.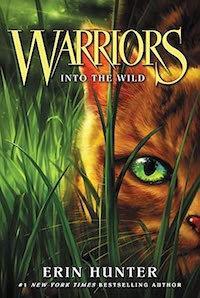 Warriors
I'm not even going to pretend to tell you I know how many Warriors books there are. I just know every time I take my kids to a bookstore they always manage to find a new one.
This series, written under the pseudonym Erin Hunter, follows the story of feral cats who are divided into clans. There are rebellions, alliances, wars, you name it. Yes, it's a story about cats but again I say look at The Mandalorian or Lord of the Rings—we don't need humans to make a story stick.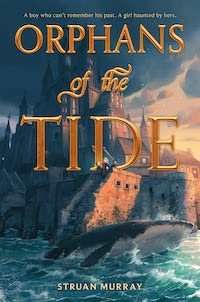 Orphans of the Tide
 In this fantasy trilogy from Struan Murray, Ellie lives in a place known only as The City. Residents there fear The Enemy, who drowned the whole world. The Enemy can take human form and residents of The City are convinced that a boy who washed up on shore is The Enemy in disguise. Ellie thinks he's innocent and sets out to save him.
These books are more popular in the U.K. than they are here, but the series is poised to make the leap into the wider pop culture conversation.  

Keeper of the Lost Cities
These nine books by Shannon Messenger tell the story of Sophie Foster, a girl who is living her life in San Diego until one day she discovers that she's actually an elf. Sophie must move into the hidden civilization known as the Lost Cities. She attends a special elves school called Foxfire. There's a rebel group called Black Swan and a dark villainous group known as Neverseen. 
My 7th grader will tell you this series has a lot in common with Harry Potter.  But as far as I can tell Messenger doesn't spew hateful content on the daily so that's definitely something! In 2021, it was announced that Ben Affleck would be making a movie based on the series. But there's been no information since then so perhaps the book series is totally available for a TV adaptation.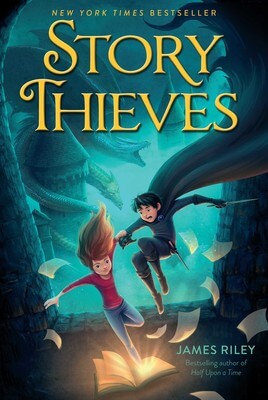 Story Thieves
 In this five-book series from James Riley, Owen and his friend Bethany, who happens to be a half-human/half-fictional character, climb into Owen's favorite books series to help Bethany find her father and, you know, save the day.
Yes, these books skew a little on the younger side. But all the better for the inevitable merchandise tie-ins.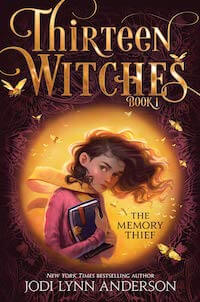 Thirteen Witches
The third book in this popular series by Jodi Lynn Anderson just came out last month. In it, twelve-year-old Rosie learns Thirteen Witches control all the world's evil. In the first installment, entitled The Memory Thief, Rosie learns that a witch is stealing people's memories and is the reason that Rosie and her mother have never connected.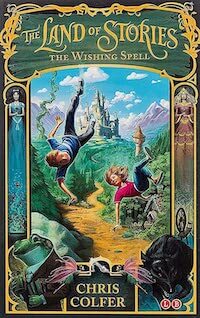 The Land of Stories
It just seems like such a no-brainer to bring this seven-book series by Chris Colfer (Kurt on Glee) to the small screen.
As in Story Thieves, twins Alex and Conner leap into books, this time into fairy tales complete with Evil Queens and charming princes. In 2017 it was announced that Disney would be making the first book into a movie but there has been no information since. Time to take this story to the Max!
---
Amy Amatangelo, the TV Gal®, is a Boston-based freelance writer and a member of the Television Critics Association. She wasn't allowed to watch much TV as a child and now her parents have to live with this as her career. You can follow her on Twitter @AmyTVGal.