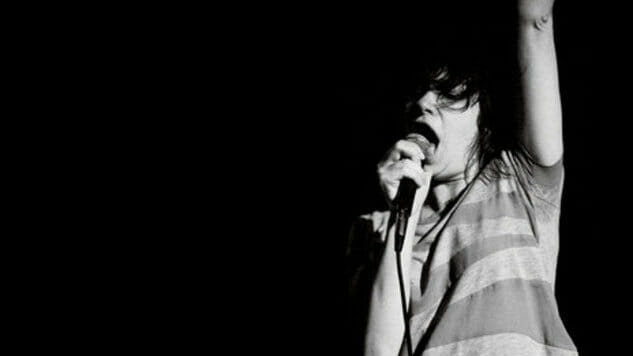 At the height of Sleater-Kinney's popularity, one particularly difficult image to reconcile might be of its guitarist—the one who occupied stage right and high-kicked her way through kinetic sets—doing anything else. Like a few other notable '90s upstarts out of the Pacific Northwest, Sleater-Kinney was a band that thrived on the winning combination of the right time, right place, right community and, most importantly, right talent. For seven full-length LPs, Carrie Brownstein's place in the seminal act felt jigsaw-perfect alongside co-guitarist and vocalist Corin Tucker and drummer Janet Weiss.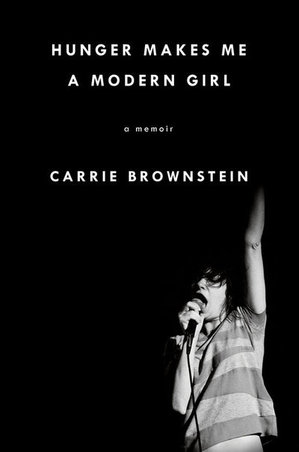 But it was with Sleater-Kinney's break-up that another horde of pop culture consumers were exposed to Brownstein as one half of the hilarious duo that makes up IFC's Portlandia, a talented critic for NPR and, less-publicized, a deeply committed animal shelter volunteer who, apparently, used to play in a great band. In 2015, Brownstein is as much a rock star on stage with the recently reunited Sleater-Kinney as she is a public figure.
With the release of Hunger Makes Me A Modern Girl, which takes its name from The Woods' "Modern Girl," Brownstein guides audiences through a concise recollection of how this came to be, starting with a childhood (and pre-Guitar Hero) Duran Duran cover band that simply mimed along to the music. The result is a completely addicting, entertaining and thorough memoir that should strike a chord past Sleater-Kinney fans. While we absolutely recommend picking it up, we don't suggest doing so during a busy work week.
Hunger Makes Me a Modern Girl is written, more or less, chronologically, only jumping forward in time to establish an immediate sense of context that would be impossible otherwise. For example, Brownstein addresses her father's sexuality chapters before it's addressed in real time, and the whole book itself is kicked off by a particularly intense memory of a Sleater-Kinney tour. These few deviations from the chronological timeline are necessary; they inject an immediate sense of tension into the book, allowing readers to see pieces of Brownstein's life come together as something much larger looms above.
Modern Girl is split into three parts: "Youth," which details Brownstein's upbringing in suburban Washington State; "Sleater-Kinney," which offers a thorough retrospective on the band; and "Aftermath," a relatively short entry on Brownstein's post-rock life. Portlandia fans might be initially bummed at the lack of content covered there, but considering the weight and tight presentation of Brownstein's prior story, it's easy to see why only a brief mention of the show made it to print. Modern Girl tells the singular story of a person finding her identity within music; a fully functional community in the punk houses of Olympia, Washington; and a self-made family conjured by feedback and thundering drums. Everything else—widely appreciated as it might be—is an afterthought.
One of the more interesting aspects of Brownstein's book is how she reports this information. There's a sense of detachment in her writing, which deals with subjects as difficult as her mother's struggle with anorexia and learning of her father's repressed homosexuality to the inner-band turmoil that ended Sleater-Kinney. Brownstein presents these subjects matter-of-factly, and tales that have been reserved publicly for this book actually seem to pay off from this narration; her subjects have been carefully considered, dissected, reassembled. As a result, Brownstein's narration feels more reliable when it absolutely has to: when discussing a developing Riot Grrrl scene and recounting her band's at-times hellish road to hiatus. Apparently this isn't a new thing for Brownstein, who's been appointed as a level-headed reporter of fact once or twice in her lifetime.
When a friend's father died of Lou Gehrig's disease, her mother counted me among the first to be notified. I was getting ready for school when I received the call; I took the news like a pro. No tears. When was the funeral? Did they need anything? Later, in the school bathroom during lunch, I delivered the story to our friends with the gravity and stoicism of a nightly news anchor. Here were the facts. They wept streams of turquoise mascara while I stood near the paper towel dispenser and let them know just how things were. This was life. Tough it out.
That's not to say that Modern Girl is robbed of emotion. The book is made up of hundreds of moments that, page by page, build into a dimed-out roar on finding yourself—and your people—as a young adult. Fans of Sleater-Kinney will sport a perma-grin through her tales of meeting Tucker, as well as Weiss' thunderous try-out for the band. These pieces make the band's ultimate collapse all the more sad, too. But Brownstein looks at outcomes and actions rather than the nitty-gritty path that led to any given point—stopping only to hold herself accountable in a few given scenarios, like a nightmarish meeting with Matador Records. This can be confusing at times, with conflict arising without warning in what feels like otherwise placid timelines, but Modern Girl still presents a refreshing perspective in the music memoir. Ask anyone who dared to complete Morrissey's Autobiography, which was a brilliant exercise in finger-pointing.
Brownstein's Modern Girl offers a lot of value for a wide range of readers. Music historians get a first-hand POV of one of punk rock's most interesting scenes, aspiring artists will take away Brownstein's mandatory perspective and casual readers get a damn fine read.
For further reading on Carrie Brownstein, check out Paste music editor Bonnie Stiernberg's recent cover story.