The New York Public Library Reveals Its Most Checked-Out Books of All Time
Start off the new decade with some classics
Photos by Jonathan Blanc/New York Public Library
Books
News
New York Public Library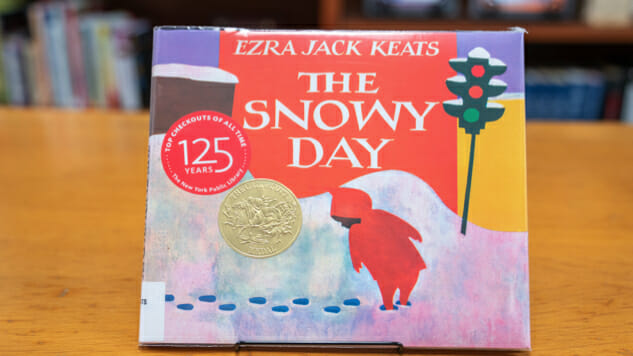 On Monday, the New York Public Library revealed its list of the 10 most checked-out books throughout its 125-year-long history, and topping the list is The Snowy Day, written and illustrated by Ezra Jack Keats, with an impressive 485,583 check-outs.
Speaking to the appeal of the simple story about a young boy enjoying the snowfall, Andrew Medlar, one of the experts who compiled the list and the director of the library's BookOps selection team, said in a statement, "It is such a relatable story, and pure magic for kids and adults alike. It's on people's radar screens, they remember when they first heard it, and they want to share that experience with their kids. And the artwork is just gorgeous."
Medlar says that there are usually a few factors that contribute to a book's popularity, including the length of the book (the shorter, the better), the number of languages available, how long it's been in circulation, if it's on school lists, and its relation to current events. Novels like Fahrenheit 451, for example, tend to have greater demand depending on a political situation that might make it feel timely to readers.
The list has a solid showing of children's literature, dystopian fiction and a seemingly unusual addition: Dale Carnegie's How To Win Friends and Influence People.
Fun fact: Surprisingly, Margaret Wise Brown's much-beloved Goodnight Moon wasn't included on the list because Anne Carroll Moore, a one-time NYPL librarian, disliked the story so much that the New York Public Library actually didn't carry the 1947 book until 1972.
To celebrate the library's 125th year, the NYPL will be offering a The Snowy Day special library card, and the MTA has created commemorative MetroCards available at select stations.
See the complete list below, and read on, friends.
10. The Very Hungry Caterpillar by Eric Carle / 189,550 checkouts
9. Harry Potter and the Sorcerer's Stone by J.K. Rowling / 231,022 checkouts
8. How To Win Friends and Influence People by Dale Carnegie / 284,524 checkouts
7. Fahrenheit 451 by Ray Bradbury / 316,404 checkouts
6. Charlotte's Web by E.B. White / 337,948 checkouts
5. To Kill A Mockingbird by Harper Lee / 422,912 checkouts
4. Where The Wild Things Are by Maurice Sendak / 436,016 checkouts
3. 1984 by George Orwell / 441,770 checkouts
2. The Cat in the Hat by Dr. Seuss / 469,650 checkouts
1. The Snowy Day by Ezra Jack Keats / 485,583 checkouts