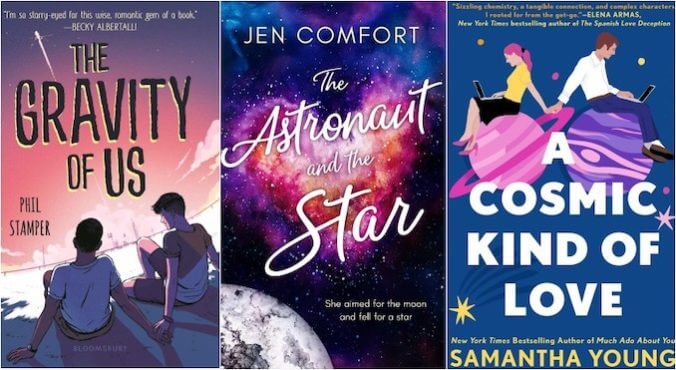 Looking for the perfect read for the most romantic (and merchandised) holiday of the year? If you've already devoured bookstore romances and restaurant romances, you can always make your next read out of this world.
These romance novels may not be set in space, but they're filled to the brim with nerdy NASA goodness. Whether it's astronauts falling in love, or the teenagers of future Mars colonists, these starry-eyed romances are sure to launch your next romance reading binge.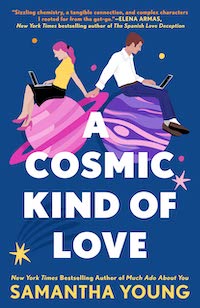 A Cosmic Kind of Love by Samantha Young
Event planner Hallie Goodman never meant to fall for an astronaut. She hadn't even met media-darling Christopher Ortiz—she just accidentally watched all the videos he sent to his ex-girlfriend, a client of Hallie's for an upcoming wedding, when the bride dropped them onto a shared file collection. There's something about Chris that draws her, but she knows watching someone else's private videos is wrong, so she sends her own apology videos to Chris's NASA email. The videos bounce, and Hallie figures that if she ever meets Chris, she'll just apologize in person…
But in reality, Chris received the videos and found himself strangely drawn to Hallie as well. When they run into each other at his ex's wedding, she confesses, he doesn't, and their romance gets off to a rocky start. While there are You've Got Mail vibes here, there's never the weird gaslighting that happens in that film; Chris and Hallie are both good people who have been underestimated and poorly treated by their friends and family, and they're striving to prove themselves. For Chris, that means choosing his own path, rather than following in his brother's footsteps or doing what his father dictates. For Hallie, that means standing up for herself instead of letting others mistreat her. Their personal journeys are as core to the book as their romance (which is by turns steamy and sweet), making their hard-won progress feel even more triumphant. Fans of will-they-won't-they romances and fun twists on grand gestures will fly away with this one!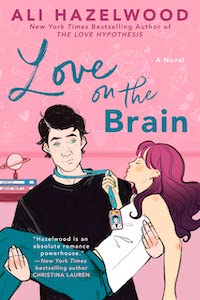 Love on the Brain by Ali Hazelwood
Author Ali Hazelwood has made a name for herself on BookTok as a romance writer for women in STEM, and Love on the Brain fits that niche to a T. Bee Königswasser is a brilliant neurologist who has a misogynist boss at NIH. When she gets an offer to go on loan to NASA for a project developing new helmets for astronauts, she's ecstatic—until she finds out that her co-lead on the project is her grad school nemesis, Levi Ward. Can she really work with a person who loathed her so much, he couldn't even make eye contact with her? But Ward seems to respect her abilities, and things take a turn for the better, until something goes terribly wrong with the project, threatening to bring them all down, and ruin Bee's career forever.
Along with the fantastic science and the workplace intrigue, Bee's secret identity as a feminist STEM viral Twitter account (and the—once again—You've Got Mail-style interactions between her and her Twitter bestie), may make reader long for the good ol' days of Twitter. The misunderstandings between Levi and Bee are over the top in the best way, and the direct, successful attack on sexism in STEM is at least as much a wish fulfillment fantasy as the romance itself. Readers craving smarts with their sexy will find this tastier than astronaut ice cream.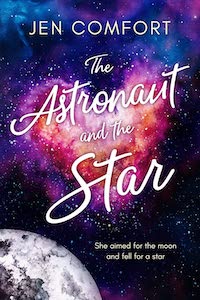 The Astronaut and the Star by Jen Comfort
Astronaut Reggie "Regina" Hayes doesn't need anyone else to be successful at her job, because she's just that competent, but it gives her a reputation for not being a team player. Her prickly attitude (and that one bad interview with an Internet troll that she'll never live down) mean she's no media darling, either. But without proving she can win over both a team and the media, she'll never be the first woman on the moon. So when her very last chance at success is playing babysitter to a star whose director is demanding he have realistic astronaut training, Reggie takes on the assignment, determined not to like the charming actor. Jon Leo, on the other hand, likes everything about Reggie, even though he thinks he could never be smart enough for a woman like her. The animosity between the two of them (despite Jon's best intentions) is almost as strong as their physical attraction, and when the pair decide to give a physical fling a try—because who will ever find out?—the sparks fly.
Reggie may be one of romance's prickliest heroines, determined to shut everyone out. She's also openly bisexual, pushing away romantic partners of all genders equally, which is worth noting for the still-rare representation in romance. Jon's cinnamon roll exterior works well as a foil, especially when he's dealing with his own insecurities, yet selflessly helping Reggie show her best face to the cameras. Comfort amps up the spice when it comes to where she choreographs her sex scenes (and included an author's note about which ones wouldn't, scientifically, work, just for the curious reader!). For a completely different take on enemies to lovers, with some added wacky (and villainous) internet trolls, this could rock your world.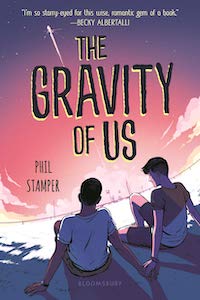 The Gravity of Us by Phil Stamper
In the 1960s, the astronaut families in the U.S. became celebrities featured on magazine covers and news specials. Stamper remimagines that scenario for the modern day, complete with a reality TV series setting up imagined drama and a teenage streamer determined to fight back by giving his audience what they really want—the adventure of space exploration.
When Cal finds out his pilot father has been accepted into the Mars program at NASA, he's furious: he'll lose his summer internship at BuzzFeed and miss his senior year in New York, with his best friend, in exchange for Texas. Worst, he will be pressured to give up his journalism—streaming outside the reality show is against the rules. But Cal didn't sign a contract, and he's determined to keep it real instead of what the show is trying to sell. With the help of fellow astrokid Leon (the first bright spot in Cal's new life, for whom Cal falls hard), Cal stays true to himself—and learns more about what that really means to him.
Because the whole novel is from Cal's perspective, there's less of the dual perspective push and pull of category romances here, and that's a strength. The romance between Cal (who is also a bi protagonist) and Leon is sweet, with a lot of healthy open discussion about what their relationship should be. And while the romance is central to the story, this is also a novel about healing and community, all while celebrating the science of space exploration. YA romance lovers should boldly go along for the ride!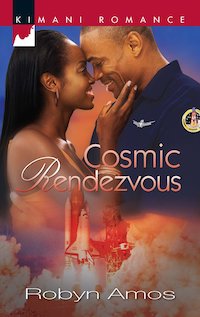 Cosmic Rendezvous by Robyn Amos
Robyn Amos's novel Cosmic Rendezvous has been out the longest of any title on this list (it was published in 2009), but this Kimani romance featuring an aerospace engineer and hot shot astronaut duo who have to stop a spacecraft saboteur deserves a read.
Like Love on the Brain's Bee, Shelly faces sexism and underestimation in the workplace, combating it through sheer competence. She's striving toward becoming an astronaut herself; she's a spacecraft designer, but she longs for space, too, and she initially doesn't think that Lincoln is taking her seriously as a candidate. But once they're paired together, their mutual respect quickly grows, and their attraction heats up like rocket fuel. This one is perfect for readers looking for a romance that takes the couple literally out of this world.
---
Alana Joli Abbott is a reviewer and game writer, whose multiple choice novels, including Choice of the Pirate and Blackstone Academy for Magical Beginners, are published by Choice of Games. She is the author of three novels, several short stories, and many role-playing game supplements. She also edits fantasy anthologies for Outland Entertainment, including Bridge to Elsewhere and Never Too Old to Save the World. You can find her online at VirgilandBeatrice.com.