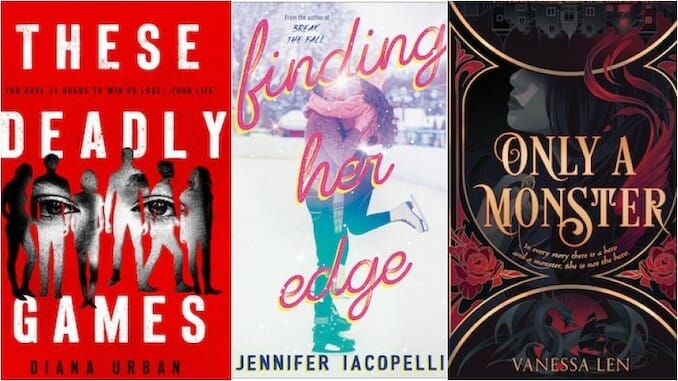 Young adult fiction often contains multitudes, so it's no surprise that any most anticipated list for a given month often feels pretty chaotic. And this February's may be more all over the place than most, as our favorite YA titles include everything from sweet coming of age contemporaries and fantasy-tinged heist tales to straight up horror, historical fiction, and even an ice dancing romance. (Look the Winter Olympics are almost here, and I am not made of stone.) Find our picks for the month below, listed in order of release date.
These Deadly Games by Diana Urban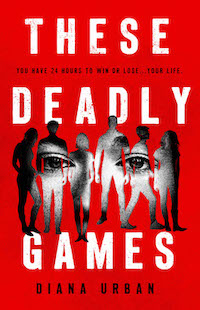 Release Date: February 1 from Wednesday Books
Why You'll Love It: The sophomore novel from the author of All Your Twisted Secrets, this explosive thriller follows the story of a gamer who's forced to play in the most dangerous competition of her life—one in which she'll have to sacrifice her friends in order to save her sister. Fast-paced and full of impossible choices, These Deadly Games is a cat-and-mouse chase that doesn't pull any punches.
Publisher's Description: When Crystal Donavan gets a message on a mysterious app with a video of her little sister gagged and bound, she agrees to play the kidnapper's game. At first, they make her complete bizarre tasks: steal a test and stuff it in a locker, bake brownies, make a prank call. But then Crystal realizes each task is meant to hurt—and kill—her friends, one by one. But if she refuses to play, the kidnapper will kill her sister. Is someone trying to take her team out of the running for a gaming tournament? Or have they uncovered a secret from their past, and wants them to pay for what they did…

I Must Betray You by Ruta Sepetys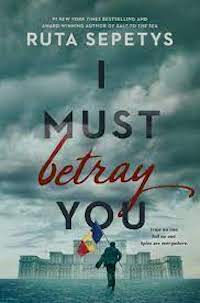 Release Date: February 1 from Penguin
Why You'll Love It: One thing the YA genre really needs more of these days is diverse historical fiction, and this latest effort from the bestselling author of The Fountains of Silence is a great example of why. Set in 1980s Romania during the reign of communist dictator Nicolae Ceau?escu, a young boy will have to decide whether to betray his family or risk everything he loves to resist. Sepetys' prose manages to walk a careful line between unbearable tension and fragile hope and doesn't pull any punches about the stark historical realities of the time.
Publisher's Description: Romania, 1989. Communist regimes are crumbling across Europe. Seventeen-year-old Cristian Florescu dreams of becoming a writer, but Romanians aren't free to dream; they are bound by rules and force. Amidst the tyrannical dictatorship of Nicolae Ceau?escu in a country governed by isolation and fear, Cristian is blackmailed by the secret police to become an informer. He's left with only two choices: betray everyone and everything he loves—or use his position to creatively undermine the most notoriously evil dictator in Eastern Europe. Cristian risks everything to unmask the truth behind the regime, give voice to fellow Romanians, and expose to the world what is happening in his country. He eagerly joins the revolution to fight for change when the time arrives. But what is the cost of freedom?

Golden Boys by Phil Stamper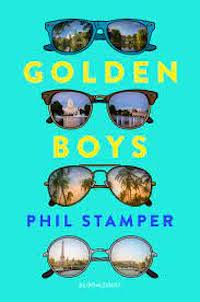 Release Date: February 8 from Bloomsbury YA
Why You'll Love It: The latest novel from the author of As Far as You'll Take Me and The Gravity of Us, Golden Boys is a heartwarming, bittersweet coming-of-age tale about four queer boys during their senior year of high school. Bonded by their sexuality in a small town in rural Ohio, the group will have to learn how to navigate the world without one another for the first time as they each set off on a series of big adventures in new places ranging from Paris to Daytona Beach, Florida. The boys' friendship is delicately and realistically rendered, and their genuine care and support for one another throughout the challenges they face is lovely.
Publisher's Description: Gabriel, Reese, Sal, and Heath are best friends, bonded in their small rural town by their queerness, their good grades, and their big dreams. They are about to embark on the summer before senior year of high school, where each is going on a new, big adventure. Reese is attending a design school in Paris. Gabriel is going to Boston to volunteer with an environmental nonprofit. Sal is interning on Capitol Hill for a U.S. Senator. And Heath is stuck going to Daytona Beach to help out at his aunt's beachfront arcade. What will this summer of new experiences and world-expanding travel mean for each of them—and for their friendship?

Ophelia After All by Racquel Marie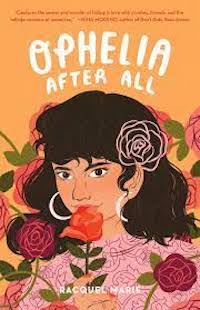 Release Date: February 8 from Fiewel & Friends
Why You'll Love It: An effortlessly inclusive queer coming of age story follows seventeen-year-old Ophelia Rojas through her senior year of high school, as she struggles to navigate all the changes taking place in her life, from the looming specter of college to her growing feelings for one of her female classmates, a marked change from her usual boy crazy ways. Ophelia's diverse friend group is a delightful addition to the story, and if the effortless way she writes charming teen angst is any indication, Marie is an author to keep an eye on.
Publisher's Description: Ophelia Rojas knows what she likes: her best friends, Cuban food, rose-gardening, and boys – way too many boys. Her friends and parents make fun of her endless stream of crushes, but Ophelia is a romantic at heart. She couldn't change, even if she wanted to. So when she finds herself thinking more about cute, quiet Talia Sanchez than the loss of a perfect prom with her ex-boyfriend, seeds of doubt take root in Ophelia's firm image of herself. Add to that the impending end of high school and the fracturing of her once-solid friend group, and things are spiraling a little out of control. But the course of love—and sexuality—never did run smooth.

Mirror Girls by Kelly McWilliams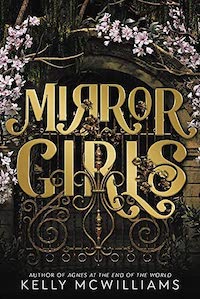 Release Date: February 8 from Little, Brown
Why You'll Love It: A YA Gothic horror about biracial twins separated after the lynching of their parents, raised on opposite sides of the Jim Crow divide, and connected by a supernatural twist—all from the author of Agnes at the End of the World? Just put it on your TBR list right now.
Publisher's Description: As infants, twin sisters Charlie Yates and Magnolia Heathwood were secretly separated after the brutal lynching of their parents, who died for loving across the color line. Now, at the dawn of the Civil Rights Movement, Charlie is a young Black organizer in Harlem, while white-passing Magnolia is the heiress to a cotton plantation in rural Georgia. Magnolia knows nothing of her racial heritage, but secrets are hard to keep in a town haunted by the ghosts of its slave-holding past. When Magnolia finally learns the truth, her reflection mysteriously disappears from mirrors—the sign of a terrible curse. Meanwhile, in Harlem, Charlie's beloved grandmother falls ill. Her final wish is to be buried back home in Georgia—and, unbeknownst to Charlie, to see her long-lost granddaughter, Magnolia Heathwood, one last time. So Charlie travels into the Deep South, confronting the land of her worst nightmares—and Jim Crow segregation.

Finding Her Edge by Jennifer Iacopelli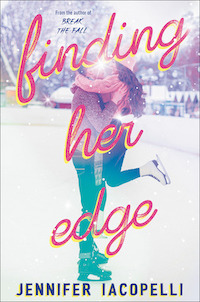 Release Date: February 8 from Razorbill
Why You'll Love It: A swoony ice dancing romance that arrives just in time to fill the Scott Moir and Tessa Virtue-shaped hole in our hearts at this year's Winter Olympics? Yes, please. And while Finding Her Edge may follow a very familiar formula, author Jennifer Iacopelli executes it with delightful precision, and readers will love to root for the fake relationship between the book's central couple to turn into something very real.
Publisher's Description: With gold-medalist parents and her older sister headed to the Olympics, all Adriana Russo wants is to live up to the family name and stand atop the ice dance podium at the Junior World Championships. But fame doesn't always mean fortune, and their legendary skating rink is struggling under the weight of her dad's lavish lifestyle. The only thing keeping it afloat is a deal to host the rest of the Junior Worlds team before they leave for France.
That means training on the same ice as her first crush, Freddie, the partner she left when her growth spurt outpaced his. For the past two years, he's barely acknowledged her existence, and she can't even blame him for it. When the family's finances take another unexpected hit, losing the rink seems inevitable until her partner, Brayden, suggests they let the world believe what many have suspected: that their intense chemistry isn't contained to the ice. Fans and sponsors alike take the bait, but keeping up the charade is harder than she ever imagined. And training alongside Freddie makes it worse, especially when pretending with Brayden starts to feel very real.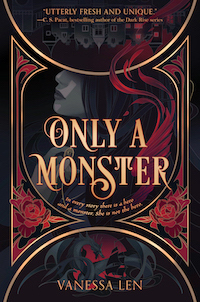 Only a Monster by Vanessa Len
Relase Date: February 22 from HarperTeen
Why You'll Love It: A deeply imaginative urban YA fantasy that feels like it combines popular pieces and tropes into something entirely new, Only a Monster follows the story of a sixteen-year-old girl who learns that her family are literal monsters and that the handsome boy she's been crushing on is a legendary monster slayer. (Awkward!) And in order to save her family, she'll have to embrace her own darkness.
Publisher's Description: Sent to stay with her late mother's eccentric family in London, sixteen-year-old Joan is determined to enjoy herself. She loves her nerdy job at the historic Holland House, and when her super cute co-worker Nick asks her on a date, it feels like everything is falling into place.
But she soon learns the truth. Her family aren't just eccentric: they're monsters, with terrifying, hidden powers. And Nick isn't just a cute boy: he's a legendary monster slayer, who will do anything to bring them down. As she battles Nick, Joan is forced to work with the beautiful and ruthless Aaron Oliver, heir to a monster family that hates her own. She'll have to embrace her own monstrousness if she is to save herself, and her family. Because in this story…she is not the hero.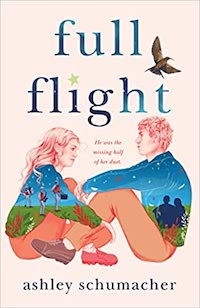 Full Flight by Ashley Schumacher
Release Date: February 22 from Wednesday Books
Why You'll Love It: From the author of one of 2021's best young adult novels (Amelia, Unabridged) comes a lyrical tale of first love and tragedy in a high school marching band that will definitely leave you ugly crying by the end. Schumacher's prose is lovely and her writing demonstrates an astute understanding of how to write emotion in ways that feel both immediate and real.
Publisher's Description: ??Everyone else in the tiny town of Enfield, Texas calls fall football season, but for the forty-three members of the Fighting Enfield Marching Band, it's contest season. And for new saxophonist Anna James, it's her first chance to prove herself as the great musician she's trying hard to be.
When she's assigned a duet with mellophone player Weston Ryan, the boy her small-minded town thinks of as nothing but trouble, she's equal parts thrilled and intimidated. But as he helps her with the duet, and she sees the smile he seems to save just for her, she can't help but feel like she's helping him with something too.
After her strict parents find out she's been secretly seeing him and keep them apart, together they learn what it truly means to fight for something they love. With the marching contest nearing, and the two falling hard for one another, the unthinkable happens, and Anna is left grappling for a way forward without Weston.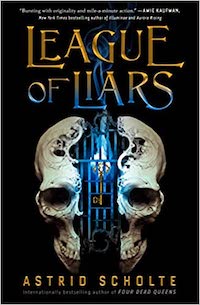 League of Liars by Astrid Scholte
Release Date: February 22 from Putnam
Why You'll Love It: A fast-paced fantasy heist thriller from the author of Four Dead Queens and The Vanishing Deep, League of Liars will definitely help pass the time for those of us counting the days until the Six of Crows gang are back on our screens. (When, Netflix, when??) Here, four teens will have to join together to pull off the ultimate jailbreak, and maybe learn some lessons about not just how magic works in their world—but injustice and the carceral system along the way.
Publisher's Description: Ever since his mother was killed, seventeen-year-old Cayder Broduck has had one goal—to see illegal users of magic brought to justice. People who carelessly use extradimensional magic for their own self-interest, without a care to the damage it does to society or those around them, deserve to be punished as far as Cayder is concerned. Because magic always has a price. So when Cayder lands a once-in-a-lifetime opportunity to apprentice under a premier public defender, he takes it. If he can learn all the tricks of public defense, the better he'll be able to dismantle defense arguments when he's a prosecutor. Then he'll finally be able to make sure justice is served.
But when he meets the three criminals he's supposed to defend, it no longer seems so black and white. They're teenagers, like him, and their stories are . . . complicated, like his. Vardean, the prison where Cayder's new clients are incarcerated, also happens to be at the very heart of the horrible tear in the veil between their world and another dimension—where all magic comes from.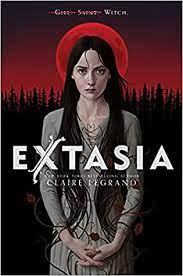 Exstasia by Claire Legrand
Release Date: February 22 from Katherine Tegen Books
Why You'll Love It: Those of you who are familiar with Claire Legrand's Empirium trilogy are already aware of how deft she is at crafting fiercely complex female characters and her feminist dystopian YA horror Exstasia is no different. Darker in almost every way than Legrand's previous works, this isn't a light or even a necessarily fun read, but it's harrowing emotional journey is certainly compelling.
Publisher's Description: Her name is unimportant. All you must know is that today she will become one of the four saints of Haven. The elders will mark her and place the red hood on her head. With her sisters, she will stand against the evil power that lives beneath the black mountain—an evil that has already killed nine of her village's men.
She will tell no one of the white-eyed beasts that follow her. Or the faceless gray women tall as houses. Or the girls she saw kissing in the elm grove. Today she will be a saint of Haven. She will rid her family of her mother's shame at last and save her people from destruction. She is not afraid. Are you?