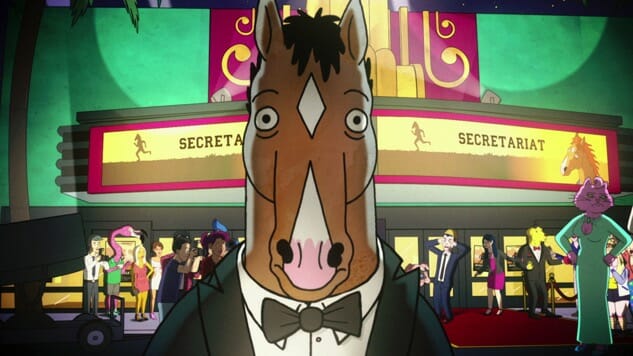 BoJack Horseman is Paste's top-ranked Netflix original series for a reason: It's fucking brilliant. The thoughtful comedy, created by Raphael Bob-Waksberg, is as adept with bone-deep drama as it is with silly sight gags, and there's no shortage of either in the show's new season four trailer.
The clip serves as a wonderful refresher on where we left off after BoJack's superlative third season. The gang's all here: Diane (voiced by Alison Brie) is working for a blog (how relatable), Mr. Peanutbutter (Paul F. Tompkins) is running for governor (he's a good boy, and he's got our vote), Princess Carolyn (Amy Sedaris) is romancing a mouse (give peace a chance) and Todd (Aaron Paul) is … doing so many Todd things. But there's a (figurative) elephant in the room all the while: Where on earth is BoJack Horseman?
We'll find out on Friday, Sept. 8 when BoJack returns from his solo sojourn into the desert. Watch the season four trailer above, check out the season's Where's Waldo?-esque key art below and if you see BoJack, say hello.