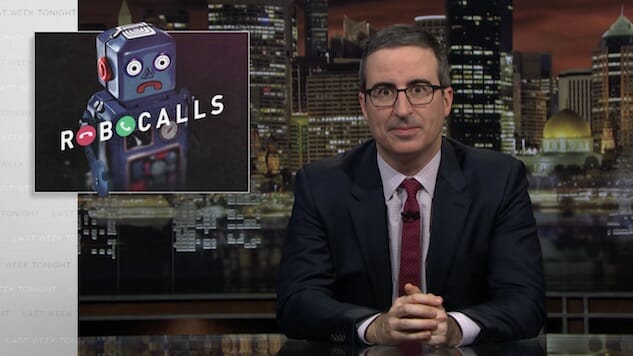 Hi, we'd like to talk to you about a very special television-viewing opportunity.
On Sunday's Last Week Tonight with John Oliver, the HBO late-night host explained exactly why the universally detested "robocall" feels like more of a problem now than ever.
A robocall, as Oliver explains, is any automated, non-human-dialed phone call, and is typically conducted by robots. This irritating practice has become exponentially more common in recent years, increasing by 57 percent in 2018 to nearly 58 billion calls. And people hate them: 60 percent of all FCC complaints are about automated calls.
"While a small percentage of robocalls may be useful," Oliver said about the irritating practice, "the vast majority of them vary from the irritating to the outright illegal. And you may be surprised to know how many major companies are involved in this."
Oliver displays some of the problematic technologies that are making robocalls more popular as a tool for scammers, and explains some of the bureaucratic hiccups that have resulted in their prominence.
Ultimately—and in typical Last Week Tonight fashion—Oliver devises his own grandiose way of working to right this wrong. And this one doesn't even require audience participation!
Watch the entire segment below.