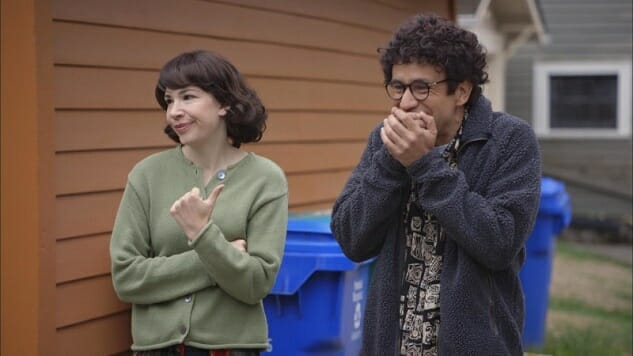 Portlandia, IFC's long running sketch comedy, opens its sixth season this week with a particularly strong episode, "Pickathon." Show creators and stars Carrie Brownstein and Fred Armisen, along with co-creator and director Jonathan Krisel, have always been great at identifying, then mocking, trends for audience enjoyment, and "Pickathon" is no different, with music festivals, drones and manly top buns in this week's sights. The season opener, however, illustrates how the show continues to evolve from the loose collection of sometimes completely rando sketches in its early years.
Last season the show's creators and writers made a conscious shift in structure (or lack thereof) to focus episodes on a theme or storyline and minimize the out-of-nowhere sketches that at times felt like filler because they needed to hit the 22-minute mark. All of "Pickathon"'s sketches center on the issues that concertgoers—particularly Gen Xers—face.
Pickathon is a real weekend festival held outside of Portland in August. (This year's artists include Yo Lo Tengo, Jeff Tweedy, Julia Holter and others, if you're interested in attending.) The episode opens with Brendan (Armisen) and Michelle (Brownstein) debating the pros and cons of attending the festival. Pros include, obviously, the music, as The Flaming Lips are headlining this faux version of the festival. Cons include the lines, the 100-degree heat and the inordinate amount of sand; in other words, all the standard complaints you see on your Twitter and Instagram feeds during major festivals like Coachella.
Their dilemma hits home for those concertgoers of a certain age, and Brendan and Michelle find a solution through drones. A company provides an absentee virtual concert-going experience for when "you had to be there." It's a perfect way for the couple to combat their FOMO (fear of missing out). They can watch the concerts from the comfort of their own home, and yet still discuss the intricacies of the performances and set lists with their friends afterwards. Portlandia, of course, always adds those surprising, absurd little flourishes to these sketches, and in this case, it's the huge, circular helmets that they have to wear for the virtual reality experience, as well as the blue liquid that gets poured into their home toilet to create that special olfactory festival porta-potty experience. The brilliant touch, however, is the signed certificate of virtual attendance, issued by the company, so Brendan and Michelle have proof that they attended Pickathon. Naturally, things go slightly off the rails in Portlandia, and the drones cause a little bit of havoc at the festival, segueing nicely with the episode's other storylines.
Natasha Lyonne, who guested last season on the "Seaworld" episode, returns as a concert attendee who takes a "ladycation" with her bff, played by Brownstein. Although the two name their weekend "Boycrazy," they promise each other that "it's about the music first." Riiiight. The two women don their best Bjork-like swan outfits for the fest, but are stopped dead in their tracks by a gorgeous man and his top-knot bun. They follow him around the festival and have second thoughts about the "ladycation."
While Michelle and Brendan remain sweat-free and out of trouble, their drones harass the in-person attendees. One of the tiny machines gets into an altercation with the leader of a biker gang, who leaves Pickathon to track down the drone's owner. Another drone has an unfortunate encounter with the aforementioned top-knot bun, but the resulting mini-adventure for Lyonne and Brownstein is highly amusing.
Portlandia also has a knack for bringing in musical guest stars with varying degrees of acting ability (and success), and this week, Wayne Coyne and Steven Drozd of the Flaming Lips were in the hot seat. The two do a decent job of acting like…The Flaming Lips. Drozd, in particular, seems to have a lot of fun in these segments, which focus on the two Flaming Lips bands that have shown up to play the Pickathon, after a falling out between members. The factions, led by Coyne and Drozd, are battling over playing order and music rights. Character actor John Levenstein does a great turn as the bands' lawyer, desperately trying to get one or both bands onstage to play so they won't be sued for a breach of contract. Levenstein has one of the funniest lines in the episode when he tries to negotiate terms of performance. He says they can sing "Do You Realize," but quickly adds, "You can't sing the chorus."
We're looking forward to seeing what Portlandia has in store for the rest of its 10-episode season. In "Pickathon," Fred and Carrie's characters acknowledge the subtle life changes that face the cool kids when they grow up. For now, the characters and the show are handling the ageing gracefully—well, as gracefully as Portlandia can muster.
Christine N. Ziemba is a Los Angeles-based freelance pop culture writer and regular contributor to Paste. You can follow her on Twitter.