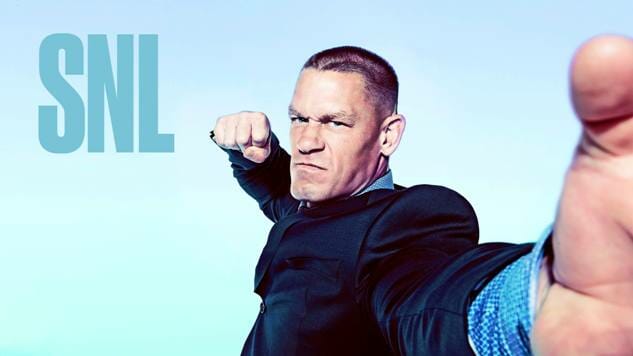 For many, our knowledge of John Cena is limited to his recent emergence as muscle-bound supporting actor in female-centric raunch-coms (Trainwreck, Sisters). But to most, Cena is a professional wrestling superstar. With a nod to Dwayne "The Rock" Johnson, Cena has parlayed his WWE fame into a legitimate television and film career. This past summer he was in Studio 8H, honing his sketch-acting skills on Maya & Marty. Now, he's back as Saturday Night Live guest host, but to the show's writers, Cena remains something of an enigma. He seems open, up for anything, but he's never asked to do much more than play beefcake or dumb jock. This is unfortunate. SNL misses an opportunity here—the show's first glaring stumble of its comeback season.
"John Cena Monologue" is designed to acquaint the uninitiated with the actor's wrestling side. Fair enough, but rather than expand our understanding of Cena, it serves to lock in the muscle man cliché for the rest of the evening. "Dating Show," "The Karate Teen," "Science Presentation," "Where'd Your Money Go?" and "Romance Bookstore" all riff on this idea—to the point of exhaustion. By the time we get to 10-to-1 "Talent Competition," we've given up hope. And though that particular sketch—about a pair of misbegotten owl-handlers—is quite funny, it arrives too late.
"Dating Show" gets close, but ultimately sinks under the debilitating weight of Cena's beefcake burden. The sketch's premise, a MTV dating show where the hunky host is the best catch, is fine…as are performances by rejected dates Beck Bennett, Kyle Mooney and Mikey Day. But making Cena's game show host reciprocate Cecily Strong's attraction removes any conflict. We are left with one of those classic Saturday Night Live sketches without an ending. It just…stops.
"Through Donald's Eyes" is an admirable, if not entirely successful, alt-comedy experiment directed by Good Neighbor co-founder Dave McCary. McCary came to SNL with fellow Neighbors Beck Bennett and Kyle Mooney. Along with staff writer Nick Rutherford, the team has made quite a mark on the show's comedic direction. And typically, if a pre-tape sketch feels a little absurdist, strange, disconnected from the typical fare, it's very likely that McCary is behind it. The Good Neighbor guys are now in their fourth season with Saturday Night Live. It will be interesting to see where they go from here.
The return of Dyke and Fats, Kate McKinnon and Aidy Bryant's send up of '80s cop buddy shows, is the evening's best sketch, and one of only two with a (tacked on) holiday theme. Overall, the episode's writing feels creaky, a little exhausted, frankly. Perhaps, given SNL42's strong start, that is to be expected. Hopefully, the next hiatus can be a time of recalibration and rejuvenation for the staff. It would be a shame if the show slipped into a mid-season slump.
Oddly enough, even in one of its weakest overall outings of the current season, Weekend Update may have been the best of the year. Jost and Che's jokes were on point and tight, and appearances by Kate McKinnon as German Chancellor Angela Merkel and Cecily Strong at drug-addled Cathy Anne were excellent. The coming Trump administration remains the segment's overarching focus—to the point of some trollish delight when Strong acknowledges that Trump is one of the show's most bullish fans ("I know he's watching!"). Of note, nearly all of the segment's post-election, Trump-aimed barbs have been about policy, not the person. And while there is no sense that the show would ever side with Mr. Trump politically, attempts to balance the act with jokes at the expense of his political opponents is refreshing. There is the sense that no one is safe from Weekend Update satire—which is as it should be.
To this end, Bryan Cranston's cameo in "The Lead With Jake Tapper Cold Open" is a stroke of satirical genius. Given so many of his appointments so far, who better to lead Trump's Drug Enforcement Administration (DEA) than Breaking Bad's Walter White?
Maren Morris performs the rousing country-rock anthem "My Church" and new song "80s Mercedes," from her recent album Hero. Morris is good, though polished to so high a shine as to undermine the kind of Americana street cred other country acts have found in recent years. There is a sense that she is more the creation of post-American Idol corporate country than anything rootsy or true, though a song like "My Church" provides some small measure of hope that Morris may be able to shake off that Nashville glam one of these days and be the first great artist of her generation.
Saturday Night Live's annual Christmas show is always a treat…usually reserved for a showstopper of a host and musical guest. It's anyone's guess what will happen with first time guest host Casey Affleck (Manchester By the Sea) taking the spotlight, though there is reason to hope. After a few weeks of under-performing, SNL42 is primed for another breakout moment.
NEXT WEEK: Casey Affleck and Chance the Rapper
Chris White writes and directs independent feature films. His latest is Unbecoming, an award-winning, southern gothic comedy starring Patti D'Arbanville and Michael Forest. Follow Chris on Twitter.