Watch The Rock Consume Candy for the First Time in 27 Years on Fallon
Images via YouTube
Comedy
Video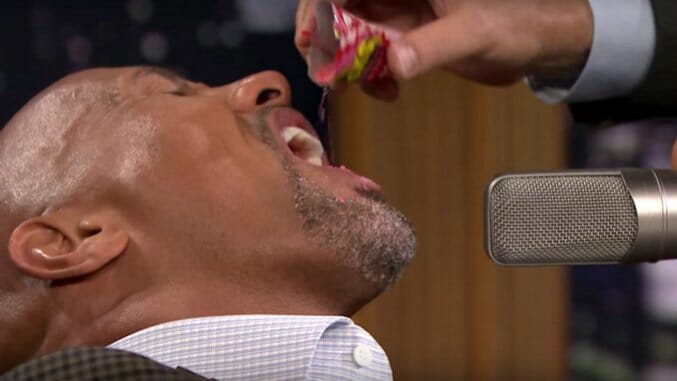 Dwayne "The Rock" Johnson appeared on The Tonight Show With Jimmy Fallon last night to promote his not-so-great new movie Central Intelligence.
During his interview, Fallon reveals that The Rock has not committed the sugary sin of consuming candy since George H.W. Bush took office back in 1989.
According to The Rock, the last piece of candy he ate 27 years ago was a Twizzler during a movie.
Fallon then cajoles the wrestler-turned-actor to give in to the rest of humanity's naturally sweet craving and become one percent more vulnerable to cavities, like the rest of us.
Fallon presents the Rock with several tempting options, from his old flame, Twizzlers, to modern classics like Ring Pops and a Nerds Rope. The two also make several inappropriate jokes when Fallon whips out a massive and extremely phallic gummy worm.
They eventually decide on Pop Rocks, which Fallon graciously pours into The Rock's gaping maw. The entire video is goofy fun and presents a light-hearted end to an an otherwise rough week.
Watch the whole thing go down above.