10 Quick and Dirty Ways to Makeover Your Bathroom
Photo by Horacio Villalobos/Corbis via Getty Images
Design
Lists
Bathroom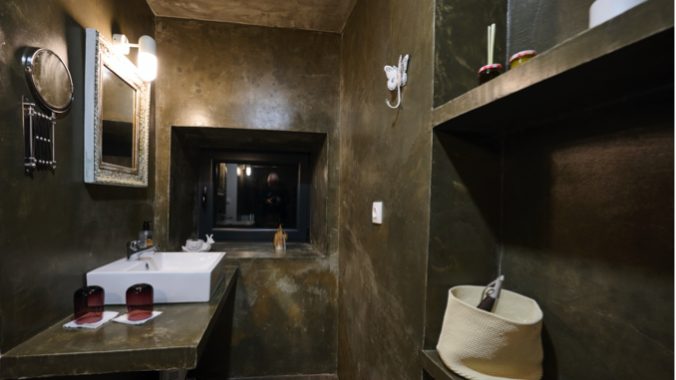 Bathrooms are notorious for costly renovation projects and often need some serious overhaul because of eyesores like floral wallpaper and dated pink tile. But, renting or a tight budget doesn't exclude you from having the washroom of your Instagram dreams. Make a big impact with these budget-friendly upgrades that'll make you want to spend even more time in "the library."
1. Invest in an easy-to-wash bathmat
Avoid white or beige if you can. It will buy you some extra time between washes when you can't see
2. Bring in a side table or stool for handy storage
Make soaking a bit more peaceful by placing a footstool or tiny table tub side as a resting spot for bath oils, candles, and a good book.
3. Pick up a few plants for your most-humid room
Pssssst… houseplants that suffer in other spots of the house can thrive with the help of steamy showers. Perch containers on the back of toilets, the top of medicine cabinets, countertops, and windowsills. If there's a sturdy space, it's game.
4. Put grooming essentials in pretty containers
Keep the economy-size bag of cotton balls and swabs in the storage closet. Buy a few nice canisters or jars to showcase the essentials in a stylish way for easy use.
5. Upgrade to a chicer garbage can
Toss that forgettable plastic trashcan to the curb. Just use the age-old budget trick of using an old plastic shopping bag as a bin liner in a prettier container. Baskets and small hampers are easy ways to step up your décor game.
6. Consider a shower curtain an art opportunity
It's easy to opt for a plain white shower curtain that you can bleach with all your bath towels. Yet, a shower curtain is more or less an opportunity to put a big panel of art on display. Take advantage with a design that will guide the rest of your washroom décor scheme.
7. Hang up a chic Roman shade for privacy
Privacy is essential in the bathroom. Either invest in a Roman shade or DIY one with blinds and fabric that will fit a small-scale window. Pull it down all the way when you're in the bathroom doing your business and hoist it up to let in some light at other times.
8. Buy a set of patterned hand towels
Get around to finally finding a towel pattern that speaks to you. After all, it's a lot easier than sticking with a wallpaper style you'll have to stare at for years.
9. Show off some art
Wall art isn't reserved for living areas. Tile wall? No prob. Lean a framed piece up against the wall to make your place look chic.
10. At the very least, buy some nice soap
A nice-smelling hand soap is a cheap thrill that feels luxurious every single time. Mrs. Meyers; is the best $4.99 you'll spend.