Nearly 50,000 thirsty beer fans will descend on the Colorado Convention Center in downtown Denver from Thursday October 2 to Saturday, October 4 for four sessions of tastings from the nation's top breweries.
The 2014 Great American Beer Festival will feature about 600 U.S. breweries pouring more than 3,000 beers. As has been the case in the past few years, tickets for the biggest beer fest in the world sold out in a matter of minutes when they went on sale in late July.
Last year, I finally checked the GABF off of my personal Beer Bucket List, but I realized that I had arrived in Denver with some preconceived notions that were garnered from attendees of previous festivals and social media, or considered "common knowledge." After attending three of the four GABF sessions as media, I noted that some of those preconceptions were true, others not so much, and others not at all true.
If you're attending for the first time, as I did in 2013, here are 10 of those myths – and how much truth they contain.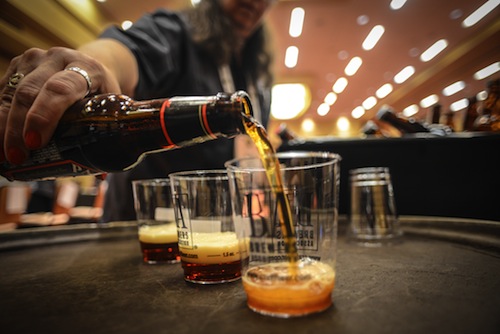 MYTH: If I don't have a ticket, I'm SOL.
FALSE: Sure, the tickets are sold out, but that doesn't mean you're locked out. There's always the secondary online ticket markets, usually at a markup, and last year I saw a LOT of people selling tickets outside the convention center, many at face value (I asked them). But beware of counterfeits. A spokesperson for the Brewers Association, which founded the festival in 1982, says it doesn't keep track of fake tickets, so it's probably not a huge issue. The best bet is to try to stick with hard-copy tickets and avoid purchasing the easily copied paper printouts. Or find a trusted friend who has some extras to unload.
MYTH: Traffic downtown will be a nightmare, and parking will be nearly impossible to find.
TRUE: But who wants to drive there? You'll likely be drinking, remember? Denver has an outstanding public transportation system and cab fares are reasonable. If it's not too late, you can book a hotel room within walking or biking distance; the city has a public bike-sharing program. And the new kids on the street – Lyft and Uber – are options. If for some reason you must drive – with a designated driver, of course – tickets for DDs are $25 each and include non-alcoholic sodas, access to a designated driver lounge, and a gift. DDs can wander about the floor and attend the seminars. But without beer.
MYTH: Lines are so long and samples are only 1 oz., so I'll be lucky to get a pint's worth of beer in a four-hour session.
MOSTLY FALSE: There will be a couple of dozen breweries so popular that they have long lines, but around 600 breweries are pouring. Do the math. Last year, there were long stretches of brewery tables with no one in line. Had I wanted, I could have walked down those stretches sampling ounce-upon-ounce of beer in short time, much of it quite exceptional. Not that I would have done any such thing.
MYTH: Volunteers pour the beer, so no one at the booths will know much about it.
MIXED: A cadre of hard-working volunteers man the taps and some of them are quite knowledgeable, but brewers are often behind the table as well. Catch their attention and most are glad to chat briefly about the beer. Also, if you are familiar with their faces, you can catch them walking around the floor sampling other breweries' products and modestly accepting congratulations for their gold-medal win.
MYTH: If a beer lands a gold medal at the GABF competition, you can be sure it's a great-tasting beer.
DEBATABLE: A gold medal means that a particular entry perfectly meets the standard for that style – period. In the 2013 competition, Anheuser-Busch InBev won a gold medal in the American-Style Lager or Light Lager category for Budweiser Select, a technically well-done brew, but not exactly something a craft-beer aficionado would seek out. In 2012, Pabst Blue Ribbon won the gold in the same category. That said, there are thousands of brews entered in the competition and hundreds are awarded medals, so in most cases that medal means it's a pretty damn good beer.
MYTH: I'm in Denver during the GABF, but I did not score tickets. Guess I'm stuck in the hotel room with a six-pack and the TV.
FALSE: The festival itself takes place over three days, but dozens of sudsy events take place in Denver from Monday to Sunday at the Mile High City's many craft beer-focused establishments. Beer dinners, tap takeovers, brewery tours, and rare beer releases fill the calendar. No beer geek has a reason to be bored that week.
MYTH: I know that at one point or another, I'll have to visit the restroom – and wait in a long line to use it.
MOSTLY TRUE: If you need indoor plumbing, that is. There are a lot of portable toilets in a loading dock area, and you can usually walk right up to one with no wait. Be warned, though, that you have to go through the smoking area to get to them, so if you're sensitive to tobacco fumes, be prepared. Hint: As the festivals go on, the farther you walk down the line, the cleaner the facilities will be.
MYTH: I consider myself a craft-beer aficionado, so I'm going to avoid the final session on Saturday night. I've heard that's just a bunch of "frat boys" trying to get as drunk as possible.
FALSE: I attended three of the four sessions in 2013, missing only the opening one on Thursday night. As with any event involving alcohol, there will always be the minority who abuses the situation. But I did not notice a rise in public drunkenness on Saturday night. In fact, the only time I saw vomit on the floor (which was cleaned up promptly) was at the Saturday afternoon "Members Only" session, which anecdotally is supposed to be the most civilized one because ticket sales are limited to members of the American Homebrewers Association and the Brewers Association. (Disclaimer: I don't know if the mess was the result of overindulgence or just a bad hot dog).
MYTH: The Silent Disco is hilarious to watch.
TRUE: At the back of the hall, a DJ spins tunes that can only be heard through the wireless headphones that the dancers are wearing. Hilarity ensues.
MYTH: There ain't no free lunch.
FALSE: The Beer & Food Pavilion on the festival floor holds food and beer pairing presentations throughout the sessions at no extra cost. Expert chefs and brewers team up to serve and discuss the pairings. Portions, while not huge, are more than just one bite and more than an ounce of beer is poured at a time. Check your festival guide for times and what's being served.
Please be aware that the preceding is based upon personal observations and notes. Your experience may vary.
For more information on the 2014 Great American Beer Festival, go to the Great American Beer Festival.