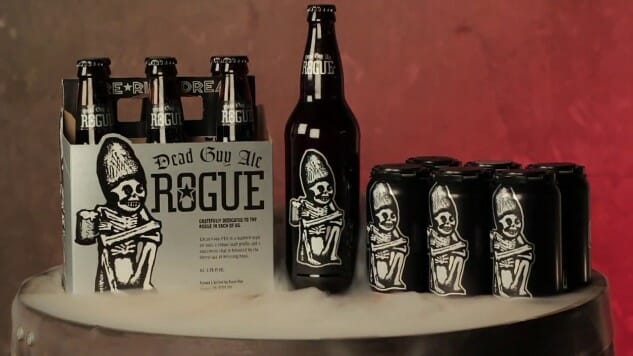 This essay is part of a series this month, coinciding with the concept of Flagship February, wherein we intend to revisit the flagship beers of regional craft breweries, reflect on their influence within the beer scene, and assess how those beers fit into the modern beer world. Click here to see all the other entries in the series.
We've seen some eclectic, unusual choices of brewery flagship throughout the course of this series, but I've always thought that Oregon's Rogue Ales must take the cake in this regard. There are so many unusual aspects to their flagship Dead Guy Ale that every time I consider it, I'm amazed that this beer could somehow have become the thing that built the company.
Consider first, the self-proclaimed style of Dead Guy: It's a German maibock. How many other American craft breweries can you think of with a flagship maibock? Because for me, that answer is "zero." Its such a niche style that even the geekiest beer geeks might have difficulty describing what exactly sets a maibock apart in the first place, as opposed to traditional bocks—a style also not well-represented among flagships. Suffice to say, maibock is actually bock bier's lighter, paler cousin, also referred to as "helles bock" or "heller bock," and characterized by a fruitier, less darkly toasted/caramelized malt character, with more evident hoppiness, which also contributes more hop bitterness. It is in effect the midpoint between traditional bock and Munich helles, and like both of those styles, it's brewed as a lager.
Except for Dead Guy, that is. Rogue takes the oddness a step further here by brewing this beer with ale yeast, effectively making it a "maibock-style ale." And if there's another brewery in the U.S. with a flagship like that, then I certainly haven't encountered it.
It's a case where I can't help but think that branding, naming and labeling probably played a part in cementing this beer as Rogue's most popular and iconic offering. It began its life in the late 1980s as a simple maibock (or maibock-ale) in the Rogue taproom, not yet referred to as "Dead Guy" or bearing its distinctive labeling. That image, of the squatting skeleton in the cone-shaped hat, was apparently created as "a tap sticker to celebrate the Mayan day of the dead," but proved so immediately popular that the maibock was rechristened "Dead Guy" in order to take advantage of the existing artwork. And voila: It gave birth to one of the most widespread and ubiquitous craft beers of the 2000s in particular, when it seemed like every beer bar I stepped into in Illinois had a permanent spot for Dead Guy on tap. Certainly, this was one of the most common craft brews I spotted over the course of my college years in the mid-2000s.
After reaching a production peak in 2014, Rogue has perhaps unsurprisingly contracted somewhat in more recent years, affected by the same increased wave of competition (more than 8,000 breweries) that has made consistent growth a much more difficult proposition for regional craft breweries nationwide. Along the way, they've turned to an array of new styles and innovations, with frequent success—in fact, they produced a DIPA that landed in our top 25, the last time we blind tasted that style. But that little skeleton is still the company's most visible face, even as the Dead Guy brand has expanded to also include a range of distilled malt whiskeys made from beer.
As for the original itself, though, let's give it a taste and see how it's drinking in 2020.
---
Tasting: Rogue Dead Guy Ale
First, here's how Rogue describes their beloved flagship:
Our bold and complex maibock-style ale that has been introducing countless beer drinkers to craft beer the world for over 25 years. Chock full of rich caramel malts and herbal hop nuances tied together with a balanced hop bitterness, this guy is still as drinkable as ever.
If I'm being perfectly honest, I must admit that Dead Guy isn't a beer that I was ever super fond of in my college drinking days when I regularly saw it on tap in beer bars and restaurants. That's less an assessment of Rogue and more the simple fact that I don't particularly love either bock or maibock, typically preferring my German lagers to be more on the crisp, hoppy side. But I can recognize that their description of the beer is pretty spot-on, after tasting it.
On the nose, this one initially presents as malty sweet, with a distinctly yeasty-bready note—less baked bread, and more doughy in nature. There's also some spice and fruit elements, with notes of clove, and a fruitiness that make me think of pears.
On the palate, it presents a bit darker in flavor, with toasty malt, wheat-like flavors and toasted cloves. There's some dark honey sweetness, and hops that read as subtly herbal and earthy. It's a unique melange of flavors, for sure—one of Dead Guy's biggest strengths is likely that it simply doesn't resemble any of the other major flagships on the market. It is entirely its own thing. I've always found it to be sort of odd—and I still do, now—but it makes its appeal to drinkers who appreciate its unique blend of bready-fruity-spicy notes, as well as an ABV (at 6.5%) that is a bit elevated from where you find most comparable German lagers or wheat beers.
At the end of the day, I feel a certain fondness for just about any flagship in this series that has managed to stand the test of time, especially if it's not a pale ale or IPA. Maibock isn't a style I turn to often, but kudos to Rogue for somehow finding a way to consistently produce one for the last 30 years.
---
Jim Vorel is a Paste staff writer and resident craft beer geek. You can follow him on Twitter for much more drinks writing.