It's no revolutionary thought to recognize that beer tourism can be a driving force for a region or city, from San Diego, CA to Denver, CO or Asheville, NC. And as such, it's no surprise that Baltimore, MD legislators clearly saw dollar signs when Diageo announced their desires to build a $50 million brewery and taproom in the area, which the company claims will draw 250,000 visitors in its first year. It's only natural that the state's legislators would probably want to cater to the likes of Diageo, makers of Guinness Stout, as a potential new employer and tourist attraction.
The only problem? In order to do so, they just decided to unilaterally hamstring every small production brewery trying to get its doors open in Maryland. In the blind pursuit of corporate business, Maryland is screwing its local beer industry, forcing new breweries to live by an entirely different set of laws than established ones. It's a shockingly, patently unfair new hurdle for small businesses to clear, and one that came about by rather dubious means when it was railroaded through the Maryland legislature last week.
Here's how messed up this situation is: The Brewers Association of Maryland, the non-profit trade association representing the state's small brewers, was completely unaware of the contents of House Bill 1283 until after it had already been passed by the House of Delegates and thus approved for State Senate review. Why were they unaware? Because the Brewery Modernization Act they proposed was apparently thrown out by the legislature and replaced with a different one, without them even being informed it had happened.*
"We had our bill that we were working to pass, and we were negotiating with retailers and wholesalers," says Tom Barse, a member of the Brewers Association legislative committee and owner of Milkhouse Brewery, a Maryland farm brewery. "But at the same time there were apparently negotiations going on for this other bill, pushed by a delegate from Baltimore, which was greatly in favor of the distributors and retailers, that we didn't know anything about. Leadership in the house was told 'This is the bill you're going to vote for, and this is the bill that the Brewers Association agrees to,' which was a lie. Our bill got shitcanned, and the new bill passed the House unanimously."

That bill, as written, was described by Barse as "a horrible mess." It cut back on hours that breweries could be open, and eliminated the ability of brewers to both have their beers contract brewed or do collaboration beers with other breweries. It even would have threatened the feasibility of the Guinness project itself, as the language about contract brewing could have prevented Diageo from importing its Guinness stout—which makes little sense, given Maryland's desire for a tourist destination brewery. Contract brewing had previously been a grey area—it was something that various Maryland breweries took advantage of, and was technically not legal under most interpretations of the law, but there was very little concrete language to make it clear whether or not contract brewing was acceptable. House Bill 1283, on the other hand, left no doubt, which could have put small breweries depending on contract brewing completely out of business.
Thankfully, after learning of the actual contents of House Bill 1283, kept from them in a fairly obvious attempt to get the legislation through the house unchallenged, the Brewers Association jumped into action to protest and amend the bill in the Maryland State Senate. With a big showing of support in the Senate chambers and before the Senate Education, Health and Environmental Affairs Committee, combined with a letter and phone call campaign, the organization was able to undo a portion of the damage.
"We got enough momentum in order to hammer out some amendments in the Senate that we're not thrilled with, but we can live with to fight another day," says Barse. "At the very least, breweries can now legally contract brew."
Unfortunately, there are still a host of new problems. Although the amount of beer a production brewery can sell from its taproom was increased to 2,000 barrels per year, if they want to sell any more, they'll have to buy that beer back from their own distributor first. That means those kegs or bottles will physically have to leave the brewery, travel to the distributorship, "come to rest" and then be brought back and sold to the brewery that made it. Is it stupid? Of course it is.
Then there's the matter of hours of operation. Under the amended bill, existing breweries will be grandfathered in and given the same rights as the planned Guinness brewery, with hours determined by their local licensing districts. Some of those are as late as midnight, and others can legally remain open as late as 2 a.m. New breweries in Maryland, on the other hand, will be required to close their taprooms as early as 9 p.m., Sunday through Thursday and 10 p.m. at latest, Friday and Saturdays. In effect, it strips the taprooms of all future production breweries from being able to operate as all-night hangouts for their customers, encouraging people to take their business elsewhere. It creates an unequal playing field, and the injustice should be obvious to anyone watching.
Edit: It's worth noting that the representatives of Diageo were also unaware of House Bill 1283 and its contents; nor were the makers of Guinness attempting to create an unfair playing field by advocating for altered closing hours or outlawing contract brewing, which would have been against their own self interest. In fact, Diageo worked alongside the Brewers Association of Maryland in lobbying for amendments in the state Senate that lessened the eventual damage. Neither Barse nor Matt Humbard, cited below, believe that Diageo should be scapegoated for the legislation that advanced through the Maryland House of Delegates.
A view from the breweries
Matt Humbard is one of those brewery owners who stands to be directly affected by the new legislation. The owner of Handsome Beer Co. in the Washington DC metro area, Humbard's beer is contract brewed off-site and served in his taproom. Following his dream to open up a brewery of his own, he had been planning a physical brewing operation to be based in Maryland. But after the passage of House Bill 1283, even after the amendments, he's no longer sure this idea makes any sense.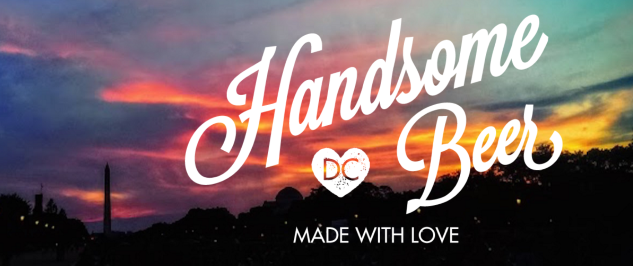 Humbard's company, Handsome Beer Co.
"Maryland is just completely on the wrong side of this," says Humbard. "It's counter to the culture of the whole craft beer industry, which is very collaborative in nature, to allow this kind of grandfathering to happen. Although I'm sure specific companies are happy they get to keep their hours, it's completely unfair that new breweries will be on a different playing field than existing ones. How can you justify limiting one business differently than another business?"
For a new brewery, like the one Humbard intends to open, it's the restriction of open hours that stings the most. Taprooms are generally the most profitable part of a brewery's business plan, and the ability to sell directly to customers at a high profit margin is one of the sources of cash flow that can keep a new brewery in business long enough to expand its production.
"That extra hour or two on a weekend could be thousands of dollars of revenue per night," says Humbard. "That's not something only new breweries should be forced to give up."
We should note that the legislation only applies to "class 5" breweries in Maryland, otherwise known as production breweries. Farm breweries and brewpubs with attached restaurants are not subject to the new rules, but Barse still expects it to negatively impact the chances of new breweries interested in opening in the state.
"There's no question that this makes it harder and less attractive to open a brewery in Maryland," Barse says. "We've just created two separate classes of business with different rights, different hours and different obligations. There will be people who were thinking of investing here who change their minds, without a doubt."
The Guinness connection
Diageo, the U.K. multinational liquor and beverage company and owner of Guinness, hatched an idea for the first Guinness U.S. brewery, to be located outside Baltimore in the suburb of Relay, MD. The location was one of convenience, as Diageo already owned a former Seagram's facility that could easily be converted into a destination brewery and tourist attraction. As mentioned above, the company projected the brewery to draw some 250,000 tourists in its first year, which gave local legislators and even Republican Governor Larry Hogan reason to support the project.
The only problem was the already archaic Maryland beer laws, which would have made it difficult for Guinness to carry out its business plan of importing Guinness Stout, Smithwicks and Harp Lager to the U.S.A. to sell in the brewery. These core brands would not be brewed in the U.S. at all, still coming straight from Ireland. Rather, Guinness would be brewing its new Blonde American Lager in this location, along with other experimental beers, and importing everything else. Because this wouldn't have been legal under Maryland beer law (because it would have counted as contract brewing), a "local bill" for Baltimore County was formulated, which would have been exclusively for the sake of Diageo.
"They were going to be able to sell 5,000 barrels of beer out of their tasting room, be open to late hours and be able to import their brands that they don't brew there," says Barse. "The Maryland wholesalers and retailers were up in arms about that, I think wrongly. I think having a strong Guinness brewery tourist destination in Maryland will only help those businesses grow."
At the same time, though, the Brewers Association of Maryland was also ready to push their own "brewery modernization act," which sought to increase the amount breweries could sell in taprooms to a similar 4,000 barrels per year. It was also designed to make the confusing language surrounding contract brewing more clear, leaving no doubt that it would be an option open to Maryland breweries. It only made sense that the BAM team up on some level with Diageo for a combined bill, as Diageo actually attempted to use their leverage to pass on some beneficial aspects to the state's craft brewers, such as the higher cap on barrels-per-year that breweries would be allowed to sell from their taprooms. And so, they co-wrote the initial bill with BAM.
Unfortunately for the craft brewers, though, this is the bill that got dropped, replaced by the surprise introduction of House Bill 1283, the one they didn't even know existed. An anti-craft bill designed to restrict brewery hours was confusingly amended to increase the barrels per year they were allowed to produce, creating a strange bill that increased the rights of the grandfathered breweries while decreasing the rights of all future breweries.
Not every state legislator was so willing to sacrifice the rights of Maryland's own breweries, though. State Senator Ronald Young is a Democrat who represents Frederick County, the home of Maryland's largest craft brewer, Flying Dog. He attempted to introduce amendments to the bill that would have eliminated the penalties against new, non-Guinness breweries opening in Maryland, but his colleagues in the Senate voted against allowing him to introduce that legislation. Frustrated by this favoritism toward a British-owned company rather than the state's own brewers, Young told The Baltimore Sun that "We trip over ourselves" to accommodate international companies, but "we don't give a damn about the ones that are already here."
I can hardly argue with that. What Maryland has done is a classic example of putting interest in big business over the very homegrown companies that the state legislators are supposed to be representing. Surely, the likes of AB InBev and MillerCoors are watching this situation and looking into ways they can take advantage of similar scenarios.
As craft beer drinkers, we all need to be vigilant. Guys like Matt Humbard and Tom Barse will continue fighting for the rights of craft breweries in Maryland, but these same battles continue to rage all over the country—probably in your own state as well, on some level. Don't let a state legislator receiving campaign contributions from your local beer distributorship decide the future of the craft brewing industry in the U.S.A.
"If you don't give us an opportunity to grow, you're only going to hurt yourself in the long run," says Barse, referring to the wholesalers and distributors. "A rising tide floats all ships. We don't like this result, but it gives us what we need to come back and fight next year."
---
Jim Vorel is a Paste magazine staff writer, and resident beer guru. You can follow him on Twitter for much more beer content.