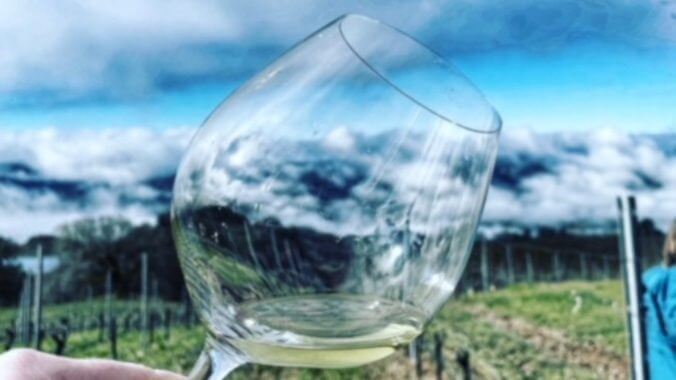 Do you really get what you pay for? 
Price and quality are highly correlated in most of our minds, for everything from jeans and real estate to Pinot Noir. But as anyone who has shelled out big bucks for designer jeans that make your adorable and pert butt look flat or Pinot Noir that turns out to be insipid and lifeless knows, perception isn't destiny.
Happily, the opposite is frequently true as well. One of the best examples of an American wine region that consistently delivers world-class wines at humble prices is the Anderson Valley—especially when it comes to Pinot Noir and sparkling wine.
"The Anderson Valley offers some of the best values for wine on the West Coast," said Melissa Smith, a sommelier, wine educator and the founder of Enotrias. "It is comparable in terms of approachability and style to the Loire Valley and Alsace. These wines are generally low in alcohol, food friendly and grown organically without a lot of manipulation in the cellar."
Read on for insight into the Anderson Valley's humble roots and its transformation into the world-class growing region it is today. 
---
History and Overview 
European immigrants brought vines to the Anderson Valley after the 1849 Gold Rush. But for decades, the region's mountainous landscape, cool climate and geographic isolation made it a better fit for sheep ranches and orchards than vineyards. 
Slowly, post-World War II, as roads and infrastructure emerged in the Valley, vintners began experimenting more. In 1964, Dr. Donald Edmeades planted 24 acres of Gewürztraminer, French Colombard, Chardonnay and Cabernet Sauvignon, with input from University of California at Davis. Other pioneers soon followed, including Tony and Gretchen Husch of Husch Vineyards, who crushed their first fruit in 1971 and became the region's first commercial winery since Prohibition. 
The incredible, dramatic terroir has served as both a draw—it's a recipe for delicious wine—and a deterrent—it's tough to farm, and isolated—for would-be wine-growers. The Anderson Valley is one mile wide and 15 miles long, with a diverse range of microclimates and 16 to 18 different soil types. The location straddles the border between the northwestern rainforest and California's more southerly Mediterranean climate. This produces crisp, bright, fruit-forward wines—think a sweet spot between the opulence found in sunnier regions and the restraint and earthiness found in classic cool climate terroirs. 
Notably, the Anderson Valley has a 55-degree diurnal range, one of the widest of any wine region worldwide. A large diurnal range means there's a big difference between the high temps during the day and the lows at night during the growing season. That daytime heat allows grapes to ripen to their full potential and develop incredibly opulent aromas and flavors, while the nighttime drop in temperature locks in freshness and acidity, so the wines are lively and lithe, never overblown or flabby. 
The Anderson Valley is also notoriously remote. Until the 1960s, dirt roads dominated the countryside, and even today, seeing speed limits of 5 or 10 mph on winding mountain passes is common. Small towns and villages (often with a few hundred residents) pepper the landscape, without a city in sight. 
In 1983, the Anderson Valley earned official appellation status, encompassing 57,600 acres, with elevations ranging from around 400 to just over 2,000 feet. At founding, there were 582 acres under vine, 16 vineyards and eight wineries in operation. Today, there are 2,457 acres under vine, 90 vineyards and 30 wineries in operation—and between those two bookends, an incredible transformation has taken place. 
---
The Transformation of the Anderson Valley
The roots of the Anderson Valley's glory were planted by fearless pioneering family farmers like the Husches, who planted the first Pinot Noir vineyard in the region in 1971, and the founders of Navarro Vineyards, Lazy Creek Vineyard and Greenwood Ridge Vineyard. 
Though the Valley was decades away from gaining traction among the mainstream wine-drinking public, the world of premium wine was quietly watching this remote mountainous region. In 1982, as most Champagne houses that dipped their toes into the Golden State grabbed up acreage in Napa and Sonoma, then-Roederer president Jean-Claude Rouzaud dug into the fog-shrouded, Redwood-dotted landscape of the Valley, perched within breeze's reach of the Pacific Ocean. Scharffenberger Cellars launched its sparkling house in 1981, just down the road from Roederer, making its first bottle from Wiley & Valley Foothill grapes. In 2004, it joined the Roederer Collection.
By the 1990s, the secret was out, and although the isolated region still didn't draw an influx of new wineries, it drew in vintners who were eager to snap up the top-notch fruit at bargain basement prices. Since 1983, the number of ex-appellation producers making Anderson Valley wine and putting it on their labels has increased 500%. 
In the process, both growers and vintners discovered that the Alsatian whites, like Riesling and Gewürztraminer, that initially earned them admiration among the wine cognoscenti didn't pay the bills as well as Pinot Noir.
In 1982, when the application for AVA status was turned in, more than two-thirds of the region's vineyard acreage was devoted to whites, with Riesling and Gewürztraminer taking up close to 40% of the space. Pinot Noir occupied 8% of the acreage. Today, about 69% of the vineyards in the Valley are planted to Pinot Noir, while Gewürztraminer and Riesling make up about 5%, according to the most recent numbers from the Anderson Valley Winegrowers Association. 
But as much as some things have changed—the outside attention, the shift from whites to reds—others have remained stubbornly stuck in time. If you go to Husch Vineyards for a tasting, it's still free. Getting around the Valley is still a pain, as it often requires an SUV. Visitors looking to find a bed to sleep in still have to plan way ahead—there are few hotels and inns, and none are sprawling. The vast majority of the winegrowing is still organic, biodynamic and sustainable, and the bottles are still (relatively) cheap. 
Smith hopes it stays that way. 
"My hope is that winemakers continue to make Alsatians and other whites," she says. "Right now, the Anderson Valley still has dope ass wines at reasonable prices. I want to see that continue—and not see the trend of creating 16 different Pinot Noirs that start at $85 a pop creeping north to the Valley."
---
Legacy and New Wave Wines To Try
Wine produced and made in the Anderson Valley is easier to find than ever and still a relative bargain to boot (especially when compared with wine from more established California regions that sell individual Anderson Valley-sourced wines made in their facility for two to three times these prices.)
Handley Cellars: Founded in 1982 by the late Milla Handley, who was one of the first female graduates of UC Davis, and currently run by her daughter, Lulu McClellan, the wines here are a palpable testament to the Anderson Valley's dynamism. Try the 2018 Estate Chardonnay, organically grown, fermented and aged in French oak. Round, tart green apples, Meyer lemon, caramel, nutmeg. $28. 
Husch Vineyards: Founded in 1971, the oldest currently operating winery in the Anderson Valley is farmed regeneratively, with the vines planted in 1968 still thriving across the hilly, 30-acre vineyard. Try the 2020 Pinot Noir, hand-picked and fermented separately in open-top fermenters, then aged for nine months in French oak. Vivid and vibrant, red cherries, lilacs, rhubarb, blackcurrant, earth and spice. $28. 
Goldeneye Winery: Founded in 1996 by Napa's Duckhorn family, this 80-acre estate winery specializes in Pinot Noir. The vineyards are sustainably farmed, and the winery has snagged LEED (Leadership in Energy and Environmental Design) Gold environmental certification. While Pinot is prized at Goldeneye, the winery honors the region's past with its eminently sippable 2020 Gewürztraminer Confluence Vineyard: Fermented in stainless steel, this is nothing like the sweet Gewürztraminers that dominate the imagination. This is honeysuckle, pink grapefruit, orange blossoms, roses and garrigue. $40. 
Scharffenberger Cellars: Founded in 1981, Scharffenberger was welcomed into the Roederer family in 2004. Today, winemaker Jeffrey Jindra focuses on showcasing Anderson Valley terroir, sourced from estate fruit and from a handful of long-term growing partners. Try the non-vintage Brut Excellence Rosé, a blend of 55% Chardonnay and 45% Pinot Noir. Crisp, complex, with notes of raspberries, white peaches, apples, baking spices. $29. 
Pennyroyal Farmstead Winery and Dairy: Founded in 2008 by Sarah Cahn Bennett, the daughter of Anderson Valley pioneers Ted Bennett and Deborah Cahn of Navarro Vineyards and Winery, the organic vineyard and dairy farm was conceived as a minimum-waste, circular, solar-powered farm that uses manure from the dairy goats to feed the vines. Try the 2021 Sauvignon Blanc, with notes of jasmine, grapefruit, fennel and the wild mint the farm was named for. $28. And don't forget the award-winning, wittily named (Fratty Corners, Bollie's Mollies, Laychee) cheese! 
Lichen Estate: Founded in 2008, the 203-acre Lichen Estate is farmed organically. Founders Douglas and Ana Lucia Stewart planted seven acres of the estate to Pinot Noir and Pinot Gris on meter-by-meter spacing a la Grand Cru vineyards in Burgundy and Champagne. Winemaking is minimal, with a focus on growing the fruit correctly so it can express terroir purely; because of that, all of the wood used for aging is used and primarily large format. Try the 2021 White Pinot Noir, opulence, textured and weighty, but sizzling with acidity. White peaches, nectarines. Fermented in stainless steel, aged for a year in Hungarian and French oak puncheons. $39.