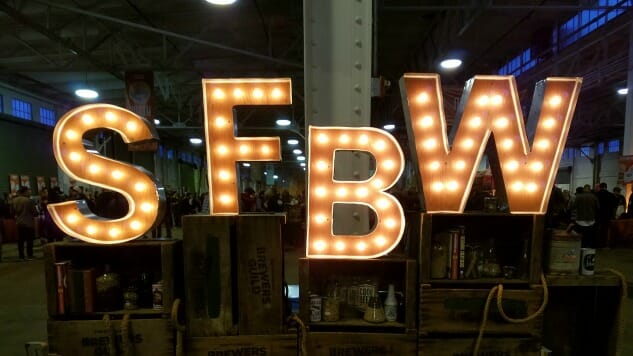 Last week was Beer Week in San Francisco, an epic 10 day event loaded with everything from beer dinners to tap takeovers.
We originally planned to break the week down into our favorite beers, but truth be told, there were so many amazing beers being poured this year it seemed unfair to narrow it down to just a few winners. Instead, this year we picked our five favorite events from the week. Each one had something unique about it that made it stand out from the pack, while having one thing in common: amazing beers.
Here are our picks from SF Beer Week 2017:
SF Beer Week Opening Gala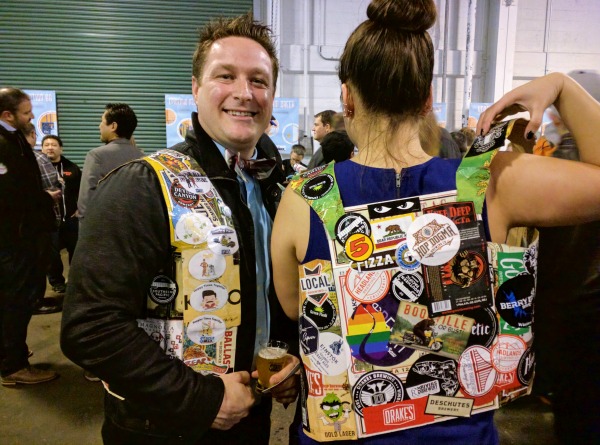 The Opening Gala is arguably one of the best beer week events, in part due to its size. This year over a hundred different breweries showed up to the event. Each brewery brought with them a selection of their best stuff.
Some of our highlights from the night include getting a pour of Russian River's highly-sought-after Pliny the Younger, sampling some sours at Rare Barrel, and trying the San Francisco Brewer's Guild's collaboration beer, New Frontier, a unique kolsch made from satsumas and Douglas Fir.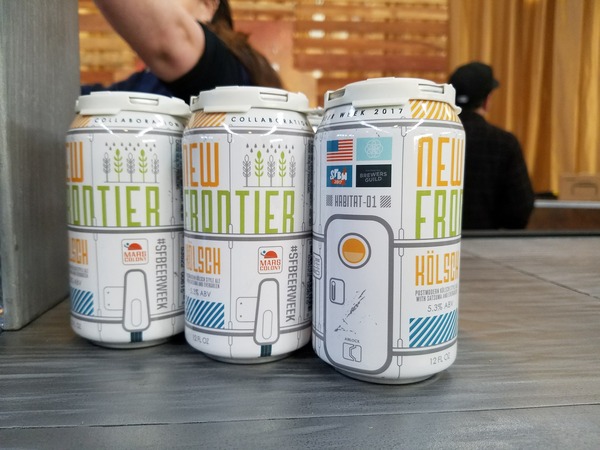 There were also some amazing beers to be had from some breweries that haven't quite made themselves a household name — yet. We were particularly impressed by the lineup at Alpha Acid. The two-year-old Belmont brewery originally debuted its beer at the Opening Gala in 2015. This year it drew huge lines early on to try its delicious Strawberry Belmonterweisse, and kept people coming back all night for its double IPA, Final Final, and uniquely-named oatmeal stout, Murder She Wroatmeal.
---
Double IPA Festival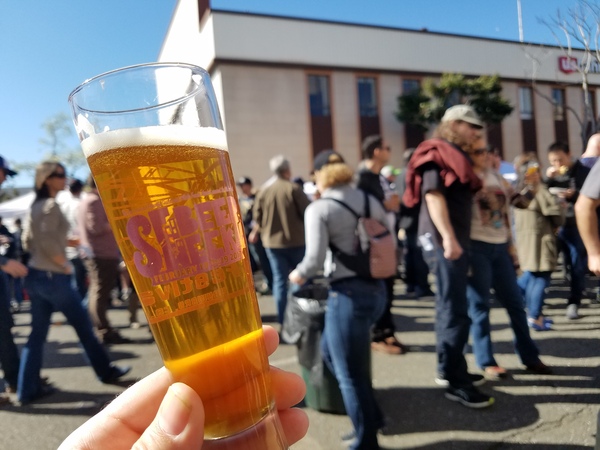 Before the days of the Opening Gala, The Double IPA Festival at The Bistro in Hayward, California was the original kickoff to SF Beer Week. The beer festival and competition brings over 60 double and triple IPAs to Main Street in Hayward, many of which are epically hard to find anywhere else or at any other time of the year.
Our favorites this year included Fat Head's HopJuJu, and Stud Muffin, a collaboration beer made back Faction Brewing and Melvin. Here are the official winners:
Double IPAs
1st Place: Knotty DIPA, Three Weavers Brewing
2nd Place: SUM, Eagle Rock Brewery
3rd Place: Hop Soup, Faction Brewing
Honorable Mention: Oh-so Mainey, Kern River Brewing
Triple IPAs
1st Place: Extremis, Moonraker Brewing
2nd Place: Pliny the Younger, Russian River Brewing
3rd Place: Tundra, Fieldwork Brewing
Honorable Mention: Thruster, Pizza Port Carlsbad
Peoples Choice Awards
People's Choice Award — Double IPA: Slauncher DIPA, Kaweah
People's Choice Award — Triple IPA: Scarcity, Altamont Beer Works
---
Fieldwork Tap Takeover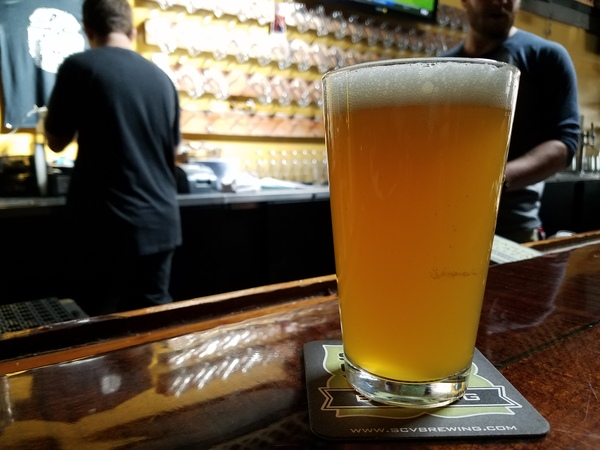 Richmond Republic, in the Inner Richmond neighborhood, did a huge tap takeover on Thursday with beers from Berkley's Fieldwork Brewing Company. Fieldwork is a little under two years old right now, and already has a few GABF medals under its belt.
The brewery is known in the bay for having some of the best stuff out there, so much so in fact that one of the bartenders at the venue had declared it the "best Brewery in the Bay" on the sign outside. While a big accolade (the Bay has a ton of breweries), it's a title that very few people are likely to fight you on — Fieldwork is killing it.
High praise for @FieldworkBrewCo in the Inner Richmond #SFBWpic.twitter.com/hV4S5a9EvH

— Emily Price (@Emily) February 16, 2017
Our personal highlights from the IPA-heavy event include Fieldwork's Hazy Train IPA and its Petit Verdot Grand Gose, which we may or may not have had several of.
---
Beer Ice Cream and Donuts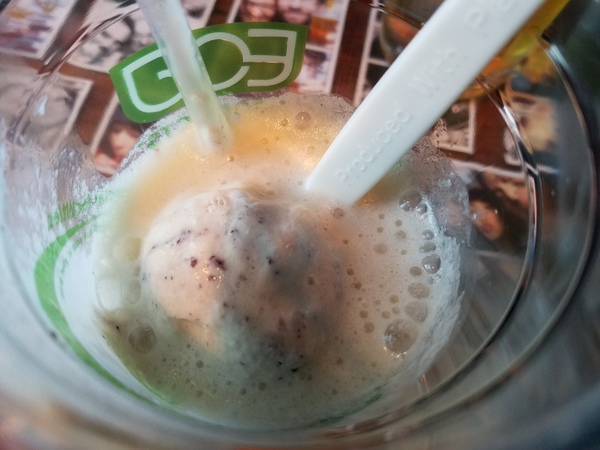 Admittedly one of my favorite parts of Beer Week every year is the creative events, where businesses that don't typically focus on beer make an effort to be part of the week, often in pretty amazing ways. My favorite two mainstays are Beer Ice Cream Floats made by SF-favorite Humphry Slocombe and Anchor Steam, and Almanac doughnuts made by Dynamo Doughnuts, which happens to be just a few doors away from Almanac's taproom in the city.
This year I had a float with IPA and ice cream made with Anchor Steam's Blackberry Daze, which was phenomenally good.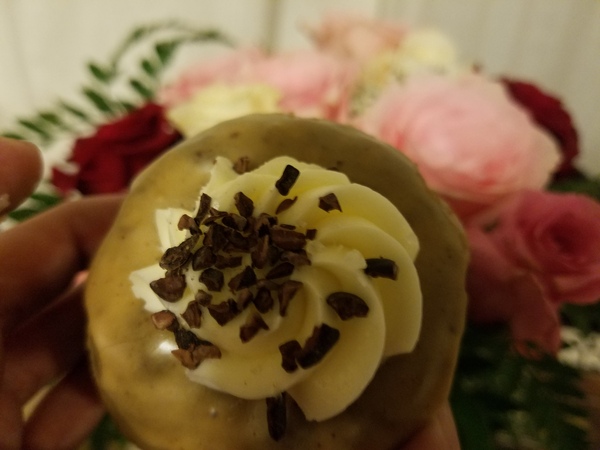 On the doughnut front, Tuesday Dynamo had doughnuts made with Almanac's Barbary Coast coffee stout that were more cupcake that doughnut (look at all that icing!), but definitely delicious.
---
Mikkeller vs. Evil Twin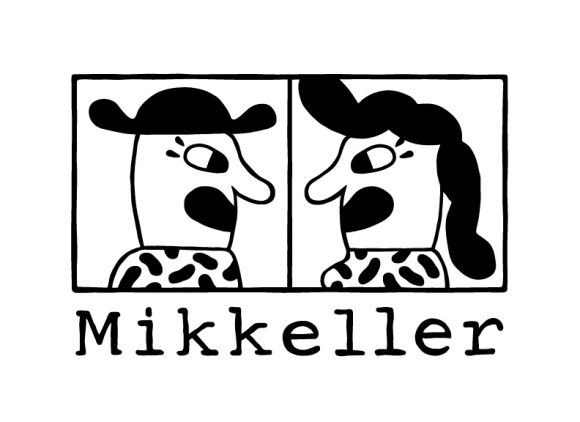 We had so much fun at this one we forgot to even snap a photo. The Willows put Mikel and Jeppe's beers against each other in a Family Feud style battle. On the Mikkeller side, they poured Mikkeller Black, Mikkeller SpontanNelsonSauvin Brut, Mikkeller Overtime IPA, Mikkeller X Alesmith Porter, and Mikkeller Amoeba Brett IPA. On the Evil Twin Side, onions included Evil Twin I Love You With My Stout, Evil Twin Simcoe Slacker IPA, Evil Twin Pachamama Porter, Evil Twin No Hero Oatmeal Stout, Evil Twin Even More Jesus, and our own personal favorite from the night: Evil Twin Liquid Double Fudge.
---
Take a look at a gallery of photos from SF Beer Week here.