Homestyle Southern cooking is definitely having a moment, and with that there has been a nationwide explosion in the popularity of fried chicken at both upscale and casual eateries. But where do you turn if you have a craving but are tired of the same basic flour-dredged drumsticks? We've put together a list of the most unique fried chicken varieties from state to state. Some are regional classics, while others are recent inventions at single establishments.
Alabama
While typically served with barbecued chicken, white barbecue sauce—a mix of mayonnaise, vinegar and spices—is what makes Alabama fried chicken distinctive. Find it slathered on the fried chicken sandwich at Saw's Soul Kitchen, served alongside onion straws. (Pro tip: You can always ask for an extra side of white barbecue sauce; that stuff is addictive.)
Alaska
Sometimes the best fried chicken is truly home-cooked, and luckily for Kim Sunée's neighbors, the Alaska-based food writer makes enough to share. Sunée is an Alaska transplant—she was born in South Korea and raised in New Orleans before living in France and Sweden and traveling throughout North Africa, India and Mexico. However, a recipe that she carried all throughout her travels is her spicy Korean fried chicken, which is covered in a special sweet-spicy sauce made with brown sugar, jalapenos, and sriracha. And, as a bonus, she typically makes batches big enough for 75 people (however, if you are looking for a more manageable family-sized serving, you can get a recipe for four to six people here).
Arizona
We've seen chicken biscuits and even fried chicken donuts (more on those later), but what makes Arizona's fried chicken scene unique is its pairing with another decadent breakfast pastry. Cue the Dixie Pan Fried Chicken at Chelsea's in Phoenix. It's served "picnic-style" with mashed potatoes and a cinnamon bun.
Arkansas
Care for a little culture with your chicken? Despite what you think it might stand for, the "B-M-F" in The Hive's BMF Chicken actually means "buttermilk fried."Beyond being quite tasty, this fried chicken is served alongside art since The Hive is located inside the 21C art museum/boutique hotel.
California
Hit up Los Angeles' Little Tokyo for some Japanese fried chicken called tori no karaage. However, if you want to make the seriously addicting snack by yourself, Chef Mark Matsumoto has a fantastic recipe here. He explains: "After being marinated in soy sauce, ginger and garlic, the two-bite nuggets of chicken are dredged in potato starch and deep fried until crisp. The potato starch creates a golden shell around the karaage with a lasting crispness which makes it perfect for packing into a bento lunch.
Colorado
No, this isn't a South Park episode—marijuana fried chicken is a popular recipe in "stoner cookbooks," including a Cheeto-Cannabis Fried Chicken recipe. If that wasn't enough, earlier this year rumors swirled that KFCs in The Centennial State would start selling the leafy green, as well as special edibles like Smashed Potatoes, Macaroni Munchies, and Bong Time Biscuits all made with their special "canni-butter". Unfortunately, YUM! Brands came out and denied the claims, and stoners all across the state lamented.
Connecticut
Amore Cucina & Bar in Stamford successfully upped both the traditional Italian menu and the basic brunch with their variations of fried chicken. The first menu item leans a little more Italian: their "BOH" Sandwich" made with chicken parm, two fried eggs, sriracha, and shoestring fries. Then, there's the special that the blog OMNOMCT describes as the best fried chicken in Connecticut. "The skin was that perfect crunchy crispiness you hope for, but with a unique, flavorful twist boosted up with cinnamon-buttermilk biscuit crumbs. The chicken lurking below was moist and flavorful and the over medium eggs were a nice touch to really breakfast-fy it. Tying it all together was a Marsala sauce that was thick like a gravy with that nice rich flavor you expect . . . hot damn."
Delaware
Mill's Brother Market is a one-stop shop: it's a convenience store, gas station and fried chicken joint all in one. The fried chicken section of the store is called The Chicken Man! and offers fried chicken any way you'd want it—in wing, tender and sandwich form.
Florida
Chicken croquettes (croquetas) are Cuba's answer to popcorn chicken, and there's no better place to find them in Miami than Chef Jose Andres' restaurant, The Bazaar. Plus, to up the unique factor, they are served in a glass sneaker.
Georgia
What do Aretha Franklin, Dizzy Gillespie and Dr. Martin Luther King Jr. all have in common? The answer is Paschal's fried chicken. Their recipe has been around since the 1940s and is unique in part because of the number of celebrities who have agreed that it is finger-licking good.
Hawaii
Ethel's Grill in Kalihi is one of those "blink and you'll it" kind of places (although Anthony Bourdain brought it national attention on Parts Unknown), but once you find it you have to order the Mochiko chicken. It's breaded with a crispy coating of mochiko—a kind of rice flour— sugar, and spices, and then served alongside white rice, miso soup and salad.
Idaho
Thanks to Campbell's, Idaho has a signature fried chicken—Idahoan Fried Chicken—made from rolling drumsticks in a mixture of flour and instant mashed potato flakes. Way to go, Idaho.
Illinois
Honey butter New Haven-style thin crust pizza = A slice of fried chicken heaven, thanks to Piece Brewery and Pizzeria. Sadly, the fried chicken pizza was their February pie of the month, and during that month they only made 100 per day; however, here's hoping they resurrect this hybrid masterpiece.
Indiana
Indiana provides a tale of two chickens. In one corner we have the Cloverdale Travel Plaza, a divey truck stop that will remind you that chicken strips aren't just for kids. In the other corner is Petite Chou Bistro & Champagne Bar, which serves a considerably more upscale drumstick that's fried in duck fat.
Iowa
Iowa is known for its fair food, especially it's food on-a-stick; the 2015 State Fair boasted 70 on-a-stick options. Iowa has taken the Mississippi state chicken, chicken-on-a-stick (see below), deep-fried it, doused it in hot sauce, and dipped it in bleu cheese dressing. This magical snack is called Hot Lips.
Kansas
According to Kansas-based food writer Adam Swerdlow, Harold's Fried Chicken & Donuts isn't really a restaurant—it's more a food window in a Miller Mart gas station." But despite its humble location, Harold's Grilled Glazer packs rich flavor, landing it a spot on this list. Take a crispy fried chicken breast, top with cheddar cheese, smother it in special sauce, and slide it between two maple-glazed donuts. Toss that whole combo on the griddle, and you have yourself Kansas' most unique fried chicken dish.
Kentucky
Yes, yes—I know you were probably thinking of another Kentucky fried chicken, but I thought that would be a bit cliche. So I'm directing our attention to one of Kentucky's other great loves: bourbon. Food Network Star Damaris Phillips has a killer Bourbon Brined Fried Chicken recipe that will make you forget about all Harland Sanders.
Just kidding, in Louisville people celebrate his legacy by eating fried chicken on his grave on his birthday. We still love you, Colonel.
Louisiana
I've seen my fair share of freaky fried fair food (Oreos, hamburgers, Twinkies, etc.). However, New Orleans chef Phillip Lopez recently made a tutorial for the food website Salted about how to make fried chicken cotton candy. You use fried chicken oil as the base for this sweet and savory mashup. Beware, though: This recipe is rated as an "advanced" on the Salted scale.
Maine
Take a British-inspired brew pub, stick it in Maine—which is perhaps best known for its seafood—and what do you have? If you said beer-battered fish and chips, you would be right. However, if you said beer-battered fried chicken fingers, you would also be right. That's where The Liberal Cup Public House and Brewery comes in. Located in Hallowell, the restaurant focuses on upscale pub grub, including these light, golden strips of chicken goodness.
Maryland
Chicken Maryland is historic enough to have its own Wikipedia page. This state-specific fried chicken recipe differs from its Southern cousin in that instead of being flash-fried in a few inches of oil or lard, it is pan-fried in a cast-iron skillet and then covered, so the chicken steams as well as fries. Milk or cream is then added to the pan to form a succulent gravy.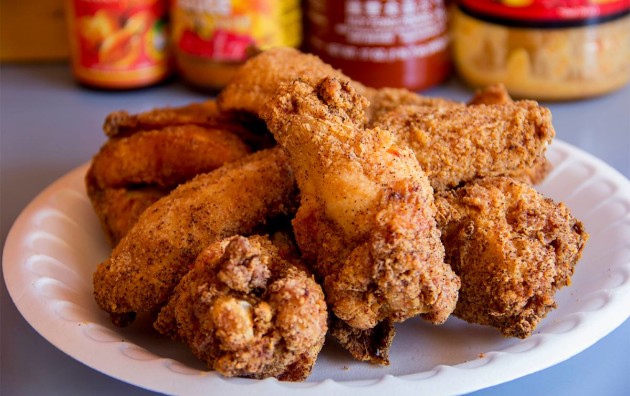 Photo courtesy of The Coast Cafe
Massachusetts
While Massachusetts has some great fried chicken joints (see: The Coast Cafe and Trina's Starlight Lounge) perhaps the best known in the state is the variety that The Boston Globe pegged as the reason for the Red Sox's epic September 2011 collapse. According to the article, "All the Sox needed was Josh Beckett, Jon Lester, and John Lackey to apply the skills and commitment that previously made them World Series champions. The indifference of Beckett, Lester, and Lackey in a time of crisis can be seen in what team sources say became their habit of drinking beer, eating fast-food fried chicken, and playing video games in the clubhouse during games while their teammates tried to salvage a once-promising season."
Michigan
Okay, so I'm cheating on this one. Michigan's City Chicken isn't actually chicken. But it is fried, it has chicken in the name—and, most importantly, it is pretty delicious. This dish became popular back in Depression-era Detroit when certain cuts of pork were cheaper than chicken drumsticks. In order to create the same appearance, however, home cooks would skewer the pork bits, dredge them in flour and fry them up. The resulting mock chicken was successful enough that it is still popular today.
Minnesota
Another discontinued menu item, but the Eggomaniac from 6Smith is definitely unique enough for a Minnesota mention. Served as part of their Fat Pants Fridays series (which promises menu items that come in with at least 3,000 calories), the sandwich featured mashed potatoes, fried chicken, sausage gravy, breaded and fried bacon, and cheese curds between two Eggo waffles, all topped with Cantimpalo sausage and a bourbon enriched maple syrup.
Mississippi
It was only a matter of time before someone had the genius idea to replace the chicken drumstick with an actual stick, hence this pick from 4 Corners Chevron, which is fittingly located inside a Chevron gas station in Oxford, Mississippi. While this location might sound suspect, the Chicken-On-A-Stick—which is about the size of four chicken tenders that have been deep-fried together—is a tradition for drunk University of Mississippi students who, according to website Total Frat Move, simply call the eatery Chicken-On-A-Stick, because what else would you get there?
Missouri
In Kansas City, at Stroud's Oak Ridge Manor, you can eat the James Beard Award-winning fried chicken in an 1829 log cabin and farmhouse. How's that for unique?
Montana
Bozeman's Roost restaurant sees other states' fried chicken on a stick and raises them a flaky, buttery biscuit. Co-owner Joe Darr comes from a family of Tennessee restaurant owners, so upon moving to Montana and opening his own restaurant, he's serving Southern favorites with a twist, like their five-dollar fried chicken and a biscuit on a stick.
Nebraska
Sometimes it's the story behind the food that makes the dish unique, and for Lee's Chicken in Lincoln, that's definitely the case. The restaurant has been in business for 65 years and counting. It all started with a 12-seat beer joint that served french fries from a tabletop fryer purchased from the Sears catalogue by owner Lee Franks.. According to local legend, a gentleman requested fried chicken. Alice Franks, Lee's wife, went out back, butchered and then cooked a chicken. From there, word spread that the bar was now serving fried chicken. Lee and Alice would eventually add on to the existing structure eleven times as business demanded, including an apartment upstairs, several increases in seating, and additional space for kitchen operations.
Nevada
What happens in Vegas stays in Vegas, except for tales of Hash House a Go Go's Fried Chicken Eggs Benedict. Known for their "twisted farm food," Hash House's eggs benedict is made of their sage fried chicken with fresh spinach, hardwood-smoked bacon, tomato, griddled mozzarella, chipotle cream and scrambled eggs.
New Hampshire
The name of this restaurant was simply too unique to pass up, not to mention the fried chicken is pretty great too. The Puritan Backroom has been open since 1917 and according to the restaurant's timeline, "chicken tenders" actually originated at the Puritan and to this day are still the most requested dish on the menu.
New Jersey
India Square, or Little India, is a rapidly growing ethnic enclave in Jersey City that is home to the highest concentration of Asian Indians in the Western Hemisphere, and has many restaurants to get the wildly popular dish Chicken 65. There are many theories about how the name originated—some say it's because you should cut the chicken into 65 pieces, others that it was created in 1965, while another account claims that this dish was the 65th item in a menu of a mess hall visited by soldiers. But regardless of how it came to be, these deep-fried nuggets covered with a sauce made of ginger, garlic and red chilis is worth the trek to New Jersey. Locals says that Sri Biryani House is a top choice.
New Mexico
Taco Bell's fried chicken taco—the one where a fried chicken patty served as the shell—sort of ruined the concept of a fried chicken taco for me. Thankfully, The Supper Truck, a food truck that roams Albuquerque, came to rescue with their chicken and waffle tacos. Always made from locally-sourced, freshly prepared ingredients, the folks at the Supper Truck put a lot of creativity into their dishes, this one being a perfect example. Bonus: The Supper Truck tends to park out in front of local taprooms and breweries. I'm told fried chicken and pale ale are a great combo.
New York
We could go basic and claim New York's buffalo chicken as their most innovative contribution to the world of American fried chicken—but that's kind of passe, right? Enter Coolhaus' fried chicken ice cream. The chicken appears in the form of maple-candied chicken skins. The result is extraordinary.
North Carolina
Dame's Chicken and Waffles has multiple varieties of the Southern soul food pairing. For the true experience, you should try The Carolina Cockerel, Dame's personal favorite made with three chicken wings, a blueberry waffle, and a peach and apricot shmear. Have a chick-a-dee? There's a kid's version of the menu complete with The Carolina Kid—two drumsticks and a petite waffle.
North Dakota
Do you like your chicken with a dash of steampunk appeal? Then Fargo's Boiler Room is for you. Try the Waffle and Country Fried Chicken smothered in sausage gravy while taking in the industrial decor, complete with plenty of gears, cogs and exposed brick.
Ohio
Barberton chicken is a style of fried chicken that's served in Serbian-American restaurants in Barberton, Ohio. Also known as Serbian Fried Chicken—"SFC" has a nice ring to it, eh?— the tradition began when a Depression-era couple named Milchael and Smilka Topalsky were forced to abandon their family farm and opened a restaurant called Belgrade Gardens to make ends meet. There they sold chicken fried in lard and accompanied with a vinegar-based coleslaw, a rice and tomato sauce side dish seasoned with hot peppers, and freshly cut french fries—a tradition that lives on at many area restaurants today.
Oklahoma
This one is probably my favorite unorthodox food combination simply because it makes so much sense. Take a chicken pot pie and stick a fried chicken leg smack-dab in the center of the pie—no, no, not on the inside, jammed through the top of the crust, nubby end of the leg sticking out. Thanks to the folks at Kitchen 234 for making this chicken-on-chicken fantasy a reality.
Oregon
Pine State Biscuits has you covered for your comfort food cravings by combining biscuits and fried chicken with a load of delectable accoutrements. You want apple butter on your fried chicken biscuit? Try The Chatfield. Fancy the taste of a salad? Have it on a fried chicken biscuit and order The Wedgie—complete with lettuce, blue cheese, and a fried green tomato. Or if you want to forgo the biscuit, you can always go with the Pine State Fried Club, a trio of fried grit cakes topped with fried chicken and spiced honey, pimento cheese, fried green tomato, country ham and white cheddar.
Pennsylvania
In an April 2015 article, Eater said that Federal Donuts has turned Philadelphia into a fried chicken destination. How? As Michael Solomonov said, "We only serve three things and they have to be perfect," referring to Federal Donuts' coffee, fried chicken, and doughnuts. Seems like an obvious mix, right?
Rhode Island
While a trailer park may not sound like the most ideal locale for a dinner out, Ogie's Trailer Park in Providence is home to the most unique fried chicken in Little Rhody. The kitschy mobile-home themed restaurant is an homage to the style and feel of mid-century America; encompassing a fully functioning on-site Trailer Home Kitchen serving unique takes on classic comfort fare, a large outdoor "trailer park" lounge, and a selection of 60 American beers in cans. And one of their most delectable menu options (straight from "Granny Boo's Kitchen") is their "Southern Rhody Fried Chicken Sandwich with Slab Bacon," made with a Dorito-fried chicken breast, slab bacon, house mayonnaise, sharp cheddar, marinated tomato, and sweet onion gastrique, served on a sesame roll.
South Carolina
Roost in Greenville, South Carolina is responsible for the state's most unique fried chicken dish, their fried chicken poutine. If you're not lucky enough to have tried poutine (a crime against your taste buds that you need to immediately rectify), it is a Canadian-born street food made by covering french fries with cheese curds and brown gravy. The version at Roost's tops this by literally topping a plate of poutine with fried chicken strips.
South Dakota
Sometimes the best things come in unexpected packages, for example the most unique fried chicken in South Dakota comes from a chain pizza buffet that's located 25 miles outside of Mount Rushmore. Pizza Ranch is a "fast casual" restaurant chain that holds the distinction of the largest regional pizza franchise in South Dakota that has surprisingly good fried chicken.
Tennessee
Now, I'm not going to enter the debate regarding the best Nashville Hot Chicken but thanks to the Nashville Hot Chicken Coalition (yes, it's a real thing), you can use their "hot chicken locator" to find a bite near you. Curious about what constitutes an authentic version of Tennessee's signature fried chicken? Well, the typical base for hot chicken spice is cayenne, sugar, and paprika. And, according to the Coalition, Hot Chicken needs three elements: bread, chicken and pickle. But it's not just that simple. "While some may take all three of these elements and present it as 'Nashville-Style Hot Chicken,' don't be fooled. What really makes it authentic is the combination of these things and the finished flavor of the chicken itself. It's overwhelmingly spicy, yet abundantly flavorful."
Texas
We've all heard it: "Everything is bigger in Texas." But did you know that chicken is more chicken in Texas? Exhibit A: Chicken-fried chicken, a Texan greasy spoon staple that is the hearty, cream-gravy covered cousin of chicken-fried steak. This variation differs from typical fried chicken because the meat is removed from the bones, and cooked in the fashion of chicken-fried steak.
Utah
According to this bizarre article published in The Standard Examiner, Ogden, Utah's daily paper, "fried chicken dining is a growth industry in Utah," despite the fact that apparently many residents aren't fans of dark meat. Journalist Dana Rimington wrote: "One of the challenges for restaurants preparing fried chicken is that Utahns prefer white meat," mostly for health reasons. Rimington then goes into the ways that area eateries are combatting this—serving the dark meat without skin being the top. Long story short: Be prepared for un-fried white meat if you are hankering for some chicken next time you're in Utah.
Vermont
Even the name of this recipe makes my mouth water: Maple-Dipped Oven-Fried Chicken. Make your own courtesy of Vermont Maid maple syrup. [Note: it has come to our attention that Vermont Maid is not pure maple syrup, and thereby anathema to Vermonters. However, nothing is preventing you from making this recipe with true Vermont maple syrup.]
Virginia
History is served in Colonial Williamsburg with this recipe for fried chicken and milk gravy. Mary Randolph, considered by many historians to be the best home cook to come out of an American kitchen, released her book Virginia House-Wife in 1824, complete with a recipe for fried chicken. Her original recipe:
Cut them up as for the fricassee, dredge them well with flour, sprinkle them with salt, put them into a good quantity of boiling lard, and fry them a light brown, fry small pieces of mush and a quantity of parsley nicely picked to be served in the dish with the chickens, take half a pint of rich milk, add to it a small bit of butter with pepper, salt, and chopped parsley, stew it a little, and pour it over the chickens, and then garnish with the fried parsley.
Sounds delectable even for a 21st century kitchen.
Washington
We've talked a lot about the traditional fried chicken bits—thighs, breasts and wings—but where do you go for the more adventurous options? According to Serious Eats writer Jay Friedman, whenever he goes to Pike Place Market in Seattle, he always opts for the organs. "The Heart, Liver, and Gizzard Sampler ($3, or separately at $6.99/pound for liver and gizzards, and $7.99/pound for hearts) is perfect for snacking. Lightly breaded, the liver is soft, tender, and minerally; the gizzard a chewy, textural affair; and the heart somewhere in between."
West Virginia
When at The Dirty Bird restaurant in the college town of Morgantown, you have to get its namesake sandwich, made by slapping a fried chicken patty onto a huge, fluffy biscuit—but the goodness doesn't stop there. Slide a fried egg, bacon and cheddar on top, and then coat half plate in creamy white gravy, the other half in savory brown gravy.
Wisconsin
Say cheese! At Melthouse Bistro, an upscale play on grilled cheese, you can take the best of America's Dairyland and combine it with fried chicken. Menu items that mix the two include The Buffalo Bill—Wisconsin Blue Cheese and Monterey Jack perfectly complemented by hand-battered fried chicken and Buffalo wing sauce with sport peppers, sweet pepper, bruschetta, and lettuce on sourdough bread—and The Marco, featuring Wisconsin Provolone and Parmesan with homemade marinara sauce.
Wyoming
Cafe Genevieve has a history, a view and great fried chicken to boot. Located in a historic log cabin half a mile from Town Square in Jackson Hole, Cafe Genevieve stands in the shadow of the Tetons, so you can enjoy eating their fried chicken (and perhaps a side of their signature "crumbled pig candy") while chowing down with fellow tourists in this sweet little town.
Ashlie Stevens is a freelance writer pursuing an MFA in Creative Nonfiction at the University of Kentucky. Her work has been featured at Slate, Salon The Guardian, and National Geographic's The Plate.