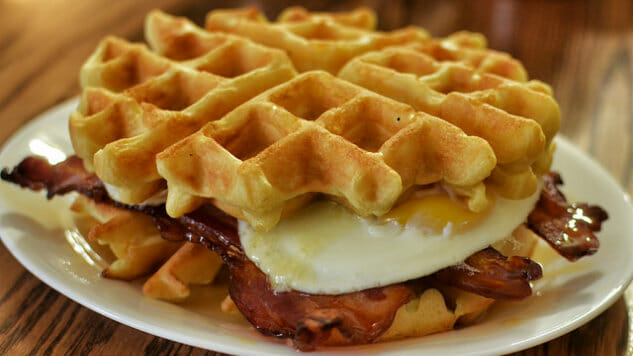 Mothers get brunch. Fathers get ties and monogrammed golf balls. Wouldn't you rather have waffles drowning in butter and maple syrup, food-loving dads of the world?
Both parents' days fall on a Sunday, the holy day of brunch, and while New York is overrun with Mother's Day brunch specials, June's third Sunday lacks special brunch options.
According to the History Network, Father's Day was inspired by Mother's Day. While gendered parents' days seem hugely outdated in 2016, they're still on our calendars, and anyone with parents of any gender is not going to get out of celebrating them.
Plenty of dads like to cook, love to cook — and not just on the grill. Many professional chefs are fathers — Mario Batali, Emeril Lagasse, Bobby Flay, Gordon Ramsay — the list is endless. But even more love to eat.
My dad cooks two things: Kraft Mac and Cheese and vegetarian lasagna. He's also pretty good at grilling and has recently gotten into homebrewing, but he, like any human person with an appetite, appreciates a good brunch.
Last Father's Day, I took my dad to brunch. And by took, I mean he spent the two hours of regulation wait time outside New York's trendy Russ & Daughters while I rolled up just before our table was ready. Still, it was nice. We had eggs, coffee, lox and shmear and started our New York summer morning with a beautiful meal. If I may say so myself, he loved it.
Celebrating an early Father's Day this year, we took my girlfriend's dad to Sunday brunch, his choice. He enjoyed the chocolate fountain more than both of us.
New York's Avra Estiatorio is hosting a very classy live jazz Champagne brunch and the trendy Black Barn has special items like BBQ Beef Pizza and a Waffle Croque Madame on its brunch menu for Father's Day, but countless restaurants participating in Mother's Day morning festivities have opted out.
Is the line at Russ & Daughters or Clinton Street Baking Company just too long to handle? Grab a pre-made picnic basket and head to Central Park to feast on the Sheep's Meadow.
Is your dad not so into brunch or picnics? How about a food experience, such as a cooking class, a winery or brewery tour, a beekeeping lesson, or a personalized omakase tasting at one of his favorite restaurants? By all means, serve him a favorite breakfast in bed with a newspaper and some peace and quiet. Or if he wants, spend some quality time chatting or watching a favorite food program like Chef's Table with him.
Sur La Table, despite its plethora of stereotypical grilling gear picked out for pops everywhere, has plenty of cooking classes for your dad. The Institute of Culinary Education also offers a wide range of classes, including a weekend intensive. For the vegan dad, head to the Natural Gourmet Institute to cook together.
There is nothing inherently feminine about brunch. There is nothing inherently masculine about brunch or the lack thereof. Brunch is brunch and it's a wonderful place to eat food, drink drinks, listen to great music, and live our best lives. So take Dad to brunch tomorrow, and tell him to get extra waffles on you.
Melissa Kravitz is a writer living in New York. Follow her at @melissabethk.