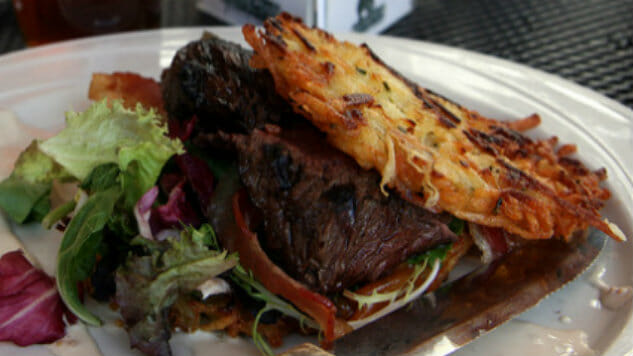 The holidays are a time of abundance, but sometimes the overabundance of leftovers can pose a problem. How do you revive the heaps of turkey, ham, cranberry sauce and stuffing (well, let's be real; no one ever had trouble finishing stuffing) in your fridge before they go bad?
Sandwiches are often the answer, but the same turkey sandwich ad nauseam bores your entire household. You need options for leftover duck, ham, or vegan protein, as well. Here's how to mix it up.
Deep-Fried Delight
The main issue with turkey is that it's boring. Dull compared to pork, chicken or duck, it'll need a major flavor boost to make a worthy sandwich. You'll want to reanimate your turkey however you can — by marinating in broth, sauteeing in gravy, saucing it with pesto or aji, or even deep frying. Try this beer-battered, deep-fried turkey, which you can snuggle between two toasted buns or in a tortilla.
Grill Your Ham
The best sandwich I ever made had thick, Christmas-leftovers ham, thinly-sliced cantaloupe, melty fontina, butter and arugula, pressed between two slices of ciabatta on a George Foreman grill. It was simple, fast and delicious. I had friends over and made them all sandwiches, and the combination of the thick, fatty ham, just-sweet-enough cantaloupe, rich dairy and peppery greens was a hit. Follow this recipe or just pile it on and press it on the grill.
Plantain Press
I fell in love with the plantain sandwich because of Patacon Pisao, a Venezuelan food truck (and now a Lower East Side restaurant as well). Plantains as bread? Beautiful. If you've run out of bread but you still have meat (or Tofurkey), plate it up on one or two slices of fried plantain and add some mayo or hot sauce for good measure. Here's a recipe from Saveur.
Latkes and Brisket
Make a sandwich with your leftover latkes as bread and that tender brisket as the filling. Add some onion or pickled red onion. Salmon or short rib would work as well as fillings. Some call this the Latke Double Down after the KFC creation. There's also a burger variant.
Put a Pickle On It
If you're like me, you've got a ton of pickles in your fridge right now from the fall garden harvest. Pickles, kimchi, chutneys, chow-chows, relishes, sambals … anything pickled, tart and spicy is the perfect food foil for a boring protein. Some of my favorite sandwich combos are ham, kimchi and cheese; turkey, gravy and pickled cranberries; duck, stuffing and pickled jalapeno; Trader Joe's vegan roast and a tart chile salsa. Any of the proteins would work with pickled daikon and carrot for an impromptu banh mi.
Be Inspired by the Big Mac
The extra bun in the middle may be the secret to the Big Mac, and the same could be said of a holiday leftovers sandwich. Ross from Friends famously created a Thanksgiving sandwich with an extra slice. Do the post-holiday season right by soaking an extra slice of bread in gravy and popping it into the middle of your sandwich for optimal carb-loading.
French Your Toast
If you love French toast, an entire French toast sandwich may become your decadent favorite. The Monte Cristo is a classic, and this version serves it up with bacon-maple sauce. If you don't have the time or patience to make the sauce, just drizzle some maple syrup inside or on top. Whether pancakes or waffles, other breakfast items also make for great bread.
Pile Up the Veggies
You've got glazed carrots, sweet potatoes or yams, green beans, roasted root vegetables, and other veggies languishing in Tupperware as your stuffing and mashed potatoes get gobbled. Spice up your veggies with Italian herbs in a frying pan, tuck them in a spinach wrap or focaccia, and drizzle with this light cranberry dressing or this delicious vegan cashew dressing for some added good fats.
Make Biscuits and Gravy
You've already got gravy and you may already have biscuits or rolls leftover. Fry up some pork or vegan sausage (Field Roast is my favorite) and follow this meaty recipe or this vegan recipe.
Repurpose Mashed Potatoes
Mashed potatoes are versatile, so don't devour them all so quickly! Try them in a Japanese croquette sandwich, a potato pancake sandwich, or a potato bread sandwich. You can also whip them up in a Spanish-style tortilla (basically an omelette) and toss slices of the egg concoction onto a sandwich.
Do a Waldorf
Unless you hate mayonnaise, this Waldorf adaptation is a home run. The mayo gives the turkey the moisture it so desperately needs, the walnuts bring richness and crunch, and the grapes add sweetness and tang.
Put an Egg On It
The croque madame is a classic that puts an egg on the croque monsieur. Make your bechamel sauce, fry your turkey (if you have ham, it should be ready to go) in a cast-iron pan with some butter, top your buttered bread with bechamel, cheese and meat, bake, and then crown each sandwich with a fried egg.
Roll Turkey Meatballs
Turn leftover stuffing and the protein of your choice into meatballs, or simply turn leftover turkey into meatballs. Then top with cheese and tomato sauce on a sub.
Hash It Out
Make a turkey hash or a turkey-and-stuffing hash, then press on two slices of rye with a tangy mustard.
Steam Dream
Taiwanese-style steamed buns are a fun option for holiday leftovers. Cathy Erway's blog Not Eating Out in New York has a recipe worth fantasizing about while you're still at work. Because the buns are such a neutral flavor, they work well with most leftovers. Stir-fry leftover string beans with five spice or Sriracha, or add barbecue sauce to most meats for a delicious bao.
Dakota Kim is Paste's Food Editor. Tweet her @dakotakim1.
Photo by Quinn Dombrowski CC BY-SA