10 Items That Prove Matcha Mania Has Invaded North America
Photo: Daniel Krieger and It's It
Food
Lists
Matcha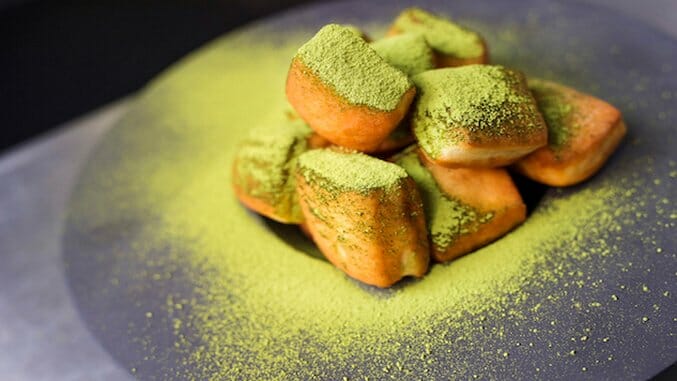 What once was a specialty green tea reserved specifically for the elite, today's incarnation of matcha is so mass-produced for the commoner's consumption that it's actually been likened to a Soul Cycle class.
While only reaching the States within the last few years once celebrities like Gwyneth Paltrow boasted about the antioxidant power of this powdered green tea and Japanese restaurants opened outposts stateside, matcha has been consumed for centuries, dating back to the 1700s when the Japanese dictators, or Shogun, were brewing and savoring the stuff for themselves.
From baked goods to steamy hot cups of foam from your favorite coffee chain, this ground green tea power has seeped onto every menu stateside. Here are 10 of the best and most beautiful incarnations of the matcha craze that has infiltrated our Instagram feeds:
1. Matcha ice cream at It's It, San Francisco Bay Area, Calif.
A San Francisco treat since 1928, this iconic West Coast creamery (that's older than the Golden Gate Bridge) unveiled a new sandwich flavor this summer: Green Tea It's It. The first addition to its sandwich lineup in two years, the combination of classic oatmeal cookie dipped in chocolate was too good to be ignored. Using 100 percent real matcha green tea imported from Japan, an expense that's well worth it says production manager Paul Shamieh, the taste sensation is unusual but familiar at the same time.
2. Matcha cocktails at ROKU, Los Angeles, Calif.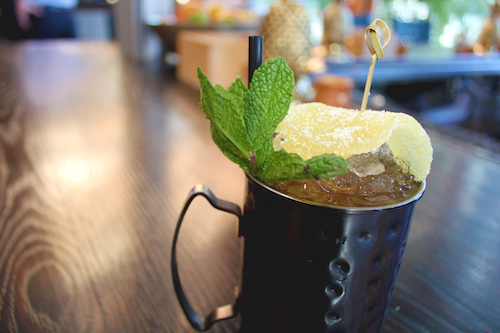 For a healthy twist on your happy hour, mixologists are brewing matcha for a bitter aftertaste in your favorite libations. Since we're partial to Moscow mules, we had to feature West Hollywood's ROKU and their matcha mule. Mixologist Charity Johnston infuses vodka with matcha to create a daring, refreshing and "healthy" take on the classic mule. "It has an almost gritty, herbal taste, which I think seems fresh and authentic," she says.
3. Matcha milk jam at Craftsman & Wolves, San Francisco, Calif.
Replace your cup of joe with matcha milk jam for a morning boost any hipster would approve of. San Francisco's Craftsman & Wolves serves the pea-green concoction bottled up, using a traditional French confiture au lait recipe that can be enjoyed "throughout the day in many different ways," says Sarah Logan Werner, marketing & operations at Craftsman & Wolves. Drizzle the sweet spread made with cream, sugar, salt and matcha powder over your favorite artisanal toast every morning.
4. Matcha beignets at Dominique Ansel Kitchen, New York, N.Y.
Each made-to-order batch of mini beignets (pictured at top) from Dominique Ansel Kitchen's West Village location is pillowy soft, sweet and sprinkled with a dusting of matcha-powdered sugar to finish. "The matcha in the powdered sugar gives the beignets a really lovely, deep green tea flavor without being overly sweet," says Chef Dominique. Get your green tea fix with right-out-of-the-oven beignets, fried to perfection, any day of the week.
5. Matcha chicken liver mousse at The Cannibal Beer & Butcher, Culver City, Calif.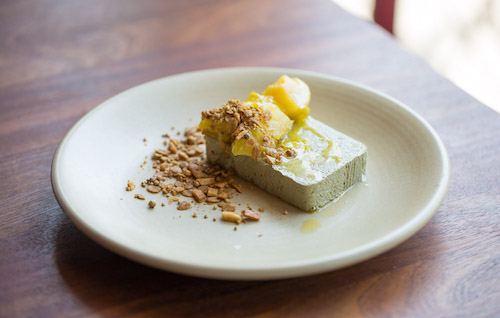 If you want what chef Francis Derby calls a "subtle earthiness" to your chicken liver, head to Culver City's The Cannibal Beer & Butcher for the chicken matcha mousse. Don't be surprised if your chicken liver mousse comes out looking like grass?; the matcha powder incorporated into the dish does more for its look than the flavor, which is rounded out with roasted plums and granola.
6. Matcha beer at Fiction Beer Co., Denver, Colo.
Fiction Beer Co.'s Feely Effects is a regular on this East Denver brewery's menu, a drinkable palate-cleanser of chocolate milk stout brewed with matcha green tea. The 8% ABV sweet stout gets matcha green tea powder and chocolate added to both the boil and into the fermenter during the brewing process, giving each pour a subtle yet noticeable herbal aroma. Owner and head brewer Rick Kilpatrick says he got his inspiration to pair chocolate and green tea from the popular Japanese green tea Kit Kat.
7. Matcha ramen at Mentoku, New York, N.Y.
Slurp up your matcha tea alongside traditional Japanese vegetables (konjak, menma, kikurage mushrooms) and noodles in a hidden gem within New York City's ramen district. Featuring a distinct florescent green color, the vegetarian ramen has a soy milk base, delicate noodles and a strong, bitter, aromatic broth that doesn't overwhelm the palate. It's authentic Japanese ramen with a hint of green tea that you can slurp up with a spoon.
8. Matcha cheesecake at Uncle Tetsu's Japanese Matcha Cafe, Toronto
Just over the border in Toronto is an entire cafe dedicated to this powdered green tea, and you can bet their delectable treats are just as good as those found abroad. Join the crowds for an authentic taste of Japan and order the popular matcha cheesecake. Always made by hand with a mixture of the finest powdered green tea and red bean, the sweet cake is unlike any other cheesecake you've tasted (and worth the wait).
9. Matcha candy at Nijiya Market, San Francisco, Calif.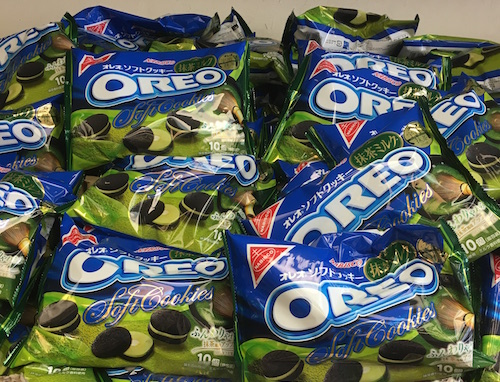 With today's cosmopolitan palate, many metropolitan cities have an international shop serving Japanese imported goodies like matcha Oreos, matcha Pocky or matcha Kit Kat®. San Francisco's Japantown offers an abundance of options to choose from, but Nijiya Market has the best selection. The majority of the packaged treats have only a hint of that bitter green tea flavoring matcha lovers have come to savor, and are often paired with vanilla or chocolate to still satisfy any craving. Artificial flavoring, a sprinkling of green tea powder (only Oreo's soft cookies listed matcha powder as an ingredient) and a Kermit the Frog coloring is more prominent in these packaged goodies.
10. Matcha cream cheese at Green Salmon in Yachats, Ore.
If a small oceanside town with a population roughly the size of a New York City Costco on a Saturday morning has matcha on their menu, you know this taste sensation is widespread. The Green Salmon Coffee and Tea House serves organic and fair-trade menu items regularly, but their specialty is a lox bagel served with a side of matcha "green" cream cheese. Unique and flavorful, it gives one of the "ten coolest small towns of the U.S.A." a menu item even some of the nation's biggest cities have yet to discover.
Meaghan Clark is a San Francisco based writer whose work can be found in Refinery29, The Bold Italic, DailyWorth, 7×7, UpOut and xoJane, among many other publications.