The abundance that we celebrate every Thanksgiving sure does take a lot of work to bring together. All over the country, cooks are clearing out fridge space to accommodate brining turkeys and scheduling out the days they'll shop for, prep, and cook everything from pies to relishes to casseroles.
So an assist from time to time never hurts, even if it's in the form of a can. For a holiday that's rooted in the simple agrarian early heritage of our nation, the Thanksgiving dishes we associate with the big meal sure do rely on a lot of processed foods. Every year around this time, grocery stores trot out giant end-caps of canned cranberries, canned pumpkin, canned fried onions, boxed stuffing mix, and dehydrated gravy in little packets. Oh, and don't forget that other Thanksgiving necessity, miniature marshmallows. Whether you see this all as an edible symbol of our cultural and culinary decline or an emblem of innovation and technology melding with tradition, one thing's for sure: the following dishes are as American as apple—er, pumpkin—pie.
Cranberry Sauce
It doesn't get any simpler than this. Open the can, the wobbly cylinder slides out, call it a day. Homemade cranberry sauce is both superior in flavor and really easy to make—whether you're cooking it for something jammy or grinding fresh cranberries to make more of a chunky relish—but canned sauce has enough fans that some families are forced to present both canned and homemade at the table.
Green Bean Casserole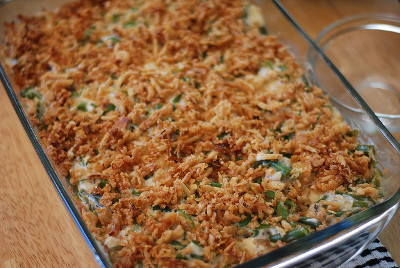 lotherington CC BY
If you haven't noticed, green beans are not in season in November in Massachusetts, and in the pilgrim settler's time, canning technology was still well over a hundred years to come. The gloppy casserole was developed not by a white-bonneted Pilgrim Prudence, but by home economist Dorcas Reilly for Campbell's Soup in 1955. The ease of the recipe hinges on a can of Campbell's Cream of Mushroom Soup in lieu of homemade béchamel sauce, but its appeal is all about its crispy-salty crown of canned French fried onions. Whether you use canned green beans, frozen green beans, or tough November truck-farm green beans from Mexico is up to you.
Speaking of November, how did this shortcut green bean gratin establish itself in the modern Thanksgiving repertoire? According to Time, an Associated Press feature ran the story in a Thanksgiving feature in 1955, so something about that must have stuck. Since the 1950s, every year glossy food magazines trot out fancied-up versions featuring shiitake mushrooms or asiago cheese, though none has unseated the reigning champ of totally unhealthy vegetable-based side dishes.
Pumpkin Pie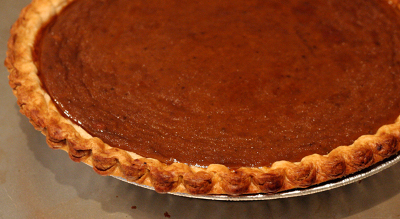 Maggie Hoffman CC BY
It's controversial, this one, because plenty of cooks swear by the superiority of home-cooked pumpkin puree over the stuff in the can. I dissent, as do millions of Americans who just get the canned pumpkin and call it a day. The classic Libby's pumpkin pie recipe calls for a can of evaporated milk. So if you go with canned pumpkin pie mix and dump it all into a pre-made pie crust, lo and behold! You've just made the most American of desserts in the most American of ways. And know what? For something so hard to screw up, it still tastes pretty great the convenience-food way.
Sweet Potato Casserole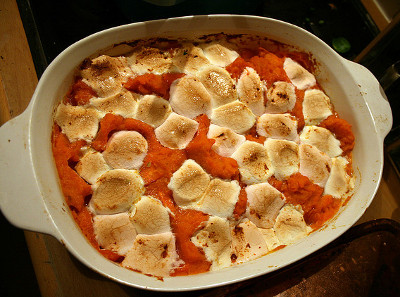 David, Bergin, Emmett and Elliot CC BY
Few dishes represent the strange intertwining of sweet and savory on the Thanksgiving table as much as sweet potato casserole. Generous scoops of brown sugar and the non-negotiable topping of golden-brown marshmallows render this more of a dessert, but to serve it after the actual Thanksgiving meal would amount to heresy. I never liked this growing up, perhaps owing to my mother's use of canned sweet potatoes and the strangeness of gooey marshmallows sidling up next to my gravy-drenched helping of turkey.
Corn Pudding
Colonial American in origin, this rich and eggy baked custard blurs comes in hundreds of iterations—some with cheese, some with herbs. But my grandmother's version was a true can-opening extravaganza, hinging on a can of whole-kernel corn and a can of cream-style corn bound together with two eggs and some cornstarch. Add some sugar, top with cracker crumbs and you have a sweet, crowd-pleasing classic whose undemanding thirty seconds of prep time foreshadow the speed at which it disappears from the casserole dish. Leading one to wonder: Why even bother with making food that requires care, attention, and mastery of technique? Maybe just save those skills up for the gravy. If corn pudding sounds like your bag, this version includes a box of corn muffin mix, therefore trumping my dear grandmother's recipe, if you're tallying convenience foods.
Cranberry Fluff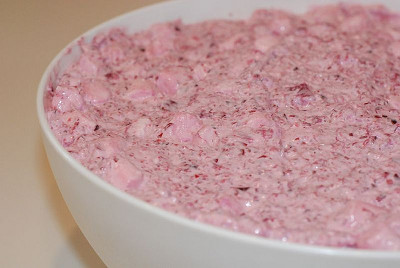 mj ecker CC BY-NC-ND
Behold! Canned cranberry sauce, canned pineapple, a tub of marshmallow fluff, a tub of Cool Whip, and a bag of miniature marshmallows. This masterpiece, a dessert in the guise of a side dish, takes its cue from the elaborate molded gelatin salads that populate cookbooks from the 1930s to the 1960s, but it's a frothy, free-form cloud. Some recipes call for—gasp!—real whipped cream, but we know better. Cranberry fluff was an annual fixture at Thanksgivings during my husband's youth; the family referred to the salad (quite accurately) as "pink stuff," despite their unabashed affection for it.
Reddi-Whip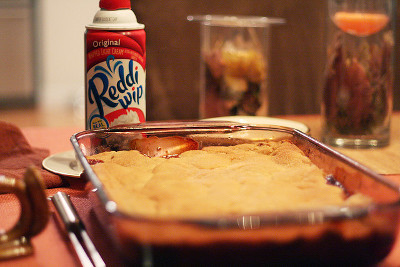 Jenn Vargas CC BY-NC-ND
This one is sort of cheating, since it's not a recipe, but it's worth noting that for legions of pumpkin and pecan pie lovers, dessert is not dessert without a clumsy, airy squiggle of Reddi-Whip. The inconic red and white can has kept Americans squirting out aerosol-foamed whipped cream since 1947. For many years, in my family (a Cool Whip household) we called Reddi-Whip "real whipped cream." I was well into in my teens before I found out about the other real whipped cream, the kind you make by beating heavy cream by hand. A few years ago, we did a Thanksgiving taste-off of whipped toppings, pitting Cool Whip against Reddi-Whip against cream I'd actually whipped myself. It was a draw.
White Castle Stuffing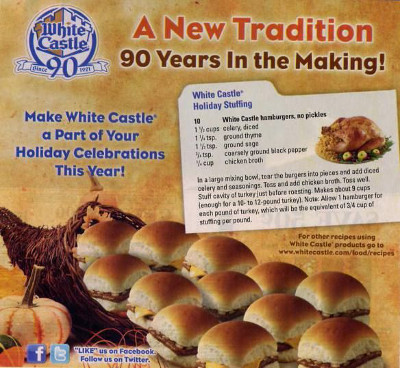 WhiteCastle.com
A bonus, since it's not in a can, but its marketing brilliance alone deserves a nod. In this recipe, White Castle burgers (either from a brick-and-mortar W.C. outpost or the frozen W.C. sliders available in grocery stores nationwide) get all crumbled up and tossed together with celery and seasonings (no need for onions, because they're already on the burgers, man!) Despite the implications of the image above, it's probably not a good idea to use White Castle cheeseburgers in stuffing. White Castle stuffing is only one of a whole genre of recipes that use White Castle hamburgers as a main ingredient, a fact that's both depressing and inspiring at once.
Sara Bir is Paste's food editor, and the author of The Pocket Pawpaw Cookbook. Her Thanksgiving will be free of marshmallows, but rich in corn pudding.
Cranberry sauce photo by Gene Han CC BY-NC