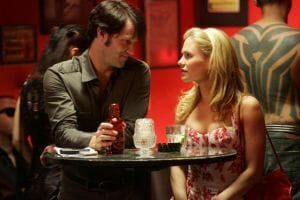 Creator: Alan Ball
Writers: Ball, Brian Buckner, Charlaine Harris, Chris Offutt, Raelle Tucker, Alexander Woo
Cinematographers: John B. Aronson, Matthew Jensen, Checco Varese
Starring: Anna Paquin, Ryan Kwanten, Sam Trammell, Stephen Moyer, Rutina Wesley
Network: HBO

Bloody good series delivers blunt commentary on American culture
Was Alan Ball's latest HBO project,

True Blood

, the second coming of

Six Feet Under

?
Not
even close. But despite all the "look, we're on HBO!" graphic vampire sex, this comic-horror-drama series was a damn good time
.
Set on the Louisiana bayou
,
True Blood
's world is eerily similar to our Proposition-8-passing own. Vampires have come out of the closet, thanks to the invention of the titular synthetic blood beverage. They must now deal with societal discrimination, including legislation on intermarriage with the living. They also have an alluring coolness that draws in psychic waitress Sookie Stackhouse, played by Anna Paquin. The rest of the cast is spectacular, and they propel a believable plotline filled with shape-shifters, sweaty sex and witty but never-precious dialogue. Season One ended with a cliffhanger that left us thirsty for more, and this DVD/Blu-ray release coincides with the show's return. Bonus features include audio commentaries, documentaries and additional material to augment an already fascinating series.