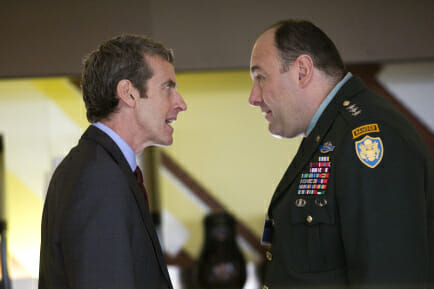 Release Date: July 24 (limited)
Director: Armando Iannucci
Writers: Armando Iannucci, Jesse Armstrong, Simon Blackwell, Ian Martin and Tony Roche
Starring: James Gandolfini, Tom Hollander, Peter Capaldi, Paul Higgins and Gina McKee
Cinematographer: Jamie Cairney
Studio/Run Time: IFC Films, 106 mins.
In the Loop begins with the British Secretary of State for International Development Simon Foster (Tom Hollander) accidentally stating that war is unforeseeable. What seems like a tautological statement to him, whereby he means that all the future is in fact unforeseeable, ends up misunderstood as an anti-war sentiment. After another of his verbal blunders is interpreted to mean the opposite, he's quickly dragged into the realm of international politics, where the lives of millions in a possible Middle Eastern war are determined by the name of a committee, whether the time of a meeting can be changed and if a constituent's wall collapses.
Despite the movie's serious implications and overall cynicism, In the Loop feels light and natural, interweaving many subplots and a large cast with deftness reminiscent of Robert Altman. The film is kept alive by its breakneck pacing, helped along by director/co-writer Armando Iannucci's vérité-esque camera style. The speed of cameras rushing past characters has thematic weight, making you feel as claustrophobically rushed and frazzled as the characters. That being said, like The Office or a Paul Greengrass film, the camera only seems out-of-control to fit the situations, with carefully blocked out scenes that end up giving In the Loop an almost theatrical flavor at times.
Unfortunately, though, this theatricality keeps the feature from doing anything grand. Iannucci is defiantly against the absurd machinations of politics and all the evils of its Kafkaesque bureaucracy, but unwilling to take any sort of greater political stance. His approach to government does a remarkable job removing the glamour and pomp from policy-making, but fails to offer much of an alternative. As funny as the film is—and being pretty damn funny is its greatest strength—it mostly offers surface laughs. War or no war, a lack of fleshed out characters leaves the stakes low and takes the critical punch out of the satire.
So sure, In the Loop is bewilderingly unambitious, but still a refreshingly honest and well-crafted comedy. With any luck, Iannucci will take his formidable skills with dialogue and direction into more difficult and risky territory in the future. For now, though, In the Loop still gets the job done while never pandering to its audience. And given its release into a post-Bush world, maybe a light political satire is just what we need after all.