A Wrinkle in Time Director Ava Duvernay Set to Adapt DC's New Gods for the Big Screen
Photos by Fraxer Harrison/Getty, Jerod Harris/Getty
Movies
News
Ava Duvernay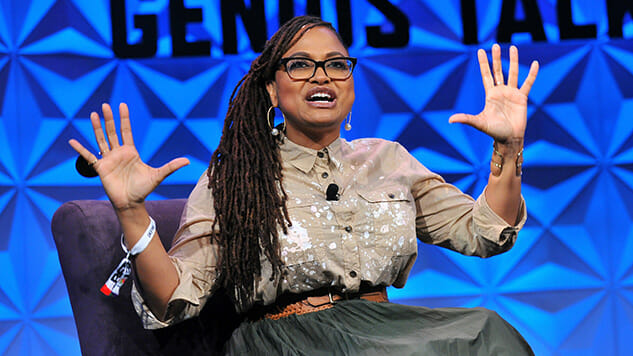 Director Ava DuVernay will continue to be a force in big-budget filmmaking by directing a feature adaptation of late comic book legend Jack Kirby's The New Gods for Warner Bros. Pictures and DC Comics, according to Deadline.
After the financial success (and mixed reception) of A Wrinkle in Time, DuVernay will take on another $100 million-plus film—she made history with her first. She will guide screenwriter Kario Salem (Chasing Mavericks) in crafting a screenplay for the cult classic. DuVernay taking on this film shouldn't be a surprise, as she tweeted out her love for the comic, especially the character Big Barda, just last year during a Twitter Q&A session.
Gosh, that's hard. Big Barda. Many reasons. #askavahttps://t.co/3qxGDq7mHe

— Ava DuVernay (@ava) December 27, 2017
New Gods was one of Kirby's first new comic book series after departing Marvel Comics in 1970, and part of a larger story collectively referred to as "The Fourth World." Originally introduced in Superman's Pal Jimmy Olsen in late 1970, the Fourth World concept was primarily developed in three comic books that Kirby wrote and drew between 1971 and 1973: New Gods, Forever People and Mister Miracle. The epic follows the turmoil between two classical, Gods-filled planets, tranquil New Genesis, ruled by the Highfather, and the dystopian Apokolips, ruled by DC uber-villain Darkseid, after the Gods of classic mythology were destroyed.
It's currently unclear whether the film will be a part of the DC Extended Universe: Deadline reports that it won't, as Warner Bros. boss Toby Emmerich and DC production president Walter Hamada try a new approach to DC-related fare after the lackluster response to Justice League, but Variety writes that the film will indeed factor into the DCEU, which would make sense, considering Darkseid was alluded to in both Batman v. Superman and Justice League.
DuVernay will be the second woman, after Patty Jenkins, to direct a DC Comics film adaptation, as well as the second black woman to direct a superhero film after Gina Prince-Blythewood, who is directing Marvel's Silver and Black for Sony Pictures. With this film, DuVernay seems to have full plate with other forthcoming projects including her Battle of Versailles and The Red Line, along with the third season of Queen Sugar coming this June.
Other than DuVernay and Salem's involvement, there is no casting news, release date or production start date for The New Gods at this time.
Being a fan of the comic, DuVernay will surely pour all her admiration and love into this latest comic book-to-big screen adaptation. With this and A Wrinkle in Time, DuVernay continues to open doors for more creators of color. See the tribute DuVernay paid to the late Kirby below and take a look at an interview Paste did with DuVernay and Jill Soloway last year here.
"Our dreams make us large."

Thank you, #JackKirby. pic.twitter.com/gv3SiccV6a

— Ava DuVernay (@ava) March 15, 2018