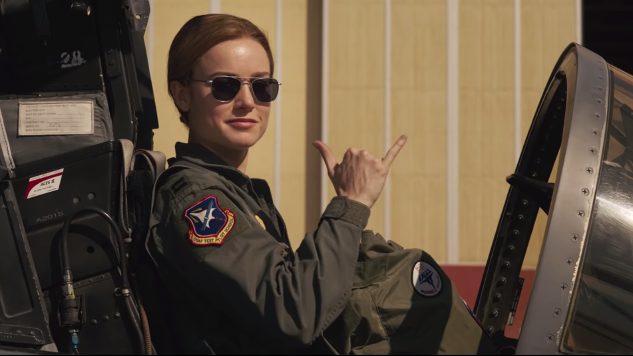 The second trailer for Captain Marvel is here, and fans finally get to see Oscar winner Brie Larson's Carol Danvers take flight.
Building on the origin story established in the first trailer, we now get more information on the alien war at the center of the mid-'90s set Marvel installment.
A de-aged Samuel L. Jackson as S.H.I.E.L.D.'s Nick Fury asks Carol, "So, Skrulls are the bad guys? And you're a Kree, a race of noble warriors?"
"Heroes," she replies. "Noble warrior heroes."
The new trailer also introduces Annette Bening's character, one of those Kree heroes, who rebuilds Carol as a Starforce warrior after a mysterious near-death experience, and also gives a closer look at the uniform of a fellow Kree Starforce warrior, a still-unnamed character played by Jude Law. The trailer continues to follow Carol's journey as she takes flight in both Air Force pilot and superhero form, all while trying to pick up the pieces of her origins.
Captain Marvel is expected to provide Marvel fans with some big answers before Avengers 4 drops later in 2019. While we still don't have all the answers on what to expect from Marvel's first solo female-led superhero film, the new trailer promises a thrilling ride.
Captain Marvel lands in theaters on March 8, 2019. Watch the new trailer below.