Cinema Under the Influence: Flannery O'Connor
Exploring the interactions and influence on cinema of famous figures outside the world of film
Movies
Features
Flannery O'connor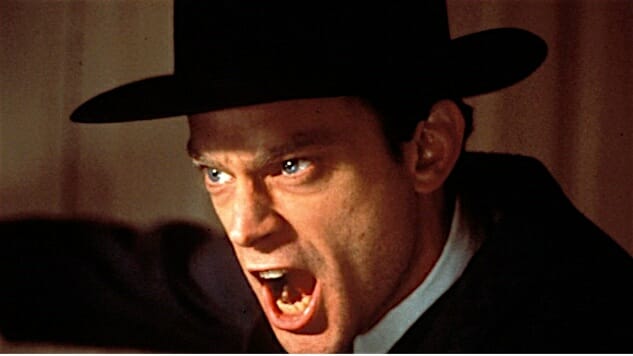 The Southern Gothic—in both its literary and cinematic incarnations—is deeply indebted to the weird, brilliant work of Flannery O'Connor. Born in the cradle of the Deep South in the years before the Great Depression, O'Connor grew to be one of the most influential writers of her era, and strikingly associated with the region she came from. The genre is bred from a sense of underlying violence of the American South, drawing from its bloody history of racial division.
Characters in the Southern Gothic—be it Robert Mitchum in The Night of the Hunter (1955) or the assorted cast of maligned potboiler The Paperboy (2012)—tend to be eccentric or violent, morally questionable, and stewing in a backdrop of fervent religion and cross-class hatred. At its best, the cinematic Southern Gothic is trashy, obsessed with the past, blighted by poverty and brutality, and thoroughly unsettling. You could say very much the same of much of O'Connor's body of work. In fact, Pete Dexter, writer of The Paperboy and nasty Dennis Hopper parable Paris Trout, has said that he revisits O'Connor's classic short story collection A Good Man Is Hard to Find every year.
There have been film adaptations of the author's novels and short stories, most notably John Huston's 1979 film Wise Blood. Starring Brad Dourif as an outspoken street preacher for his own imaginary church, it's a twitchy and unclassifiable piece of filmmaking made by a veteran Hollywood director in the twilight years of his career. Although it's not often invoked, it's a stellar film. TV adaptations are more prominent, particularly of O'Connor's snappy, fatalistic short stories. There were a spurt of these in the 1970's, including Good Country People and The Displaced Person, perhaps because her dark, probing themes about racial tension fit the spirit of the decade rather well. In the latter TV movie, a very young Samuel L. Jackson and a very elderly Henry Fonda both star.
In her own life, Flannery O'Connor was a devout Roman Catholic, and would likely not much approve of the way her work would be characterized by later filmmakers. But O'Connor's influence has been felt long after her premature death in 1964, at the age of thirty-nine. She's alluded to both in music (ask Bruce Springsteen) and in film, where everything from the bonkers, satanic Angel Heart (1987) to William Friedkin's greasy Texas thriller Killer Joe (2011) seem to be mutant brethren to O'Connor's works. Both feature deeply troubled central "authority" figures shown to be corrupt and twisted, and seem haunted by the ghosts of a brutal, hypocritical history.
Finally, in 2016, news of an adaptation of O'Connor's most famous short story reached the press. It's set to be written by the screenwriter of Mel Gibson's The Passion of the Christ. Say what you will about Gibson, but Flannery O'Connor would likely be pleased at such a pious interpretation.
---
Christina Newland is a writer on film and culture for VICE, Esquire, Sight & Sound, Little White Lies, and others. She's a displaced New Yorker in love with '70s Hollywood and boxing flicks.