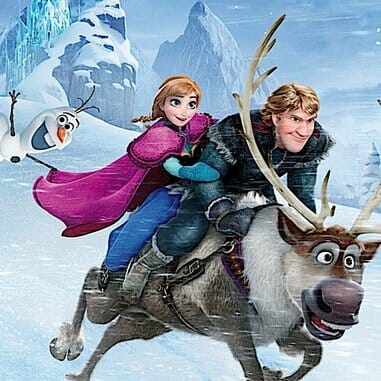 Everything old is new again in Hollywood these days, so it only makes sense for Disney to attempt a revival of the animated musical brand that dominated the early '90s. The canny nostalgia play of Frozen arrives just in time for Thanksgiving, catering not just to kids but also the parents who grew up quoting dialogue and humming tunes from Beauty and the Beast, The Little Mermaid, The Lion King and Aladdin. The downside of trying to rekindle that unique magic is that Frozen feels a little like a Las Vegas tribute show: it hits all the recognizable beats without quite capturing the soul of what it's paying tribute to.
Very loosely based on Hans Christian Andersen's classic story The Snow Queen, Frozen stacks the deck with big bold songs, scheming villains, wacky sidekicks, cuddly characters (ready made to become holiday merchandise) and not just one but two (!) new Disney princesses. Parents won't complain about anything that holds their interest while also keeping kids entertained for a couple of hours. Still, even with eye-popping animation, solid voiceover performances and a feisty feminist slant, Frozen falls short of recent Disney princess high points Tangled and, especially, the live-action Enchanted, instead delivering mixed results closer to The Princess and the Frog and Pixar's Brave.
The story begins in promising fashion with young sisters Anna (initially voiced by Livvy Stubenrauch) and Elsa (Eva Bella) sneaking out of bed for some late night mischief in the family castle. Elsa, the elder of the two, isn't just an average princess. She was born with the ability to conjure snow and ice with her bare hands. That means the sisters can skate, sled or build a snowman whenever they please, much to young Anna's delight. Unfortunately, Elsa's incredible gift soon feels more like a curse when an ice-related accident leaves Anna injured and their parents forbid Elsa from using her magic. A terrified Elsa locks herself away in her bedroom, essentially abandoning Anna whose memory of the event has been erased by a kindly troll king (Ciaran Hinds).
Not that Anna (now voiced by Kristen Bell) is willing to give up on her sister so easily. She's delighted when Elsa (Idina Menzel) comes of age and ascends to the throne, but trouble arises again when Elsa's powers go public during an argument over Anna's love-at-first-sight infatuation with charming visiting prince Hans (Santino Fontana). Elsa stuns her assembled subjects with angry bursts of ice and snow, fleeing to the mountains and literally freezing over her entire seaside Scandinavian village in the middle of summer. Local dignitary the Duke of Weselton (Alan Tudyk) proclaims Elsa a monster, but Anna knows better and resolves to track down her sister and bring her back to the kingdom.
This is where Frozen descends all too willingly into less interesting and more conventional territory. Elsa, the most compelling and conflicted character, is disappointingly marginalized when the focus shifts entirely to Anna's standard hero's quest. Despite the fact that Elsa is the character with the story's dramatic arc, Anna is the plucky, spunky and cute one, so she gets the spotlight. She also gets the love interest—not just Hans, but also orphaned mountain man Kristoff (Jonathan Groff)—and the wacky sidekick, an irrepressible talking summer-loving snowman named Olaf (Josh Gad). Elsa gets a power ballad.
If that sounds out of balance, it is. Elsa and Anna's bond is the crux of the story, but never receives the loving care and attention afforded in Disney's significantly superior previous feature, Wreck-It Ralph. The lackluster character work here is all the more surprising since it comes from Wreck-It Ralph co-writer Jennifer Lee, who gets sole screenplay credit on Frozen and also serves as co-director with Chris Buck (Tarzan and Surf's Up).
Of course, Frozen is also unapologetically a musical, which would be easier to celebrate if the songs outshone the story. Co-songwriter Robert Lopez contributed to irreverent Broadway hits Avenue Q and The Book of Mormon, but the middling adult contemporary compositions he offers up here (composed with his wife Kristen Anderson-Lopez) owe a far bigger debt to the blockbuster, Wicked. Menzel predictably belts over Elsa's soaring, sappy, "Let It Go," an anthem of banal self-acceptance that can't make up for the movie's lack of interest in her character. Most of the songs are pleasant if forgettable, though Anna and Hans share an enjoyably quirky duet titled "Love is an Open Door," and Olaf's show-stopping comedy number "In Summer" provides one of the few moments when Frozen fully lives up to the Disney's classics that have come before.
A more substantial mix of tradition and innovation is on display in the seven-minute treat Get a Horse!, which accompanies Frozen as a bonus opening short. The latest Mickey Mouse adventure combines the original 1928 designs of Mickey, Minnie Mouse, Clarabelle Cow and the villainous Peg-Leg Pete with 21st century 3D animation techniques in a witty delight perfectly timed to Mickey's 85th anniversary.
Director: Jennifer Lee, Chris Buck
Writer: Jennifer Lee; Chris Buck, Jennifer Lee, Shane Morris (story)
Starring: Kristen Bell, Idina Menzel, Jonathan Groff, Josh Gad, Santino Fontana, Ciaran Hinds, Alan Tudyk
Release Date: Nov. 22, 2013 (limited); Nov. 27, 2013 (wide)