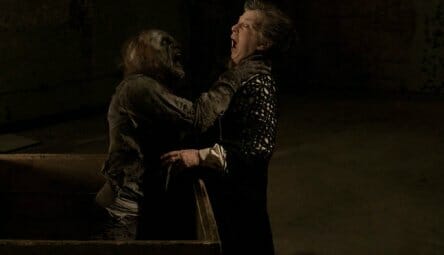 Release Date: Aug. 7
Director/Writer: Glenn McQuaid
Starring: Dominic Monaghan, Ron Perlman, Larry Fessenden
Cinematographer: Richard Lopez
Studio/Run Time: IFC, 85 mins.
McQuaid recalls Terry Gilliam with his flights into the absurd and his penchant for choking dry humor, and he punctuates this mostly funny movie with bits of animation that mix in an off-kilter storybook element. His screenplay never reaches his visual heights, but I Sell the Dead is ultimately a testament to old-fashioned creative ingenuity, the sort of movie only hungry young talents with a very limited cash flow could cook up. Let it be the first of many.
I Sell the Dead arrives lovingly crafted for a small but loyal brand of moviegoers, the kind who best appreciate their comedy blackened to a crisp—with a few corpses thrown in for good measure. The charmingly no-budget feature debut of Glenn McQuaid, the movie follows a 19th-century grave robber (Lost's Dominic Monaghan) as he awaits the guillotine and recounts his life story to a priest (played by Ron Perlman, in case there was any doubt what kind of movie this is). Mist-shrouded and whiskey-soaked tales of the dead and undead follow with cheerful gallows humor and estimable makeup effects by rising genre stars Pete Gerner and Brian Spears.