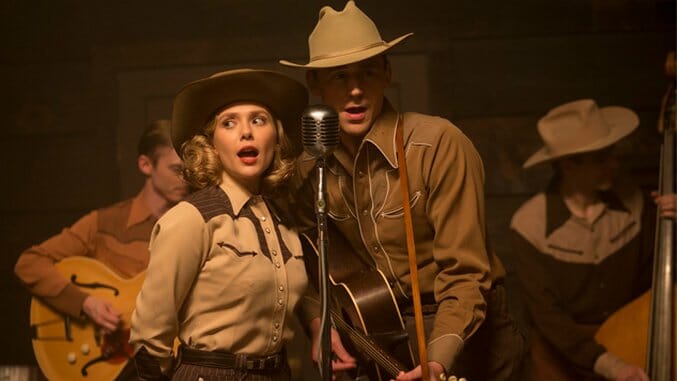 As two music-lovers with ties to the Commonwealth of Virginia, speaking with Marc Abraham has all the comforts of sittin' down on the porch with some sweet tea to soak in the humid air and reminisce about time in Old Dixie. Abraham, a film writer, director, and producer whose first role came co-producing beloved music movie The Commitments in 1991, speaks with a surprisingly quiet lilt. His Louisville (pronounced authentically as loo-uh-ville) accent remains intact.
Growing up in Kentucky, Abraham has listened to country music since he was a kid, citing Johnny Cash, George Jones, and Merle Haggard and early introductions to the genre.
"I've always loved the stories, and when you listen to that music you can't help but eventually hear Hank's music," he says on a call from the place that best represents the antithesis of The South—Los Angeles. "Of course music aficionados know everything about Hank, but so many people don't know what a brilliant poet he was."
Abraham's passion for music is inseparable from his daily life even today. He listens to classical music in the mornings, classic and modern hip-hop in the car (thanks to his 17-year-old twin boys who, "immediately commandeer the Aux cable"), and jazz heroes like Dizzy Gillespie, John Coltrane, Miles Davis and Erroll Garner over a nightcap in the evenings.
So when Abraham read Colin Escott's award-winning book, Hank Williams: The Biography, he started envisioning the movie that would become I Saw The Light almost immediately.
I Saw The Light doesn't purport to be a biopic, though. And Abraham never intended to explain why Hank Williams is the revered poet and country music legend we know today. He compares the phenomenon to another of his favorite artists—Bob Dylan.
"I can't explain to you why [Hank] is so great! I can't explain to you why Bob Dylan, a guy named Bob Zimmerman whose father ran a furniture store in hippie Minnesota, is Bob Dylan. I don't know how to explain that. So I'm not going to do that in the film," he reasons.
"What I tried to do in the movie is not to show you somebody sitting down with a pen or pencil and writing a song, which I just don't know how interesting that is, but also I don't know how you show that. What I tried to do was show his life—this man fighting his various demons. And hopefully, by seeing what took place in his life, you can understand where the songs came from."
Sometimes this tactic works in the film. The tensions in Williams' personal life, especially between Tom Hiddleston's Hank and Elizabeth Olsen's Audrey, help show how songs like "Cold Cold Heart" or "Your Cheatin' Heart" could come to fruition, at least emotionally. Tender moments like the two of them singing "I Saw The Light" to their infant Hank Williams Jr. flip the script in a beautifully sentimental way.
But more often then not, the choices for the narrative arc felt disjointed prior to Abraham's clarifications. Williams' chronic back problems—from spina bifida and scoliosis—were only alluded to in scenes showing him sitting down or falling in the woods (subsequently re-aggravating his less explicitly defined pre-existing conditions). In particular, the abortion scene is ambiguous for audiences who may not have known the couple's tumultuous history (or are less privy to subtlety).
The most impressive element of I Saw The Light emerges in the performances themselves, and that's thanks to the killer music production team Abraham united. With help from music producer, singer, songwriter, and country music icon Rodney Crowell, engineer Dan Knobler (of the musical collective Mason Jar Music), musicians like Chris Scruggs and Richard Bennett, and more, the classically trained, Shakespearean-inspired British actor Hiddleston transformed into a slouching, yodeling country music star who could effectively carry a tune.
"Rodney's tough. Lemme tell you something. Rodney Crowell suffers no fools," cautions Abraham before continuing. "He's a beautiful man, a beautiful artist and a wonderful writer. He totally understood what I wanted to do."
Like Abraham, Crowell has deep ties to country music. Artists ranging from Emmylou Harris to Waylon Jennings to Tim McGraw have all made hits out of songs he's written. Crowell has two Grammy awards to his name, and was even married to Rosanne Cash for 13 years. But Hank Williams was the first music he ever listened to.
"It was the first music that I knew," Crowell says. "My father was the same age as Hank Williams, born the same year, just about a month apart. And my father was a hillbilly singer, though he never graduated past Houston dives and bars. But he loved Hank Williams and actually took me to see Hank Williams about a month before he died."
"I was two years, four months old. I remember some color. I remember light and I remember I was on my father's shoulders. He was carrying me on his shoulders, and it was one of those standing crowds. I remember the air and I remember the smell of his hair tonic, my father's. But the memory was really galvanized by my father constantly reminding me that he took me to see Hank Williams. It was important to me that I never forgot that."
So for Crowell, procuring gear from the era was vital for recreating both the sound and the image necessary for I Saw The Light. Working partially in his own studio and partially in Nashville musician Ray Kennedy's studio, the music team used vintage ribbon mics and German tube preamps, as well as a mixing console that was probably from the late '50s or early '60s to match that old country music sound—radio crackle and all—as closely as possible.
For about a month, Hiddleston lived at Crowell's house to work on the music and persona. Knobler describes the daily routine of driving to Kennedy's studio, cutting band tracks with Hiddleston singing separately, heading back to Crowell's place, and honing Hiddleston's vocal tracks.
"All to Tom's credit, he worked tirelessly when he … had to deconstruct a classically trained baritone voice into a reedy, yodeling tenor," says Crowell. "And that was just day-in and day-out working on it—90 takes sometimes. Ninety takes before the breakthrough comes."
As Knobler elaborates, "We weren't just trying to mimic the record. We were also trying to keep in mind the arc of the film and where this performance sat in the film and what the vocal performance needed to convey emotionally for the film. There were a couple times where Tom would read something from the script to set the scene and we would press play on the track and he would sing. It was really incredible both to watch him get in character as Hank Williams, but then also watch him put the character of Hank Williams in the right scene in the film. It was impressive."
Through its filmic frustrations, I Saw The Light succeeds in one very real way—returning Hank Williams' music to a place of prominence. It makes you want to go out and buy a bunch of old vinyl or try to pick the best out of no fewer than 27 posthumous greatest hits compilations. It's about lap steel parts that Knobler calls, "the foundation of country music" or even the blues that came before it, according to Crowell. Or as Abraham says, it's just about reconnecting with, "some of the greatest poetry ever written."