Luca Guadagnino Quietly Reveals Plans to Turn Bob Dylan's Blood on the Tracks into a Movie
Photo by Vittorio Zunino Celotto/Getty
Movies
News
luca guadagnino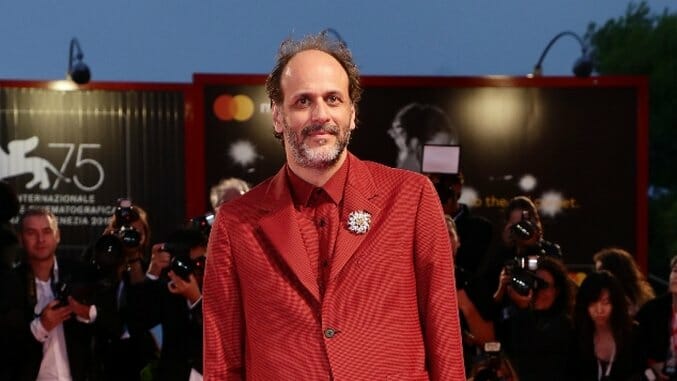 Hold up.
Buried deep within a new New Yorker profile of Italian director Luca Guadagnino, which focuses on Call Me by Your Name (2017) and his forthcoming remake of the 1977 horror film Suspiria, due out Nov. 2, is some pretty major news.
Towards the end of the piece, in one perfunctory paragraph, is the tidbit that Guadagnino's next project will be a cinematic adaptation of Bob Dylan's classic 1975 album Blood on the Tracks, as first highlighted by Spin.
One paragraph. How blasé!
Guadagnino tells the New Yorker that a producer of Call Me by Your Name acquired the theatrical rights to Blood on the Tracks and asked Guadagnino to make it into a movie. Guadagnino agreed, under the condition that Richard LaGravenese, whom he had never met but referred to as "this guy that I totally and completely love," wrote the script.
The love must be mutual, because LaGravenese cleared his schedule and, between April and July of this year, wrote a 188-page screenplay. LaGravenese has called Guadagnino "the first director who has allowed me to write fully emotional moments."
LaGravenese's previous works include The Fisher King, Clint Eastwood's The Bridges of Madison County, Steven Soderbergh's Behind the Candelabra and, of most interest to Guadagnino, Jonathan Demme's adaptation of Toni Morrison's Beloved.
The film will reportedly tell "a multiyear story, set in the seventies, that [LaGravenese] and Guadagnino had invented, drawing on the album's central themes." LaGravenese tells the New Yorker about the characters: "When they're repressing, we dramatize the repression, and what that does to them. And we dramatize what happens when you let your passions take over too much."
But this is all that Guadagnino has given us thus far. At present, we can only speculate about the details: How will the movie incorporate the original music off the album? How much of the plot will be inspired by Blood on the Tracks's central themes, and how much (if any) of it will have to do with Dylan himself?
The news coincides with the impending release of More Blood, More Tracks, which will feature studio recordings (think: unreleased versions, incomplete takes) from Dylan's six sessions that resulted in his 1975 LP. The new box set is due out Nov. 2.
Watch a 1988 Dylan performance from the Paste archives below and stay tuned for more information on Guadagnino's Blood on the Tracks adaptation.