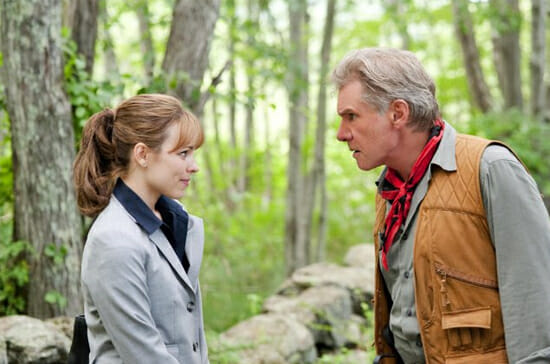 Sleep-deprived, highly-caffeinated, too young—and ready to take on the world. In Morning Glory Rachel McAdams stars as Becky Fuller, the morning news producer trying to save the dying Daybreak—a fourth-place show trailing NBC's Today Show, ABC's Good Morning America, and "that thing on CBS, whatever it's called."
As a morning news producer at a local television station in Seattle, it's a role to which I can relate. Raising ratings is a necessary evil in our industry and one that doesn't go away, no matter where your station ranks. Morning Glory gives the audience a glimpse behind the scenes of an oft-misunderstood career.
McAdams is joined by an experienced cast, including Harrison Ford as veteran news anchor Mike Pomeroy and Diane Keaton as Colleen Peck, pageant queen turned perky television personality. The talent is there, but the dialogue and character development are lacking from screenwriter Aline Brosh McKenna, who brought us The Devil Wears Prada. Ford's turn as the film's villain, the cranky anchor who's too good for "fluffy" morning news content, doesn't hold a candle to Meryl Streep as Miranda Priestly.
Becky's mission to save the show can only succeed if she also cracks hard newsman Pomeroy ("the third worst person in the world," according to coworkers). Because the storyline is predictable, we know Becky will eventually win him over; but his softer side is unbelievable and transformation unlikely.
It seems Pomeroy becomes Becky's closest confidante, as there's little effort developing a romantic plot line between Becky and a fellow TV producer. The choice might be a wise one if we're looking for realism. When it comes to working in TV—crappy hours, high stress, and information obsession make it easy for relationships to become secondary.
Throughout the film, Becky waffles between insecurity and unwavering self-assurance. It's a believable characteristic. In this career you sometimes have to feign confidence in order to make ten decisions a minute.
With six weeks to revive the show or doom it to cancellation, she makes immediate changes. The silly stunts and asinine antics ensue. The weatherman straps into a rollercoaster. Keaton's character suits up for sumo wrestling. They're not new ideas. I've seen my reporter get sick during a Blue Angels' ride-along and had my anchors battle it out in a Dancing with the Stars -like competition. Unfortunately, it's not a winning formula, and that's where Morning Glory misses the mark. In these days of instant information, breaking stories always beats the competition. It's what Pomeroy proves when he breaks an exclusive about the governor live on the air.
So it seems that in the end the hated anchor saves the day. And however disheartening that might be for our female hero, it's a real-life tale. The producer can yell and scream behind the scenes (and Becky does), but unless the anchors listen and act, the show fails.
Morning Glory gets it both right and wrong. Jokes fall flat and the romance isn't there, but McAdams delights as a young woman trying to balance doing her job and living her life. Like the rest of us news junkies, she keeps up the insane race for those days when it all falls into place. We deal with the awful hours, harmful caffeine intake, and occasional on- and off-air outbursts. But we can smile when everything is breaking behind the scenes and the viewer is completely unaware. That's when we know our job is done. Then we go home and get ready to do it all over again.
Kiera Scholten is a writer and morning-news producer at NBC-affiliate KING-TV in Seattle.