Paramount Defends Mother!: Darren Aronofsky's Film "Was Intended to be Bold"
Image via Paramount/YouTube
Movies
News
Mother!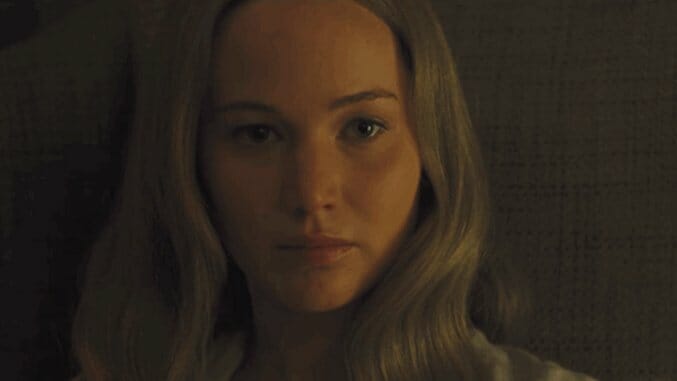 Movie critics have been quick to forecast doom and destruction for Paramount's newest release, Darren Aronofsky's allegorical horror film mother! They cite the film's "F" Cinemascore and its middling box office results (even if critics have been relatively positive about it, and the budget was small enough that it'll likely make it back anyway).
Mother! is said to be a grueling experience, with prolonged, gruesome sequences that make little logical sense. Aronofsky is on record as saying that the film is meant to mirror how he feels about the state of the world—that something is terribly wrong, and yet "there's nothing [he] can do, and it keeps happening."
Now, in a statement to THR, a representative of Paramount has stepped forward to defend the film. From the article:
"This movie is very audacious and brave. You are talking about a director at the top of his game, and an actress at the top her game. They made a movie that was intended to be bold," says Paramount worldwide president of marketing and distribution Megan Colligan. "Everyone wants original filmmaking, and everyone celebrates Netflix when they tell a story no one else wants to tell. This is our version. We don't want all movies to be safe. And it's okay if some people don't like it."
This is something of an uncommon response; studios are not usually that quick to defend their art in the face of audience disapproval, they tend to just bow to the will of the market. So it's pretty cool that a president of distribution is standing up for bold, challenging art (even if it is difficult to actually sit through, as our review notes).