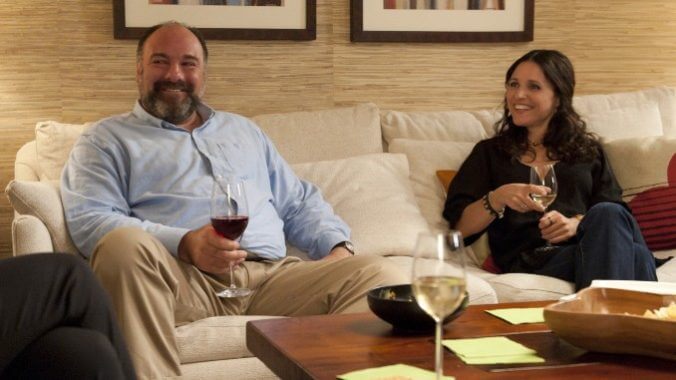 In an increasingly heightened cinematic landscape, Nicole Holofcener's films live in the realm of markedly low stakes. Her films chart the slow dissolution of friendships and the prominent hurdles that make staying in relation with someone hard and time-consuming—uphill treks with occasional silly interludes urging people forward. Her work captures the mundane conversations that both mask and make life meaningful, meandering across their runtimes with a lack of foresight. Like a relational cartographer, Holofcener redefines familiar space, setting aside time to explore the many facets of a seemingly simple dynamic.
When her film Enough Said was released 10 years ago, it followed a run of lackluster yet commercially successful summer comedies like Grown Ups 2 and We're the Millers. Were these films to be suspended in history, removed of any context, the digital camera and plasticized veneer of each, coupled with the recognizable stars helming them, would feel like common threads. But while those films are broad, crudely wringing laughs out of their audiences, Enough Said is deceptively careful, approaching its viewers with caution, threading the needle of each character's worries with jokes born from a startling, real-world honesty. 
The film follows Eva (Julia Louis-Dreyfus) and Albert (James Gandolfini), two divorcées wrestling with their impending empty nests. As they fall into a relationship, the reasons for them to break up grow, empty and cosmetic but gradually unignorable. All of this is ignited (or just prompted, depending on how much grace you are willing to extend to either party) by Eva's friendship with Albert's snobbish and bohemian ex-wife Marianne (played with wonderful wryness by Holofcener's de facto muse, Catherine Keener). The plot is strung together, loosely structured around the steps in their burgeoning romance—the process of negotiation that both wedges them apart and keeps them together. Eva is the typical Holofcener hero, neurotic and deeply flawed, desperately trying to ascertain the shape and edges of her feelings rather than being swept away by an overflow of emotion.
Midway through Céline Sciamma's Portrait of a Lady on Fire, Héloïse (Adèle Haenel) and Marianne (Noémie Merlant) are reclined on her bed, woven into one another. Héloïse asks: "Do all lovers feel like they're inventing something?" There is very little shared DNA between Enough Said and Portrait of a Lady on Fire, but both films languidly circle around the same question, finding new and gentle ways to arrive at an answer. Holofcener's movies have long been mining the wisdom born from falling in love, allowing her camera to walk alongside the protagonists. She observes the blossoming relationship inquisitively and lets it invent itself rather than follow a preordained track.
What both Sciamma and Holofcener are good at acknowledging is that the best romantic stories require a sense of discovery, encouraging their movies to uncover their subjects' tastes and impulses alongside the audience watching along, everyone on equal footing. In Enough Said, Eva admits to her friend Sarah (Toni Collette) that Albert isn't her normal type, growing on her over the course of their dates, all warm and easy in their flow. She falls in love with him alongside the audience. Their relationship clarifies in bed, as they laze around (much like Héloïse and Marianne) making jokes, filling the interstitial moments that bind big events together.
In a lovely exchange, Eva turns to fall asleep while Albert's arm snakes around her waist. "I'm tired of being funny," she admits. "Me too," he replies. Finding a long-term partner (of any kind) is often a matter of settling into the rut of a comfortable silence, cocooning yourself in the security that someone is always there even in silence.
Such interludes are where Holofcener excels, building films that reposition meaningful story tension around things ordinarily deemed inconsequential. In Walking and Talking, she delves into the complicated dissolution of Amelia (Keener) and Laura's (Anne Heche) long-term friendship, a complicated storytelling challenge without a clear beginning or endpoint. Much of the film revolves around the spoken and unspoken routines that punctuate these women's lives; the nightly phone calls they wait for and skirt around, the dinners they schedule, the pockets of time set aside to plan for Laura's wedding. Holofcener has honed a visual language that magnifies these intermediary moments: Wide shots interspersed with occasional close-ups of individual reactions. Amelia and Laura are recounting their weeks over wedding dress shopping, positioned in individual shots against a sea of white tulle, until the end, when Amelia reaches up to unzip the rejected dress. It is an effective way of conveying how these two women's lives have split, only occasionally drawn back together through a set of shared routines. 
Holofcener employs a similar technique later in Enough Said, subtly expressing the idea that love only exists in the web of interconnected relationships, that you can't escape other people and should embrace such complexity, letting their thoughts and opinions chip off any ragged edges. After a series of comfortable, non-romantic encounters, Holofcener captures Eva and Albert's charged chemistry by holding the camera on them in the same frame, replacing the back and forth with a steady angle, focused on them side-by-side, looking out at the same view.
When Eva's twisted, if well-meaning, decision to keep her friendship with Marianne secret from Albert is thrown into the light, it is amidst a confused group of unwitting accomplices. Holofcener doesn't hold the camera on her protagonist, waiting for her to explain the turmoil. Instead, she draws in on other people's faces: Albert, Marianne and their spoiled daughter, Tess (Eve Hewson), all efficiently filling in the gaps. It is an observation astutely realized—an admirable staging of the vulnerability inherent to being in relation. Ultimately, it doesn't matter what is said, your intentions will spin out and knock people down haphazardly, as Eva's did. "Got it," Albert replies. Eva stands struck by the weight of everything she wanted, newly realized and long gone. 
After her daughter's (Tracey Fairaway) stilted graduation dinner, Eva revisits photos of her wedding to her ex-husband Peter (Toby Huss). She wonders aloud, "Did I know the things I know? The things we'd fight about?" In other words: Is the fate of every relationship preordained? With so few ways of defining a successful relationship, is it worth trying? Holofcener's films argue that there is much to be gleaned in the quiet space between successful and unsuccessful relationships. Amidst a sea of underwhelming romances, constructed around a happy ending, her films develop organically, spinning into their own wonderfully unwieldy shapes.
---
London-based film writer Anna McKibbin loves digging into classic film stars and movie musicals. Find her on Twitter to see what she is currently obsessed with.