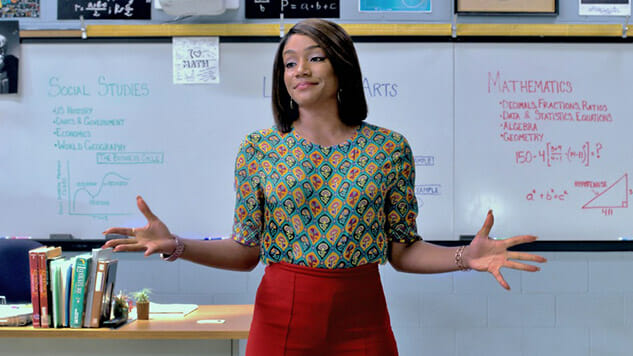 A zany comedy (with a heart) that puts two high-profile comedians together should be a lot better than the scattershot Night School. Still, the undeniable timing and chemistry between the two leads (Tiffany Haddish and Kevin Hart, who could play these parts in their sleep), a giggle-inducing ensemble cast full of seasoned comedy pros and director Malcolm D. Lee's innate ability to mix character-based drama with over-the-top antics—as evidenced in Girls Trip and The Best Man—keeps it exactly as good as one might expect.
The premise is so typical for a Kevin Hart comedy, one can immediately guess the end point of his character arc before he's even introduced. Hart plays Teddy, who dropped out of high school due to obvious learning disabilities he's ignored, and built a life for himself where he's heavily in debt. He's so insecure around his hot and successful fiancée (Megalyn Echikunwoke), that after a disastrous accident at his previous place of work, he lies to her about going to night school to get his GED so his financier BFF (Ben Schwartz) can hook him up with a job at his firm. Like everything else in his life prior to that moment, Teddy thinks he can bullshit his way out by charming everyone around him.
In comes Carrie (Haddish), a shit-talking but committed teacher who's impervious to Teddy's crap, forcing him to come to terms with his scholastic difficulties. Now repeat with me: Of course Teddy will be resistant at first, leading to many kooky comedy set-pieces, but he will eventually learn to face his fears as he's inspired by Carrie's tough as nails dedication, leading to a third act where he will have to come clean to his fiancée about the motivating life lessons he learned in the process. Alas, the paint-by-numbers script is not what should draw the audience, but the witty and hilariously crass banter between Carrie and her class of misfits, made up of a who's who of comedy veterans.
The one that stands out among them is Mary Lynn Rajskub, of Mr. Show and 24, as a sexually repressed mom to an unappreciative family. The single scene in which she disastrously tries to flirt with the school principal (Taran Killam) so her classmates can steal the questions to the midterm test is worth the admission price alone. Speaking of which, SNL alum Killam pretty much steals the show as a draconian head of the class, conceited enough to have a framed poster of Lean on Me behind his desk, a guy who terrorizes the students with a baseball bat he keeps in a glass cage and uses a "black voice" that makes him sound like Eddie Murphy doing a white guy's version of Dolemite. Yet, the movie truly shines whenever Haddish and Hart share any scene; instead of filling assigned straight man and sidekick roles, they manage to be both.
As far as holding a cohesive narrative, Night School is a bit of a mess. Six credited writers are behind the finished project, and it shows: Extraneous, tossed-off scenes desperately attempt to pull together a lot of disassociated sequences in order to deliver a halfway satisfying third act. What really works here are the small moments between characters, like when, during a high school dance, Teddy unfortunately tries to hit on Carrie, only to be shut down with a reveal about her that's refreshingly progressive for such a mainstream comedy. By contrast, Lee's attempts at physical humor fall flat, such as when a running gag visualizes Teddy's dyslexia as numbers and letters literally flying around him, prompting him to flail his arms to catch them. That kind of lazy humor belongs on a Disney Channel sitcom. Or in a movie that attempts to achieve a passing grade, and little else.
Director: Malcolm D. Lee
Writers: Kevin Hart, Harry Ratchford, Joey Wells, Matthew Kellard, Nicholas Stoller, John Hamburg
Starring: Kevin Hart, Tiffany Haddish, Taran Killam, Mary Lynn Rajskub, Ben Schwartz, Megalyn Echikunwoke, Rob Riggle, Romany Malco, Al Madrigal
Release Date: September 27, 2018