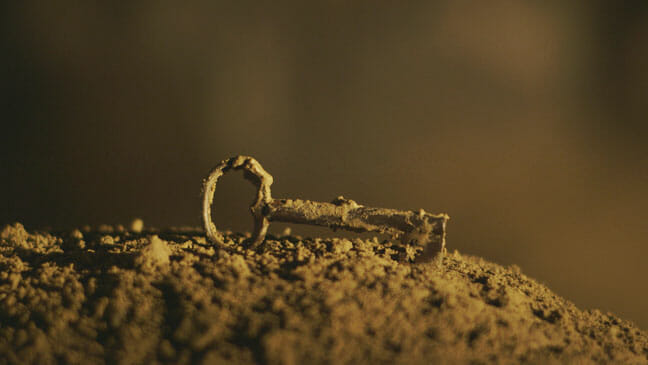 In 1993, American cave enthusiast Chris Nicola traveled to Western Ukraine for two purposes—to learn more about his ancestral roots and to explore the Gypsum Giant cave system that is home to some of the world's largest horizontal caverns. When Nicola stumbled onto some miscellaneous artifacts—a key, a comb, a woman's shoe—he also stumbled onto a much shrouded and forgotten piece of World War II history. In No Place on Earth, director Janet Tobias explores this profound discovery, shedding light on a incredible story of endurance.
In 1942, several Jewish families fled their homes near the Nazi-occupied town of Bilche Zolote, seeking shelter in nearby Verteba Cave. Upon being discovered by the Germans, several members of the subterranean community were captured and executed. Those who evaded detection or escaped capture quickly found a new home in Priest's Grotto, a larger, more remote cave further from town. Thirty-eight people descended into Priest's Grotto, staying in hiding for a total of 511 days between the two caves. Some of the exiles stayed underground for 344 consecutive days, marking the longest known cave habitation in recorded history.
Tobias' previous work as a television documentary producer proves handy in terms of setting the pace here. This engrossing picture moves along much more quickly than a chronicle of a year-and-a-half underground in hiding seems it should. Once we move past rugged New Yawker Chris Nicola's account of his discovery and into the reenactment of the Jewish community's descent and time underground, the film opens up into a beautifully portrayed narrative of survival. Interviews with several of the child survivors, now in their 80s and 90s, are woven together with elegantly lensed reenactments. Serving together as narrators, the survivors are shown as if lit by candlelight—their emotional testimonies resounding with a passionate clarity. John Piscitello's graceful score hits all the right notes, showcasing more melody and timbre than most documentary scores allow for.
In Darkness—Agnieszka Holland's academic masterwork in claustrophobia—springs to mind, as it presents similar historic content through a drastically different articulation. Holland's film is a narrative based on a group of Jews who survived underground in the sewers of the Polish city of Lwów (now the Ukrainian city of Lviv). While In Darkness plays upon the confinement of the sewers, No Place on Earth showcases the sprawling nature of the cave and the resourcefulness of the subsurface hamlet. Collecting water from ceiling drips and sending the men out to covertly buy food from village outliers, the group managed to make ends meet long enough to bring the entire group of 38 up to the surface upon news of liberation by the Russians. Most of the survivors emigrated to North America, going on to produce 68 children, 172 grandchildren and three great-grandchildren.
The film hits a fever pitch when several of our narrators return to Ukraine and descend into the same cave that provided them with a vital shelter from the Nazis. Thanks to some stunning photography and the vivid memories of our intrepid narrators, No Place on Earth transports us deep down into the earth—illuminating an important shred of living history.
Director: Janet Tobias?
Starring: Sima Dodyk, Sonia Dodyk, Chris Nicola, Sam Stermer, Saul Stermer
Release date: Apr. 5, 2013