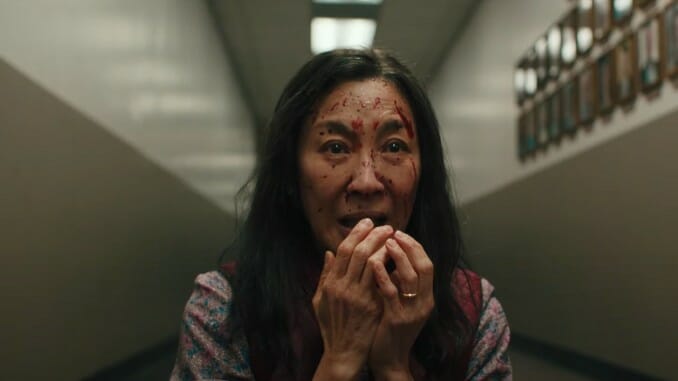 The Academy Awards occupy a strange position in the cross-section of filmgoing and television-watching culture. For this night, when the film industry is a few steps removed from the box office numbers that once determined their longevity, they are committed to doing what they do best: Celebrating themselves. By comparison, television executives are hellbent on curbing this obsessive navelgazing and drumming up viewership for what is little more than a glorified episode of TV. It is a tug of war that constantly tears at the fabric of audience expectation, leaving a slew of uncomfortable results (including all of last year). Ultimately, there are no amount of structural decisions that will encourage casual film watchers to sit through a four-hour ceremony scattered with mention of films that may not exist (Tell It Like A Woman, anyone?). That said, it was a blessing that the 2023 Oscars were simply boring.
ABC seems to have learned that cinephiles will begrudgingly sit through any length of awards show if they are accompanied by an army of snarky Tweeters. Unfortunately, they have taken this and misapplied the lesson, testing audience limits with an unceasing series of ads for the different studios featured and an extensive sequence on the Academy Museum. Disney (who owns ABC), is set to renegotiate their contract with the Academy next year and seized this moment of contractual urgency to stuff the evening full of trailers for films that will otherwise never see the glittery lights of the Oscars (apologies to the live-action The Little Mermaid).
Such distracting tangents served to highlight the business-minded interests of the Academy. Much like the movie industry it is paying tribute to, ceremony executives will always be trying to forcibly engineer moments of flimsy "magic," only to let genuinely human interaction peek through in memorable, lovely bursts. For the most part, the 2023 Oscars succeeded in making space for these moments. Relatively few of the speeches were played off by the orchestra (although the ones that were, were cynically for winners from smaller or technical categories) and there were more than a few groundbreaking moments that were given space to breathe. 
Ruth Carter won for her costume design on Black Panther: Wakanda Forever, making her the most awarded Black woman in Oscars history with a grand total of…two awards. Ke Huy Quan and Michelle Yeoh became the first Asian actors to win in their respective categories for their performances in Everything Everywhere All At Once. Indeed, by the time the final award was ready to be presented, Everything Everywhere All At Once had secured so many wins that the Best Picture announcement was somewhat of an anticlimax. No doubt scarred by their unsuccessful attempt to engineer Chadwick Boseman's Oscar win for Best Supporting Actor as a ceremony ending high in 2021, Best Lead Actress was the second to last award. Yet the moving moment Halle Berry handed Michelle Yeoh her statue to rapturous applause and tearful smiles felt like the peak of the ceremony that the Best Picture win toppled down from. 
The less moving sweep came in the form of Netflix's All Quiet In The Western Front. For a solid hour, every presenter was met with the unnerving three notes that signalled this film and their imposing cinematic contributions. Regardless of whether the film was deserving of these accolades this constant thrum of music felt hilariously ominous, like the awards season was an old school pantomime and the Academy were continually introducing its villains. 
Unfortunately, an awards sweep makes the Academy's claim to reflect the year in cinema feel disingenuous. The Fabelmans is Spielberg's misunderstood, prickly family drama; Banshees of Inisherin is Martin McDonagh's most careful, deliberate film; TÁR is a masterpiece dissecting the curdling, rotten power of hierarchy; and Elvis is Baz Luhrmann's most Baz Luhrmann-y film yet. They all walked away last night with no recognition. Furthermore, Till and The Women King—two of the bigger American films snubbed this year (coincidentally directed by Black women), were paid one line of acknowledgement in Jimmy Kimmel's opening monologue, earning a quick and muted round of applause.
There were very few moments from last night's Oscars that came as a surprise, and the ones that did failed to excite in any meaningful way. Yet the cinephiles will keep coming back, partially for the mishaps and speeches, but really to take part in the thrillingly intertwined, overlapping history of these people in this room. Hollywood is small, after all. The right winners may not have won (they mostly didn't), but Ke Huy Quan still got to grasp his Indiana Jones and the Temple of Doom co-star, and Best Picture presenter, Harrison Ford, in shocked delight. Cate Blanchett sat beside James Hong and affectionately cheered him on as Jimmy Kimmel sweetly poked fun at him from onstage. If behind-the-scenes pictures are to be believed, Jamie Lee Curtis made her way around the whole auditorium to hold the kind of intense conversations normally saved for the smoking area of a club at 4 a.m. It might not be a great night for the movies, but it is a fun night for the Hollywood elite, and one that is probably not going anywhere. 
---
London-based film writer Anna McKibbin loves digging into classic film stars and movie musicals. Find her on Twitter to see what she is currently obsessed with.