Quentin Tarantino Confirms He's Off Star Trek, But Wants to Direct Episodes of Bounty Law Instead
Photo via Getty Images, Adam Pretty
Movies
News
Quentin Tarantino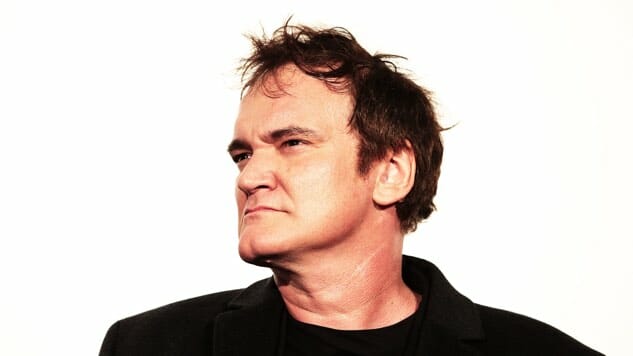 Quentin Tarantino, in the same mold as a creator like Guillermo del Toro, has always been one of those directors known to be what one might call an "idea man"—his idle mind seems to generate far more ideas for scripts, films, and TV series than he could ever rightfully follow up on. Occasionally, Tarantino will go into depth about his passion and desire to make a particular project—remember when we all thought Kill Bill 3 was still going to be a thing?—but then six months later, that same idea seems to be a passing fancy. So it seems to have been when it comes to that long-awaited "Tarantino Star Trek movie," which the director confirmed to Deadline he would not be directing.
Said Tarantino of the movie, written by The Revenant's Mark L. Smith: "I think they might make that movie, but I just don't think I'm going to direct it. It's a good idea. They should definitely do it and I'll be happy to come in and give them some notes on the first rough cut."
So, what does Tarantino currently want to do with himself before jumping into his 10th and perhaps his last feature film? Well, he's still saying that what he really wants to do is to direct some episodes of old-school Western TV show Bounty Law, if you can believe that.
Bounty Law, for those who haven't seen Tarantino's latest film Once Upon a Time in Hollywood, is a fictitious 1960s TV western series in the mode of The Rifleman, in which the lead role of Jake Cahill was played by Leonardo Dicaprio's actor character Rick Dalton. It's a sort of Western procedural, with Cahill tending to deal with "villain of the week" characters, ending in bloody shoot-outs. While researching the idea of Bounty Law, Tarantino threw himself vigorously into devouring old Westerns such as The Rifleman or Dead of Alive, and ultimately wrote full scripts to five full, half-hour episodes of Bounty Law. Since July of last year, he's been saying he wants a network to pick up that very idea—a retro Western that would star the Jake Cahill character, but likely not Dicaprio playing him. Now, to Deadline, he also says that he would direct all five episodes that he'd written.
"As far as the Bounty Law shows, I want to do that, but it will take me a year and a half," Tarantino said. "It got an introduction from Once Upon a Tim in Hollywood, but I don't really consider it part of that movie even though it is. This is not about Rick Dalton playing Jake Cahill. It's about Jake Cahill. Where all this came from was, I ended up watching a bunch of Wanted, Dead or Alive, and The Rifleman, and Tales of Wells Fargo, these half-hour shows to get in the mindset of Bounty Law, the kind of show Rick was on. I'd liked them before, but I got really into them. The concept of telling a dramatic story in half an hour. You watch and think, wow, there's a helluva lot of storytelling going on in 22 minutes. I thought, I wonder if I can do that? I ended up writing five half-hour episodes. So I'll do them, and I will direct all of them."
That sounds suspiciously to us like "I asked Dicaprio and he didn't have time," but what do we know? As with other Tarantino projects, it's hard to tell how serious he is about the commitment to turning Bounty Law into a TV series, but it would certainly make for interesting viewing. In particular, one has to wonder how directors of other episodes (as there would surely have to be more than five) would go about trying to match Tarantino's tone for the episodes he directed. We'll bring you more updates on Bounty Law when and if they materialize.